By Jared Paul Stern Feb. 13th, 2012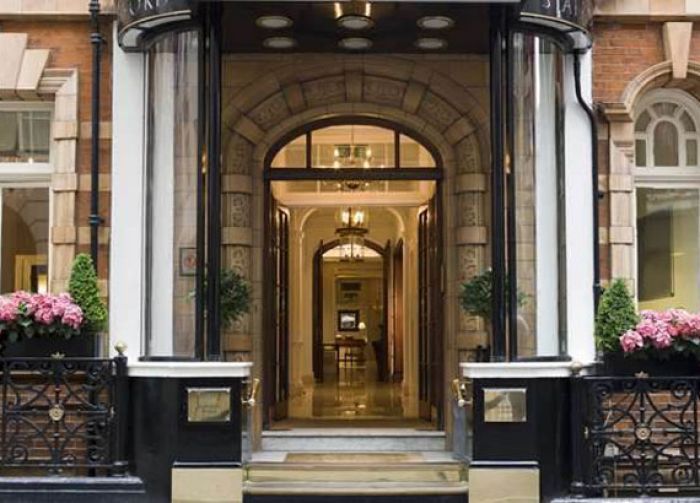 Photo Courtesy of Stafford London
The five-star Stafford
London Hotel
by Kempinski is celebrating its 100th anniversary this season with one of the most lavish hotel packages ever. Priced at £100,000, or about $160,000, the VIP experience celebrates the best that London has to offer, from custom tailoring and chauffeur-driven Bentleys, to lavish dinner parties and a private photo shoot. Depending on your predilection, your home base for the three-night cornucopia of indulgence is either the hotel's deluxe duplex Guv'nor's Suite or the more contemporary Penthouse of The Stafford Mews. Arriving at Heathrow will be a breeze with the inclusion of the Heathrow by Invitation VIP car service, a luxury that is usually reserved for diplomats.
To get things started you'll have a £10,000 (about $16,000) dining credit for use at the hotel's cozy American Bar, posh The Lyttelton restaurant (above), or in-room dining throughout your stay. In addition to the chauffeured Bentley, on staff is a personal British butler awaiting your beck and call. On the legendary Savile Row you will be fitted for bespoke clothing at Henry Poole & Co, outfitter to the likes of King Edward VII, J.P. Morgan and William Randolph Hearst. Top it off with a hat from the exclusive Lock & Co, a famed London company from which Winston Churchill bought his felt homburgs, or with a piece of custom jewelry by prominent London designer Patrick Wyatt.
Once you are properly dressed you can take tea at royal residences Highgrove House or Kensington Palace. Enjoy private champagne tasting in a capsule on the giant London Eye Ferris wheel and indulge in a half-day spa retreat. Later, take a speedboat tour of The Thames River and try one of the ultra-expensive Treasure Chest cocktails at Mayfair's chic Mahiki Club. The main event is a private dinner party for ten guests in The Stafford's 380-year-old wine cellars (below) with a choice of either a three-course, or five-course tasting menu prepared by Executive Chef Brendan Fyldes, and wine pairings by Master Sommelier Gino Nardella.
Once you've been primped and pampered to the fullest you will be invited to commemorate the occasion with a private photo shoot with Alistair Morrison--an internationally renowned photographer who has shot celebrities from Sir Anthony Hopkins to Helen Mirren and has 82 photographs in the National Portrait Gallery. The £100,000 anniversary package is available from February 8 – December 31, 2012 but is subject to availability. To book, contact the
Stafford's reservations
office at +44 (0) 207 493 0111 and be sure to mention that you read about it on JustLuxe.
Jared Paul Stern
Jared Paul Stern has written for the Wall Street Journal, New York Times, the New York Times' T magazine, GQ, WWD, Vogue, New York magazine, Details, Hamptons magazine, Playboy, BlackBook, the New York Post, Bergdorf Goodman magazine and Luxist among others. The founding editor of the Page Six magazine, he has also served as a judge for everything from the International Best Dressed List to the Fo...(Read More)