Jun. 13th, 2013
15-Room Boutique Hotel One Leicester Street Opens in London
Photos Courtesy of One Leicester Street
A new luxury hotel, boasting a cocktail bar and restaurant, has opened its doors in the heart of London's West End.
One Leicester Street
, in the popular Chinatown neighborhood, is the latest project from Singapore's hotelier Loh Lik Peng and Chef Patron Tom Harris. The new hotel will join six boutique hotels and six restaurants located in Singapore under the Unlisted Collection, Shanghai, London and Sydney which will launch in 2014.
"I'm pleased to be bringing the Unlisted Collection to Soho and Chinatown," said Loh. "One Leicester Street will offer guests exceptional quality within a relaxed environment. We want the bar and restaurant to become a local hub for the neighborhood as well as our guests, and look forward to welcoming everyone down to see the new space."

The Unlisted Collection is known for their fresh, dynamic and unconventional approach and sets out to open hotels within restored buildings and re-adapting them into radical, cutting-edge lifestyle concepts. The new hotel is located at the former St John Hotel, a five-story Georgian building, and boasts an intimate 15 rooms.

With its warm timber desk and soft grey walls, the lobby is designed with a fresh new vibe, from the bright lights and buzz outside, to the oasis within. Chef Harris, previously Head Chef of St John Chinatown where he gained a Michelin star in 2012, will head the restaurant. One Leicester Street will serve breakfast and brunch daily, aiming to offer the best of British produce.


"I am delighted to have the opportunity to build on our achievements of the last two years with St John," said Harris. "We have a fantastic team here and I am only thrilled to continue this with Peng through the development of One Leicester Street."

Inside the bar, the design is set against oak parquet flooring and overlooks the terrace, while generous leather banquette flanks sit against the length of one wall. The main dining room boasts chic black ash timber dining chairs that stand out against the sharp white tablecloths under copper pendant lights. The soft warm glow of these lights creates an elegant and sophisticated atmosphere.

"Universal Design Studio is delighted to work with Unlisted Collection and Tom Harris in creating a new spatial identity for One Leicester Street," a spokesman from the design company said. "We have crafted a fresh look for this iconic site through the use of soft color palettes, bespoke lighting, and quality furniture pieces that provide comfortable, luxurious places for enjoyment."
You might like :
Best Hotels in London
.

London Map

.
.

Luxury Hotels in London

.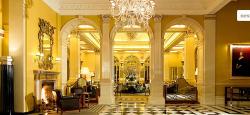 Claridge's
Spa, Wedding, Boutique, Tourism, Culinary


Carol Driver

A journalist with more than 12 years' experience writing, subbing and editing at national and regional publications and websites in the UK.