By Sean Hillen Jul. 13th, 2016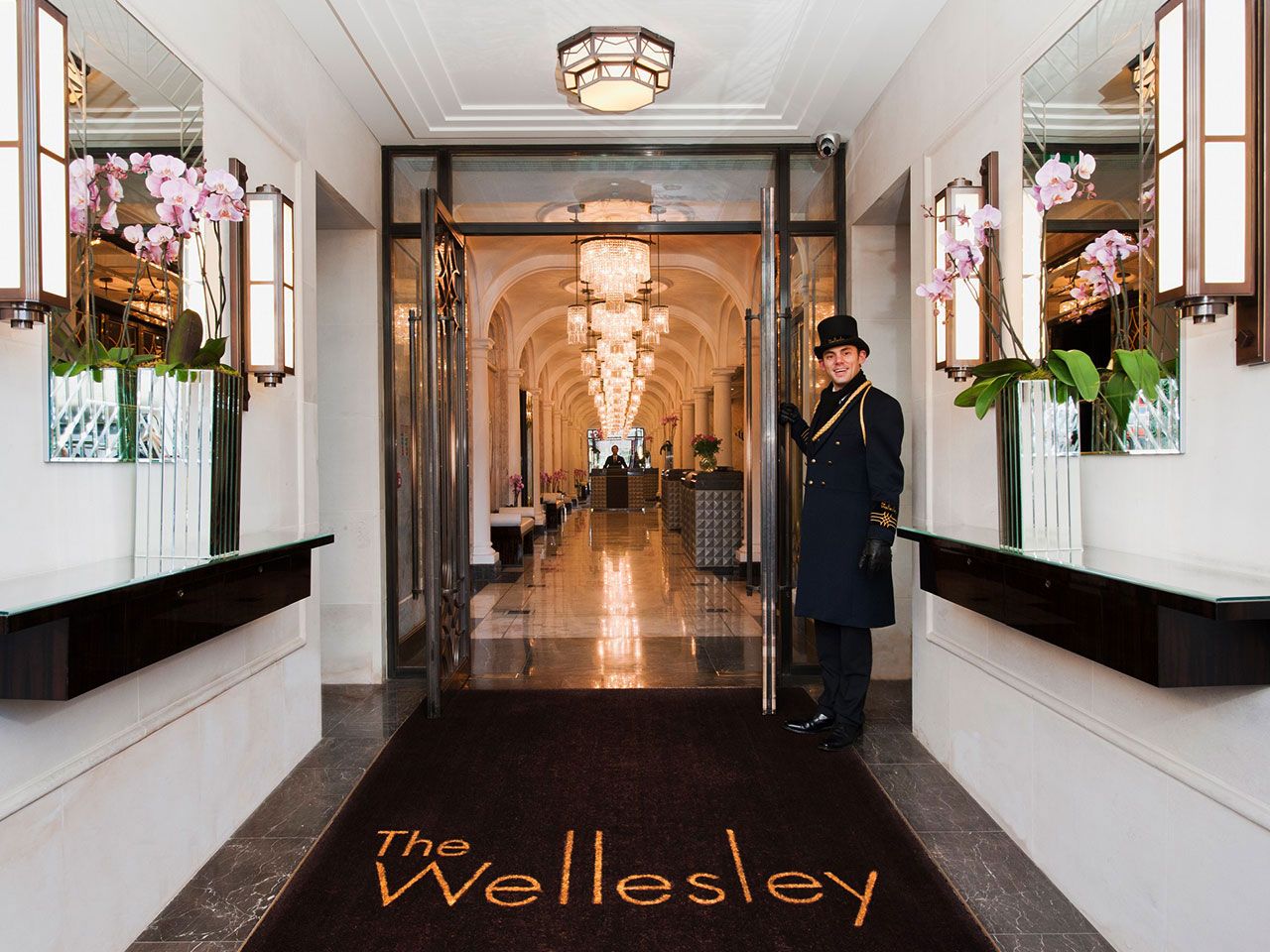 Photos Credit: The Wellesley
Enjoying a complimentary drive through London in a gleaming Rolls-Royce or ordering a shot of 18th-century Cognac at the bar for $5,000 dollars is just another day at The Wellesley hotel in Knightsbridge. Built on an abandoned metro station close to Hyde Park Corner, this five-star property designed by Fox Linton Associates opened four years ago and has enjoyed many previous lives. The boutique hotel has been everything from a townhouse to office block to pizza joint and jazz club venue.
Today, the 36-room property is awash in Art Deco design, featuring bronze front doors, crystal chandeliers, a marble lobby and a concierge desk in studded ostrich leather. Just inside, off the lobby, an estimated $1.5 million of assorted cigars line shelves in the largest hotel humidor in Europe, with a portrait of Winston Churchill drawn delicately on tobacco leaves as its decorative centerpiece. Framed photographs of former US President Kennedy and Fidel Castro stare at each other across the room with Churchill between them. Cigar aficionados can enjoy their stogies either inside or on comfortable seating on a nearby terrace bordered by a privacy hedge.
Many of the hotel's rooms and suites are named after artistic luminaries such as Cecil Beaton, an English photographer and Academy Award–winning stage and costume designer; Ivor Novello, a Welsh composer and actor; jazz singer, Ella Fitzgerald and Charlie Chaplin. Our room was named after English playwright, director and actor Noël Coward and features a full floor-to-ceiling window that granted us generous views over the rich, leafy foliage of Hyde Park.
The room is furnished with framed vintage sketches of fashion icons, old photographs from Vogue decorating the walls, ornate table lamps, a lush gold-colored crescent-shaped couch, lacquered coffee table, 52-inch wall-mounted TV and a veined Carrara marble bathroom with a large shower and Hermès toiletries. Modern amenities included electronically-operated curtains and a Samsung tablet device providing local information, newspapers from around the world and Internet access. Wi-Fi access is also fast, reliable and complimentary.
Aside from the cigar room, guests can enjoy the Crystal Bar highlighted by glass-fronted shelves filled with fine liquors such as Cognacs dating from 1789. It offers bar and al fresco seating on the terrace plus an outdoor fireplace and heaters to help keep British damp chills at bay. In a room tucked away at the rear of the lobby, afternoon teas are served with a live jazz pianist entertaining guests. As the hotel was home to the Pizza on the Park Jazz Club in the 1930s, this room features live performances every Friday and Saturday night with popular drinks from the speakeasy era and weekend special tasting menus. Directly across the lobby is the Oval restaurant, where high-end Italian fare is served in an intimate, tranquil setting.
The Wellesley, named after Sir Arthur Wellesley, the first Duke of Wellington, offers private butler service for tasks ranging from personal shopping to packing and a complimentary, chauffeur-driven Rolls-Royce for journeys less than 1.5 miles. We took full advantage of the latter, enjoying a smooth and comfortable ride to Victoria Station where we had special reservations aboard a 1920s Belmond British Pullman train as it arced its way around London. Aside from its glittering Gatsby-like luxuries, The Wellesley is a convenient location to enjoy the English capital's many museums, restaurants and theaters.
Sean Hillen
Sean Hillen has been an international journalist and editor for over 30 years and published author. His contemporary novel, 'Pretty Ugly' is an intriguing ride through the murky undercurrent of the lucrative cosmetic industry http://www.seanhillenauthor.com/  Sean's writing experience spans several continents - in Ireland, for the national daily The Irish Times and in England, as foreig...(Read More)