May. 12th, 2010
Royal Horticultural Society's Chelsea Flower Show in London
London Events:
Rambling roses, beacons of hope, quiet reflection and the exoticism of the Far East are just some of the floral themes that will be coming together for the world's most famous flower show this month.
Renowned as the 'catwalk of the gardening world,' the Royal Horticultural Society's Chelsea Flower Show in London is the first event of the summer social season, showcasing the finest examples of horticultural excellence and setting the latest gardening trends.
This year's event will also feature a garden costing £20 million – the most expensive in the show's 97-year history. Former TV presenter David Domoney designed The Ace Of Diamonds, which will feature gems including a rare £3.2 million blue diamond and a £1 million peony-shaped ring to demonstrate 'the links between plants and precious stones'.

The flower show, held in the grounds of the Royal Hospital, Chelsea, will also boast 600 exhibitors and will see the cr?me de la cr?me of the gardening world coming together.

Tom Stuart-Smith will be adding a touch of effervesce to proceedings with a garden for Laurent-Perrier while celebrity gardener James Wong is aiming to spice things up with his Tourism Malaysia design.

The Eden Project – a regular RHS best in show winner – will once again be showcasing Chelsea's biggest-ever garden. This year's 'Places Of Change' features five designated zones: crops and food; floristry and leisure; medicine and health; industry and manufacture which act as a metaphor for the hidden treasures that lie within communities and the most unexpected places.

While James Towillis, designer of The L'Occitane Garden, says he found his inspiration in the landscape, scents and sensations of Haute Provence, France. Planting includes quintessential lavender, verbena and juniper punctuated with olive and almond trees.

'The Peony is definitely going to take centre stage this year. It comes in a dazzling array of colours and scents, with gorgeous foliage that lasts throughout the year. In a normal garden I like to use peony in repetition in a border, and it goes well with spiky leaves such as the flowers of the Iris,' Mr Towillis said.

The Great Pavilion is the spectacular centrepiece of the show and will play host to some of the best nurseries and growers from the UK and around the world, creating an explosion of textures, colours and scents from flowers at their very best.

Visitors will also be spoilt for choice when it comes to shopping, with some of the newest and most innovative products and accessories on sale, including Interflora's new scented rose range which has been farmed in Kenya. There will also be floral displays from some of the UK's best florists and floral arrangers showcasing the latest fashion trends.

Educational talks will take place in the Great Pavilion including 'The Power Of Plants' and RHS experts will be on hand to answer any questions.

While a host of restaurants, bars and cafes provide the perfect place to sit, relax, and enjoy refreshment in one of the most extraordinary venues around. So, whether you're an expert looking for the newest plants and cutting-edge design, a shopaholic looking for beautiful accessories to take home, or simply a garden lover who wants a truly magnificent day out, don't miss the gardening event of the year.

How to book tickets: The RHS Chelsea Flower Show runs from Tuesday 25 to Saturday 29 May. 25-26 May RHS members only. For tickets – ranging from £14 to £49 – call 0844 209 1810 or visit www.rhs.org.uk/chelsea.
.

London Map

.
.

Luxury Hotels in London

.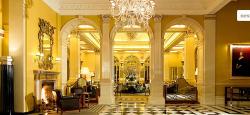 Claridge's
Spa, Wedding, Boutique, Tourism, Culinary


Carol Driver

A journalist with more than 12 years' experience writing, subbing and editing at national and regional publications and websites in the UK.