By Emyr Thomas Jul. 23rd, 2010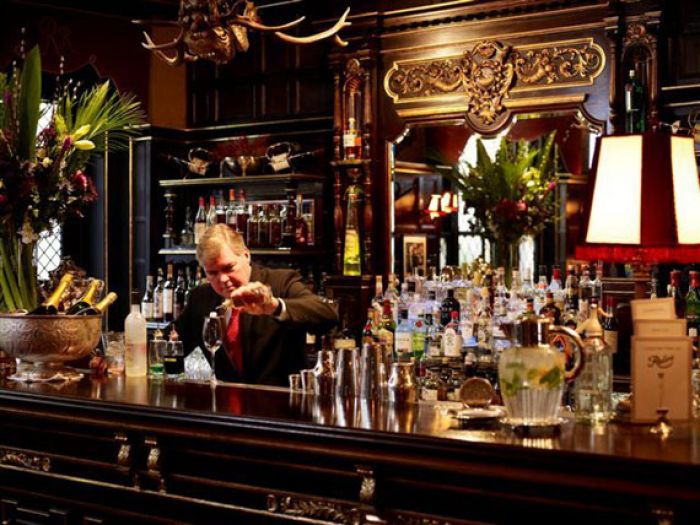 Best Bars in London:
Whether your drink of choice is a martini, a mojito or a negroni, here are
Bon Vivant
's suggestions for the best cocktail bars in
London
. Let us know if you agree or if you have your own favourites to add.
Le Salon Bar at Joel Robuchon
Arguably London's best kept bar secret, Le Salon is a dark, intimate and seductive haven for cocktail lovers, offering all the classics with a few twists, including an exquisite ultimate mojito, made with Pyrat Pistol rum. From April 2010, they have also opened up the terrace, which is ideal for alfresco drinking.
Callooh Callay
Callooh Callay has an imaginative cocktail menu featuring old favourites and classics in an eclectic space that is as quirky and nonsensical as the Lewis Carroll poem from which it takes its name. Through a Narnia-esque wardrobe, you are taken to the Jubjub bar, an intimate little room that's perfect for an intimate party.
69 Colebrooke Row
The classy and bijou 69 Colebrooke Row has caused quite a stir on London's cocktail scene over the last year. The owner, Tony Conigliaro, who perfected his craft at the Shochu Lounge at Roka, is described as a molecular mixologist, and nobody can argue with his take on the classic cocktail, which are well priced at £8.
Montgomery Place
Montgomery Place is small, intimate, mature and sophisticated. Inspired by the Rat Pack era, cocktails are served against a backdrop of black & white photography, in a relaxed setting, with staff who know their cocktails.
The Connaught Hotel
The Connaught hotel features two exquisite bars that are ideal for very different occasions. The warmth and intimacy of the
Coburg Bar
make it a wonderful place to relax after a day at the office or shopping, while the design and the cocktails at the
Connaught Bar
, with its marble, dark leather and metal Art Deco detailing, are perfect for an upbeat glamorous evening with friends. We highly recommend one of their signature Martinis.
Mark's Bar at Hix
Mark's Bar is located in the basement of Mark Hix's latest venture in Soho, serving some great cocktails from renowned mixologist, Nick Strangeway. The bar has a warm, clubby and retro feel with its low zinc bar, tin panels and bar billiards table, which is fast becoming Soho's most popular venue.
The Donovan Bar
The Donovan Bar at Brown's Hotel in Mayfair is cool, stylish, intimate and a haven for fashionistas. The walls are adorned with Terence Donovan's iconic black and white prints, which add a contemporary twist to the history of the surroundings.
Artesian Bar at The Langham
Situated in the beautifully revamped Langham hotel, the David Collins designed bar is sleek, sexy and dramatic. With its 50 types of rum, Artesian is ideally placed for a post shopping cocktail or a refined haven from the frenzy of nearby Soho.
Bob Bob Ricard
Bob Bob Ricard in Soho, which was designed by David Collins in the style of an Edwardian train, oozes Art Deco decadence with its buzzy atmosphere. Bob Bob Ricard offers all day dining and is one of the few restaurants to open until 3am, so you can try their modern take on classic cocktails, such as a rhubarb gin and tonic, into the early hours.
Rules
Widely regarded as London's oldest restaurant, Rules still thrives in the heart of Covent Garden, thankfully not succumbing to the tourist trap. The upstairs bar is dark and cosy, with a gentlemen's club feel to it, offering great cocktails form renowned mixologist, Brian Silva.
Bon Vivant
Bon Vivant is the bespoke, highly personalised concierge service that advises on and arranges every travel, lifestyle and leisure need. Members have access to exclusive treatment, complimentary benefits and discounts at top hotels, restaurants, members' clubs, exclusive nightclubs and a range of lifestyle services as well as access to VIP and sold out events.
For affordable luxury with the personal touch for £100 per month, visit our website at
http://www.bonvivant.co.uk
or call 020 7278 0642.
Emyr Thomas
Emyr Thomas is the founder and director of Bon Vivant, a concierge service and luxury travel company with an emphasis on providing great personal service. We specialise in every travel, leisure and lifestyle need that you don't have the time, inclination or expertise to do yourself so you can maximise your free time. Based in London with global coverage. Please visit our website at www.bonviva...(Read More)