By Eric Rosen Dec. 16th, 2010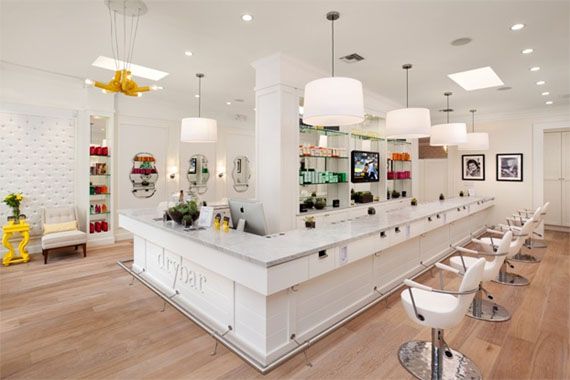 Health & Beauty:
Botox, micro-dermabrasian, peep-toe boots. There's no doubt about it--
Los Angeles
is the place where fashion and beauty trends are set. That's why the city is setting a new trend in the form of a chain of upscale, bar-themed blowout salons called
Drybar
, with locations in some of the city's toniest neighborhoods.
You have your rituals, you make the same hair appointments every month. Cut. Color. Blowout. Repeat. It's as regular as the flow of the tides and the movement of the heavens. But sometimes, you have a special occasion, or just a free afternoon for once, and you want to look nice--whether it's for you or someone else--and all you want is a fast, easy blowout without any of the hassle of booking appointments at the salon. For those all-too-often neglected opportunities, there's Drybar, with its motto of "No cuts. No color. Just blowouts."

Founder Alli Webb, who decided to go to beauty school and become a stylist thanks to having to deal with her own naturally curly hair, explains how she started the business just over a year ago. "With two kids, and no time on my hands, I got so frustrated with either overpaying for a good blowout at my salon, or having to go to a schlocky discount chain," Webb tells us. "I always wished there was a fun, beautiful, comfortable place where I could get a great blowout at an affordable price. There wasn't anything like that, so I decided to build my own!"
Each Drybar location has its own distinctive personality, but one thing you can count on in each is a welcoming, professional staff, and a glam design with touches like marble counter tops, Hollywood Regency mirrors and accent pieces, mid-century modern lounge areas, and modular white leather salon chairs that all make it feel like you've just happened upon the coolest hair salon in the world. It's like being a grown-up in a candy shop. A candy shop, that is, of beauty delights that you walk out of looking gorgeous.

"Drybar is about the experience," explains Webb. "We pride ourselves on not being a "salon" says Webb. "You come to Drybar for a great blowout, but you also get amazing customer service, you sit at a bar, have a drink, chat with the bartender (receptionist), watch a chick flick, and walk out feeling amazing."
Clients start with a shampoo and optional scalp massage, then they can choose from one of five blowout styles. There's the Straight-Up, which is just the signature blowout to give you that little extra bit of finesse and styling. Then there's the Mai Tai for those California girls going for a messy, beachy look. The Southern Comfort is all about volume. Lots and lots of it. The Cosmopolitan leaves you with flirtatiously loose curls that would put any Sex and the City girl to shame. Speaking of which, the Manhattan is the last word in sleek and smooth sophistication.
Lest you think this is just a cut-and-dried (so to speak) blowout appointment, though, there are several pampering add-ons to customize the experience to your every whim. It all starts with the shampoo. Guests who want to can add an extra 10-minute scalp massage onto their session before choosing from a variety of signature Kérastase treatment "Hair Shots" designed to repair and rejuvenate those limp tresses like the Super Hue shot for replenishing color-treated hair.

But what fun is it just to go get a blowout without your best girlfriend, or posse (this is L.A., after all), at your side? No one has to parse the style choices alone thanks to Drybar's party bookings, where everyone from bachelorettes to star-struck teenagers, to cougars on the prowl can come in with their crew for a group blowout.
You can also save some money by buying one of their "Bar Tab" packages, or gift someone you love with a purely aesthetic experience by giving them a blowout as a holiday gift. This is the busiest time of the year, though, so if you don't have time to drop into one of the four (for now) location, you can also order a stylist to come to you, special delivery, for $75.
And speaking of the holidays, according to Webb, the latest hair trend has a festive sparkle to it: tinsel. "We are all a little obsessed with Tinsel over here! They are these tiny little threads of colored Tinsel that can easily tie into the hair and give the hair a little extra glimmer. It's a really fun way to dress up your hair for the holidays, our clients are loving it!"
Sounds like another new trend...
Brentwood: 11677 San Vicente Blvd., Los Angeles, CA 90049, (310) 442-6084 West Hollywood: 8595 Sunset Blvd., West Hollywood, CA 90069 Studio City: 13019 Ventura Blvd., Studio City, CA 91604 Pacific Palisades: 15248 Sunset Blvd., Pacific Palisades, CA 90272
Eric Rosen
Eric Rosen lives in Los Angeles and writes about food, wine, travel and adventure... usually in some combination of the four. He regularly contributes to Los Angeles Confidential Magazine, Condé Nast's HotelChatter and Jaunted, TravelAge West, Palate Press, Frontiers, Edge and Wandermelon. His work has also appeared in the L.A. Times. When he is not exploring the Los Angeles dining scene, Er...(Read More)