Jan. 21st, 2011
Farmers Market Dinner Series at FIG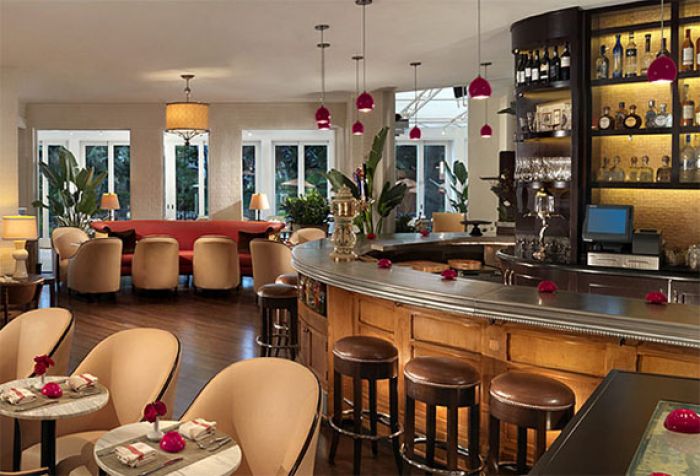 Los Angeles Dining:
It's all about farmers' market fare and seasonal menus in Los Angeles restaurants these days. FIG at the
Fairmont Miramar
in Santa Monica takes the trend a step further. They're offering a series of Farm Dinners where the individual farmers who actually supplied the standouts on Chef Ray Garcia's menu get their moment in the sun. So to speak.
FIG is a special case in Los Angeles cuisine, because rather than settling on being just an excellent hotel restaurant, Chef Garcia has pushed both himself, and his team, to set the trends rather than following them. Case in point: One member of that team is actually the "Forager" who scours Southern California farmers' markets for the freshest ingredients that keep the menu interesting all year round.

Some recent
menu highlights have included Niman Ranch pork schnitzel with pickled cabbage, walnuts and Trockenbeerenauslese brown butter; and pumpkin tortellini with Blue Hubbard squash and sage. Perhaps the most inventive part of the menu, however, is the little section at the bottom that tells diners which ingredients have just come in from the markets (persimmons, quince, Brussels sprouts), which ones are peaking right now (pears, pumpkin, carrots), and which ones they can expect soon (escarole, kumquats, celeriac).

But it's not all about haute cuisine here. In the summers, Chef Garcia wheels a cart out to the hotel pool and serves up specialty cocktails like a Sangria Blanca with raspberries and St. Germain. He also offers a selection of hot dogs like the signature FIG Dog with a beef wiener slathered in bacon-habanero marmalade and covered with Fritos then finished off with a Comté cheese fondue on a sesame bun.


For each of the Farm Dinners, Chef Ray Garcia invites a different California farmer he works with to come in and showcase the freshest of their seasonal produce with a special menu he creates just for the event.

For the first Farm Dinner of 2011, Chef Garcia is welcoming Garcia Organic Farm (no relation) to the table on Wednesday, January 26. The special menu tells the story of the farm, which was started by Juan and Socorro Garcia on ten acres back in 1989, and has been organic from the start. In the mid-1990s, the farm began to actively participate in the Santa Monica Farmers' Market and continued to expand. These days, Garcia Organic Farm grows nearly 50 varieties of citrus, avocados and other fruits.

Chef Garcia has organized the menu into sections with appetizers, entrees and some desserts that highlight each of the fruits he receives from the farm. In the grapefruit section, for instance, there are Carlsbad oysters with a cocktail grapefruit mignonette, a whole grilled dorade with grapefruit mélange, and shortbread with cr?me fraiche ice cream.


Because the dinner is taking place during DineLA Restaurant Week, the restaurant week menu won't be offered that night, but the dinner, like all in the Farm Dinner series, is open to the general public.

Chef Garcia's community involvement doesn't end at the farmers' market, though. He also participates in "Cart for a Cause," a non-profit program that benefits St. Vincent Meals on Wheels of Los Angeles. Each week, a chef brings his or her menu specialties to various neighborhoods around Los Angeles to help raise money for the program. Chef Garcia was their guest on January 11 and 18.

What items from FIG's seasonal menu did he serve? A healthy smattering of dishes including the chickpea and pomegranate veggie burger, fish tacos and the pancetta and short rib meatloaf sandwich. For $10, diners received an entrée, a POM juice or Fiji water and a snack or dessert; all served on eco-friendly dinnerware. Proceeds from every meal sold will help feed homebound senior citizens who are part of the St. Vincent Meals on Wheels program.

Now that's gorging for good.

FIG at the Fairmont Miramar
101 Wilshire Blvd
Santa Monica, CA 90401
310.319.3111
figsantamonica.com
.

Los Angeles Map

.
.

Luxury Hotels in Los Angeles

.






Eric Rosen

Eric Rosen lives in Los Angeles and writes about food, wine, travel and adventure... usually in some combination of the four. He regularly contributes to Los Angeles...