By Eric Rosen Apr. 19th, 2011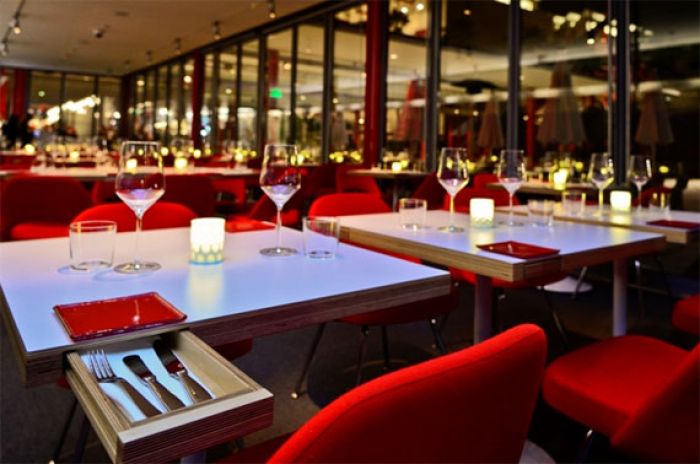 Photo Credit: Dustin Downing
We like to think of ourselves as art-loving individuals. But much as we hate to admit it, with our busy lives and the amount of fun things to do in L.A., it takes something pretty special to get us out to a
museum
these days.
Just in time to deliver a much-needed dose of culture to our lives, Patina Group has opened its latest restaurant, Ray's and Stark Bar at LACMA (Los Angeles County Museum of Art). Plus, right now, its food and cocktail menus are featuring items dedicated to the memory of the late, great Elizabeth Taylor that coincide with the museum's new exhibition titled, "Elizabeth Taylor in Iran."

Ray's and Stark Bar are just adjacent to the dramatic Renzo Piano-designed Lynda and Stewart Resnick Exhibition Pavilion at LACMA, and are the final component of the building. The convivial indoor-outdoor bar, with seating right in the museum's central patio, is under the aegis of "barsmith" Michel Dozois, whose cocktails are both signature takes on classics; there is a Singapore Swing and the Brandy Sour, as well as tongue-in-cheek tributes to the legendary Hollywood producer from whom the bar-restaurant takes its name: the Steel Magnolias with rum, freshly squeezed lemon juice, simple syrup, strawberry and basil.


The restaurant also has a patio, though the Mad Men-esque midcentury interior furnishings make dining here feel like you're the coolest kid in the 60s. The kitchen here is under the command of the esteemed, if somewhat perambulatory, Los Angeles chef Kris Morningstar. His menu culls the best of local produce (some of which comes from his very own onsite garden) and incorporates intriguing international flavors.

His much-lauded wood-roasted chile relleno stuffed with chorizo, dates and local goat cheese in almond sauce is not-to-miss, while the grilled octopus with chickpeas, favas, charred cucumbers, Treviso, shishito peppers and coppa is a lighter spring dish to start the meal.

Beautiful Santa Barbara spot prawns come on a bed of seco sauce, salted oatmeal, broccoli and green garlic; while the hanger steak is a hearty plate of gorgeous red meat with rich smoked marrow, marble potatoes, cipollini onions and watercress.



However, the special cocktail and dish we wanted to tell you about, and which will be available as long as the "Elizabeth Taylor in Iran" exhibition runs through June 12, 2011, are both tributes to the world-famous lady herself, and both pay tribute to her role as Cleopatra in the 1963 film epic.

At the restaurant, Chef Morningstar will be dishing up fig and goat cheese croquettes with saffron honey, calling to mind the flavors of the Middle East. For his part, Dozois will be mixing a cocktail of rum, lime juice, agave nectar and a tiny pinch of saffron, perfect for pairing. Each of the specials go for $10.


The exhibition itself is actually a rare look at the late actress and a now-forgotten trip she took to Iran in 1976. Photographer Firooz Zahedi, a recent art school graduate at the time, accompanied Taylor during her journey to Iran, documenting the trip with visually alluring photos, both candid and posed, that draw the viewer into both Elizabeth Taylor's personal experience, and the greater experience of the exotic land she was visiting.

In one photo we saw, Taylor lies on a multicolored carpet, draped in finery and languidly beckoning the viewer with her violet eyes to follow her to a land of magic lamps and spice markets with a single, sultry glance.

What better way to spend an evening than joining Elizabeth Taylor on her photographic trip, then discussing the experience with friends over dishes and drinks at Ray's and Stark Bar? Maybe we'll even start to feel cultured again.

Ray's and Stark Bar
5905 Wilshire Blvd.
Los Angeles, CA 90036
323.857.6180
www.raysandstarkbar.com
Eric Rosen
Eric Rosen lives in Los Angeles and writes about food, wine, travel and adventure... usually in some combination of the four. He regularly contributes to Los Angeles Confidential Magazine, Condé Nast's HotelChatter and Jaunted, TravelAge West, Palate Press, Frontiers, Edge and Wandermelon. His work has also appeared in the L.A. Times. When he is not exploring the Los Angeles dining scene, Er...(Read More)