By Deidre Woollard Dec. 30th, 2011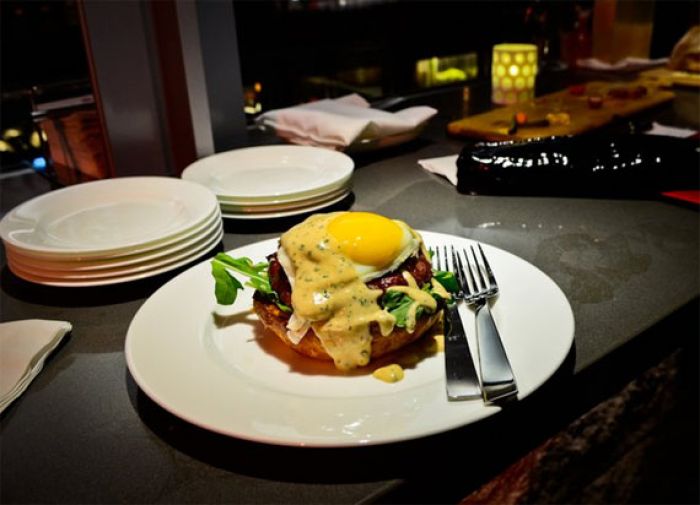 Photo Courtesy of Patina Restaurant Group
The first meal of the year isn't always the most memorable but it doesn't have to be that way.
Ray's & Stark Bar
at the Los Angeles County Museum of Art is showcasing a New Year's Day menu designed to start the new year off with happy taste buds and a full belly.
Executive Chef Kris Morningstar's menu for the first day of 2012 is full of luxe versions of comfort food staples. The showcase item is 'The Hangover Helper,' a buttered brioche with griddled onions, Sottocenere cheese, prosciutto rossa, wild arugula, and a sunny farm egg ($17). 

If one of your new year's resolutions is to get your Omega 3 fatty acids, perhaps the smoked herring, crisped with garlic, capers, red onion, sunny egg on country bread with house-made sriracha ($16) might be the way to go. Other highlights include the spicy Chorizo with navy beans, braised greens, jalapeno-cilantro sauce, slow cooked egg, and crispy bread ($15) and a French Toast with vanilla anglaise, maple glazed apples, and country butter ($14).

Those in search of a little more decadence might opt for the warm black truffle parfait with slow cooked egg, crispy potatoes, chives, brioche soldiers, and smoky onion soubise or oysters with lime juice and spice of life hot sauce. Lunch is served from 11:30 a.m. to 3 p.m. Enjoy a postprandial stroll to check out Ai Weiwei's bronzed animal heads at the LACMA and you've managed to have both a little culture and a great meal. Not a bad way to start 2012. Visit PatinaGroup.com to learn more.
Deidre Woollard
Deidre Woollard has been writing both fiction and nonfiction for years. She has a Master of Fine Arts from Spalding University and her short fiction has been published in literary magazines and anthologies. She served as the lead editor on Luxist.com for six years writing about real estate, auctions, jewelry and luxury goods....(Read More)