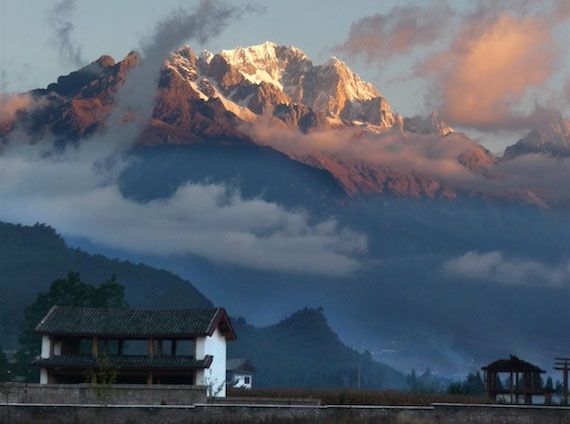 Photo Courtesy of Abercrombie & Kent
Over the years, many travel writers have insisted a major reason we travel is to find some degree of happiness, by leaving familiarity and the comfortable status quo behind, moving into a more seductive territory of risk and reward. I have always felt there was something more to this rationale - and it's this: with the most memorable forms of travel, those that involve both education and delight of the senses, a
great travel experience
offers a type of connectedness with past, present, and future.
Many theologians use the image of lifting the veil - an experience combining past with present, mortal with immortal, of being able to sense one's place in the grander scheme of history. In travel, it can sometimes be felt when visiting ruins of a great ancient city, or place of worship, or being far from the familiar; hearing a Muslim call to prayer; or viewing the Southern Cross on a Brazilian beach; or the Aurora Borealis in an ancient desert; or on a now-barren plain; seeing and feeling the occurrence of some great battle; all where mystery and transparency combine, connecting a distant past to time's irrelevance.

This rare awareness doesn't happen often; mainly because even the most basic travel has become quite complicated, in contrast to what it was like when I started traveling professionally back in the 80's when the journey was never that bad and the destination was always worth it. Now, often the journey is really difficult, and the destination, though worth it, takes some time, with jet lag/body adjustments being constant companions. Companies with the foresight and insight to match this travel need with the emerging curated travel experience trend, create the positive confluence of the Perfect Storm.


The curated travel experience is one that moves beyond knowing where white truffles can be found, or why the wine vintage relates to the terroir of the soil. It means more than getting on a plane and traveling someplace with a set itinerary. If traveling is an evolutionary process, then the curated experience has evolved from a set itinerary knowledge, to a deeper grasp of destination and destiny. It moves from classic to romantic, from structured to improvisational, from that which is empirically known to that which is continually questioned.

The Marco Polo Club is a significant example of this curated level. It is part of the half-century-old ACTUAL Abercrombie & Kent who, after 50 plus years in the travel industry, are aware that certain travelers are deeply connected to the process of and passion for travel; and it is for these people that this club dimension was created.

"The Marco Polo Club members seek an experience of a more profound nature that expands their understanding of the world," said Pamela Lassers, a senior Media executive at Abercrombie & Kent. "They are experience seekers; educated, active, accomplished connoisseurs, with the majority being professionals and entrepreneurs with an intense curiosity about the world."



"Our goal is to introduce them to new and intriguing destinations, focusing on those far off the beaten path, as well as providing a new way of looking at a familiar destination that illuminates their understanding of that culture and theirs also. We look for places where it is possible for us to offer 'invitation only' access to authentic experiences in a personalized, low-profile style. Part of the appeal of these members-only trips is the chance to travel in the company of the experts who design our itineraries - along with naturalists, historians and local guides - and provide direct, personal feedback that shapes future A&K offerings."


"In developing a Marco Polo Club itinerary," Pamela continued, "a unique storyline is created to unify the many variables in the planning, design and operation of a tour. This idea blueprint establishes the vocabulary for describing the shared emotional, spiritual and intellectual response the trip is designed to evoke."

"And," added Scott Wiseman, Abercrombie & Kent USA President, "for 2012 we have designed 16 journeys for Marco Polo Club members, many to new destinations, and others that explore familiar countries in unexpected ways. Each itinerary is led by an expert A&K Tour Director and offers unique 'insider' opportunities not available anywhere else in the travel community - not even to other A&K travelers."

New destinations for 2012 include Myanmar's Burmese Heritage. In traveling to Iran, Marco Polo members can experience Shiraz and Persepolis among others, and to Brazil, they move from the rainforests to Rio. Those interested in diverse cultural traditions can journey to Mongolia, the Nadaam Fest and the Gobi Desert. Then, there are journeys to China: Along the Tea & Horse Trail, or to Bhutan & Nepal. The Jewish Diaspora journey explores historic synagogues, priceless collections and monuments that commemorate both resilience and loss in Amsterdam, Krakow, Prague and Berlin.


During the Treasures of the Adriatic journey, five UNESCO World Heritage Sites are explored, showing the diversity of Central Europe, from Lake Bled in Slovenia, to Montenegro's jutting fjords. With one foot in Europe and one in Asia, the Marco Polo journey in Turkey reveals historic, multi-cultural influences through exploration of the ancient cities of eastern Turkey.

Then, in England the traveler may experience English gardens & The Chelsea Flower Show with privileged access to the Royal Horticultural Society's members-only festivities and tea at Highgrove, the home of HRH the Prince of Wales. Guests always travel in the company of Abercrombie & Kent's most knowledgeable Tour Directors to guide the Marco Polo members on their journeys. These people have often been born and raised in the area, and have deep DNA knowledge of destinations, events, history, and topography.

This type of travel inform the discourse between adventure and sanctuary, between self and other, between nature and culture. The curated experiences also have the propensity to create in the traveler a sense of what Greeks called eudamonia - a feeling of human flourishing and joy - a sensual connectedness, so when the temporal veil is lifted, as the poet Matthew Arnold wrote, "what we see, we feel, and what we would, we know."