By JustLuxe Team Dec. 3rd, 2010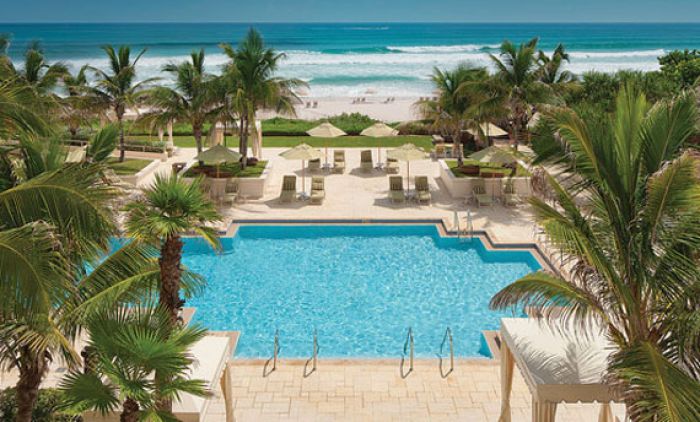 Hotel News:
Striking a serene, spa-inspired sensibility that suits both the sophistication and natural beauty of its oceanfront locale, celebrated Canadian
interior designer
Brian Gluckstein is at the helm of a total transformation of the guest rooms and suites at Four Seasons Resort Palm Beach.
Gluckstein, who last year won rave reviews for his design of a new Spa at the Resort, once again draws on a soft palette of sea-glass colours, revitalising the Resort's 210 guestrooms and suites with a clean, contemporary look. The renovation is well under way and scheduled to be completed in December 2010.

"The change is dramatic, yet consistent with the timeless feel of the new spa and lobby of the Resort. It's the style of décor our guests would choose for their own ocean-front homes," says General Manager Kathleen Horrigan, noting residential touches such as plush, comfortable seating and artwork evoking the sea's rhythmic tides.
In keeping with the ocean themes of the Spa, the new rooms feature modern, Art Deco-style custom furnishings in colours that mirror the changing hues of the sea, sky and sand: "iced slate," "seafoam," "cirrus" and "soft fern" are just a few of the names for the luxurious fabrics. Maple credenzas and nightstands finished in a special blend of colours and faced with a glaze called "seashell" contribute to a light, airy look.
Gluckstein is creating spaces that offer a restful oasis while emphasising the views. The renovated bathrooms feature separate tubs and shower stalls, with pale ivory marble throughout, and ivory, taupe and white mosaic floor tile from Greece that is reminiscent of seashells on the beach.

"As with the Spa, my approach is to create restful spaces inspired by the Resort's oceanfront setting, intimate nature and residential style," says Gluckstein. "Guests of Four Seasons Palm Beach think of it as their home, and my objective was to bring an elegant beach house aesthetic to the rooms."
Among interior designers, Brian Gluckstein is known for combining casual sophistication, comfort and understated elegance. His designs grace public spaces – such as the model residences at the new Four Seasons Hotel Toronto and the Windsor Arms Hotel – and private residences across North America. His retail lines include home furnishings and accessories sold throughout Canada.
JustLuxe Team
The JustLuxe Team strives to bring our members and readers the very best in luxury news and conversations. We love to hear your opinions and suggestions, but most of all, we love to interact with you. ...(Read More)