By Deidre Woollard Dec. 20th, 2011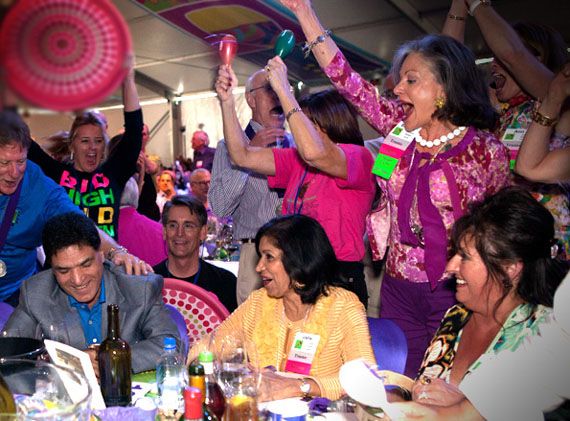 Photo Courtesy of Naples Winter Wine Festival
Back in September the theme for the annual
Naples Winter Wine Festival
was announced: "Believe In The Magic." Each winter the wealthy convene in Naples, Florida for a weekend of ultimate luxury and one of the wine world's most lavish auctions.
The one-of-a-kind offerings are designed to get attendees bidding high to raise money to benefit underprivileged and at-risk children, with last year's the auction raising $12 million.

Up for bid at the 2012 live auction, which takes place on January 28, is a silver metallic 2012 Mercedes SLS AMG Roadster; a trip around the world in a private jet; attendance at Elton John's White Tie & Tiara Ball in Old Windsor, England; a meet-and-greet with designer Oscar de la Renta and tickets to his New York runway presentation; a walk-on role on the Emmy Award-winning TV series, "The Good Wife;" attendance at a Tiffany & Co. 175th anniversary gala with a $50,000 shopping spree; and a golf trip in Ireland, which includes golfing and dining with Darren Clarke, the 2011 British Open Champion.



Each of these lots sounds good on its own but the features are even more spectacular. Lot 51, the trip to Elton John's White Tie & Tiara Ball in Old Windsor, England also includes gifts from Chopard: a ladies 18-karat yellow gold and diamond Happy Sport Square Evening Watch and a pair of men's 18-karat yellow gold and diamond Happy Diamond Square Cufflinks.

Lot 37, the fantasy trip to Tiffany's also includes tickets to a Broadway show and a private lunch prepared by Chef Daniel Boulud. Gourmands might want to take particular note of Lot 21, a nine-night trip to Italy which includes a chance to go truffle hunting in Alba as well as enjoying private tastings at several Italian wineries.



The non-wine lots are among 67 spectacular offerings that include rare wine collections; large-format bottles unavailable elsewhere; and private winery experiences with renowned vintners. Proceeds benefit children in need through the Naples Children & Education Foundation, the festival's founding organization.

"Together with fellow NCEF trustees, we sought out the most unique experiences and treasures and tapped numerous friends and potential supporters to create dream-worthy lots," said Joan Clifford, co-chair of the festival with her husband Bob and trustees of NCEF. Bob added, "With 100 percent of every winning bid amount destined for very deserving children, we are eagerly anticipating the gavel's fall come January 28." According to Bob Clifford, the search for auction items spanned 18 months and the work of many sponsors and donors.



The event begins on January 27 with once-in-a-lifetime vintner and chef dinners hosted at Naples Children & Education Foundation trustees' homes. A total of 17 talented chefs are paired with 2012 vintners. The participating chefs feature some of the most revered names in the culinary world including Wolfgang Puck, Michelle Bernstein, Rick Tramonto and Chef de Cuisine, Tony Mantuano. Each themed dinner has 20 to 40 guests and is a collaboration among hosts, chefs and vintners.

Naples Children & Education Foundation has raised more than $94.5 million at the Naples Winter Wine Festival since 2001 to create and expand charitable programs serving underprivileged and at-risk children in Collier County. Ticket packages start at $8,500 per couple. More lot details and information available at NaplesWineFestival.com.
Deidre Woollard
Deidre Woollard has been writing both fiction and nonfiction for years. She has a Master of Fine Arts from Spalding University and her short fiction has been published in literary magazines and anthologies. She served as the lead editor on Luxist.com for six years writing about real estate, auctions, jewelry and luxury goods....(Read More)