By Shandana A. Durrani Feb. 7th, 2011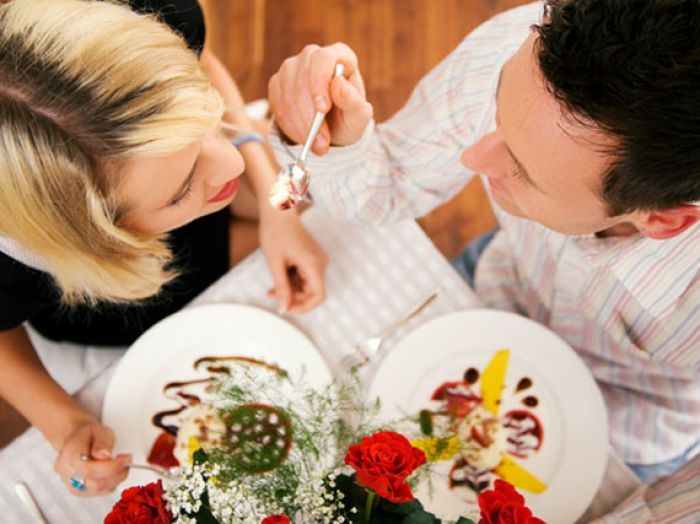 Valentine's Day
is for lovers, but what couple enjoys spending an exorbitant amount on dinner at a swanky restaurant? After flowers, gourmet chocolates and that special gift, you're already $200 in the hole.
Thankfully, a number of New York City's top eateries are offering Valentine's Day specials. Here are my picks for the best Valentine's Day Prix Fixe menus, with an eye on your wallet, as well as your palate.

The Plaza Food Hall by Todd English
If your date isn't high maintenance and likes a communal atmosphere, take her to The Plaza Food Hall by Todd English. English is a familiar name to gourmands everywhere as he owns and operates a number of Italian eateries around the country. At the Plaza Food Hall, English is whipping up a three-course menu at $35 per person.

Diners start off with a glass of Prosecco and work their way through an array of Mediterranean-inspired dishes such as parmesan polenta, seared shrimp with turnips and lemon, lamb ragu with feta and saffron-infused paella. You'll save so much on dinner you can splurge on that ring she always wanted.

The Palm Court
Take a walk to the other side of the Plaza hotel and you'll find The Palm Court, a restaurant that has served dignitaries, socialites and celebrities for more than a century. If your girlfriend is an Anglophile and would rather eat a light repast, Palm Court's "Tea for Two" might just be her cup of tea. Displayed on a traditional tiered stand, diners enjoy a choice of light bites such as beef Wellington and bay scallops in caviar. Don't forget the candied orange scones, which are lovingly displayed. Finish it all with an array of sweets such as panna cotta, pink frosted éclairs or a heart-shaped truffle cake. Of course, tea is included, and it's all for $60 per person.

Fishtag
If your date likes to savor a glass of craft beer, wine or Scotch with his/her meal, then Fishtag may be the most economical of all the choices. Greek cuisine gets top billing at Chef Michael Psilakis' new restaurant and wine bar on the Upper West Side. Normally, the staff suggests wine, beer and spirit selections for your main course. For Valentine's Day, the eatery takes it a little further. Diners can choose from three separate prix fixe menus: the Beer Lover's menu ($65/person), the Wine Lover's menu ($75/person) and the Spirit Lover's menu ($85/person). Savor the grilled prawn and feta bruschetta and the Founders Pale Ale if you're a beer lover. Try the sheeps milk dumpling and Tellus Cocci Grifoni in you prefer wine. The mussels and spicy lamb with pickled leeks works great with the Ardbeg 10-year Scotch. Psilakis also runs the more rustic Kefi, which is also promoting a $28.95/person Valentine's Day special.

Junoon
Many Indian restaurants in New York City don't inspire romance but new eatery Junoon, named for the Hindi word for passion, takes it seriously. The setting at this Chelsea eatery is romantic and elegant, and so is the food. You can even see into the elaborate spice room from your seat. For $85 per person, you get five courses of delicious food such as duck breast in a coconut-kokum sauce or ginger-crusted cauliflower with beets and lemon rice pulao (it's similar to a rice pilaf). Pair your meal with wine for an additional $60 a head.

Adour Alain Ducasse at The St. Regis New York
Of course, if you want to splurge a little, we won't tell. Usually, dinner at Adour Alain Ducasse at The St. Regis could set you back at least $250. But on Valentine's Day, the French restaurant is serving a $105, three-course menu, with an opportunity to win a two-night stay at the St. Regis's Astor Suite. The myriad of appetizers and main dishes make it hard to just choose three courses.

Opt for the sautéed duck foie gras with Champagne grapes or the fluke ceviche to start. Savor the local sea bass with vegetable fondant or the farm-raised chicken with Swiss chard. End it all with Tahitian vanilla ice cream and berry sauce. If you've forgotten to give your honey chocolates, don't fret. Adour is sending each guest home with a small box of bon bons. Alain Ducasse's other eatery, Benoit, a casual yet elegant bistro down the street from Adour, is running a three-course, $65 per person menu on February 14. It might be a better option that Adour as someone that evening will win a two-night stay at L'Andana, Ducasse's luxury hotel in Tuscany, which has an amazing ESPA spa.
Shandana A. Durrani
Shandana A. Durrani is a travel and lifestyle journalist based in New York City. She is the author of "Day Trips from New York City" (Globe Pequot Press, 2011) and co-author of "Insiders' Guide to New York City" (Globe Pequot Press, 2011), both travel guidebooks. She was Cigar Aficionado magazine's Travel Editor for more than 10 years and has visited such far-flung locales as New Zeal...(Read More)