By Shandana A. Durrani Apr. 12th, 2011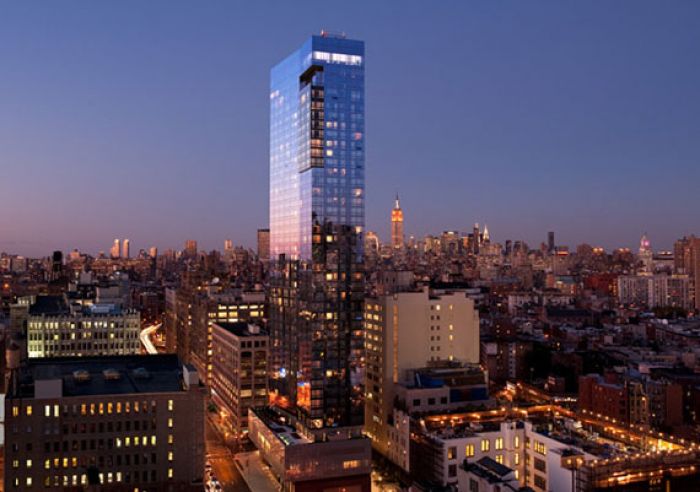 Photo Courtesy of Trump SoHo
The first year of a hotel's existence can be an overwhelming one. Locals and tourists can make or break the spot if they find it wanting. Service glitches can arise, staff come and go and owners run out of money.
Some properties open and close within a year. So it's always nice to see a neighborhood hotel survive that tumultuous time. Despite the recession, several New York City hotels have succeeded. Trump Soho is a new addition to the list. The hotel celebrated its one-year anniversary on April 9.


The Trump is a behemoth situated on the far western edge of Soho on Spring Street. The building dominates the skyline and offers unobstructed views of downtown and uptown Manhattan. Porters greet you as you enter the lobby and the staff are exceptionally friendly and service-oriented.

Rooms are large, with more space than most area hotels. Sleeping areas are comfortable and bathrooms are spacious. If you're lucky enough to get upgraded to a one-bedroom suite, you'll enjoy an expansive bathroom with a separate deep-soaking tub and shower. The tub offers amazing views of the downtown skyline. Sit back and watch the lights twinkle in the distance.


The main sleeping area is roomy and easy to navigate. Everything is a stone's throw away from the bed so you can sit back and enjoy the show. The views are some of the best I've ever seen in New York with both downtown and uptown represented. You can even see Central Park in the distance if you look closely.

Donald Trump's daughter, Ivanka, was instrumental in the design of the hotel and it shows. Rather than the more ostentatious decor found in other Trump properties in the city, the color scheme is more muted and elegant. Browns and golds can be found, but they aren't the brash variety. It looks more modern and fresh, yet still has the unmistakable Trump stamp.


The only drawback to the room is that the bed frame is a little sharp so beware where you walk. I also had a little trouble finding the hotel guide. It's hidden in a drawer in the desk.

The Spa at Trump Soho is one of the best in the city. It's the only spa in Manhattan with a traditional Middle-Eastern hammam. Other spas in the city may say they offer a hammam but it's just a glorified steam room. The Trump has a true hamman, with Morroccan tiles and heated marble tablets. Guests can enjoy Moroccan or Turkish water treatments either solo or as a couple.


Therapists toss hot water from metal bowls onto your body before they scrub it down with a bamboo and cotton bath mitt. Castile soap is then spread on your limbs before cold water rinses you clean. It's an interesting treatment and not recommended for the self conscious nor acqua-phobes. The Spa also offers more common treatments such as Swedish massages and European facials.

Quattro Gastronomia Italiana restaurant serves tasty fare from Piedmonte. Chef Fabrizio Carro is as personable and friendly as he is talented (his twin brother runs Quattro Gastronomia in Miami). Opt for the baked eggplant and tomato appetizer and the creamy burrata soup with tomatoes and basil. Both are menu standouts.

The hotel offers deals throughout the year and will probably run another special next April 9. Let's hope it sticks around.

Trump Soho New York
246 Spring Street
New York, NY, 10013
212.842.5500
www.trumpsohohotel.com
Shandana A. Durrani
Shandana A. Durrani is a travel and lifestyle journalist based in New York City. She is the author of "Day Trips from New York City" (Globe Pequot Press, 2011) and co-author of "Insiders' Guide to New York City" (Globe Pequot Press, 2011), both travel guidebooks. She was Cigar Aficionado magazine's Travel Editor for more than 10 years and has visited such far-flung locales as New Zeal...(Read More)