By Shandana A. Durrani Jul. 7th, 2011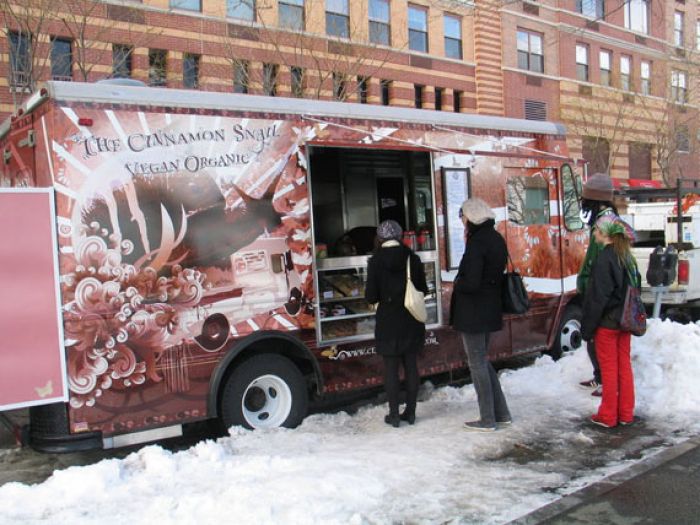 Photo Courtesy of The Cinnamon Snail
Food trucks are nothing new in
New York City
. Halal carts and hot dog stands have long dotted the outdoor culinary landscape. But something strange happened two years ago.
Gourmet restaurants and chefs, wanting to embrace the untapped customer base, launched mobile epicurean stands throughout the city. Even Michelin-starred Chefs Daniel Boulud and Alain Ducasse got in on the act. In 2011, New York City has hundreds of food trucks situated in all five boroughs. Here are the best:


BistroTruck
Not every food truck caters to traditional street food. Bistrotruck has won the hearts and stomachs of many a gourmand with its take on standard bistro fare such as Dijon Chicken ($7.50) and steak sandwiches ($9) with a Moroccan twist. Pastillas ($10) and Tagines ($6) are the best bets as the North African spices blend perfectly with the meat and vegetables. Sides include authentic Belgian frites ($3.50) and couscous ($3).


Wash it all down with a delicious Moroccan Mint Tea ($2-$2.50). Trucks head downtown after starting the week near Hell's Kitchen.



The Cinnamon Snail
Most savory food trucks are omnivore havens. What's a vegetarian or vegan to do? Cross the river to nearby Hoboken, New Jersey and head to The Cinnamon Snail truck, which is docked - weather permitting - near the Path train terminal. The Cinnamon Snail serves breakfast, brunch and lunch to vegans looking for flavor and innovative dishes. Start your day with a blue corn pancake with pine nut butter ($8) and come back for the savory basil pesto grilled tofu with cashew cheese and fried sage ($9).
If you're unemployed or homeless, the Snail will offer you food for free - at their discretion.



Korilla BBQ
When it comes to quick and easy street food, Asian tends to come to mind more often than not. Korilla BBQ melds Korean comfort food, American ingenuity and Mexican flavor. Korilla specializes in grilled meats such as grass-fed ribeye and antibiotic-free pulled pork and chicken, wrapped in burritos ($7) or stuffed in tacos ($7). Burritos feature a choice of bacon-flavored kimchi rice or vegetarian sticky rice and both include red kimichi, special house sauce, lettuce, salsa and cheese. For a more authentic Korean experience, I prefer the Chosun Bowl ($8). Just add a protein, rice, one of three kimchis and some radishes, carrots and special sauce. It packs a flavor wallop. The truck moves around Manhattan daily.



Schnitzel & Things
Breaded and fried food is a food truck staple and while many a food truck showcases traditional American fare, Schnitzel & Things serves authentic Austrian schnitzel as well as bratwurst and schnitz burgers. Guests can choose from a thin, breaded cutlet of traditional pork, chicken or cod on Italian ciabatta ($8). Traditionally served with vinegary potato salad ($3), diners at Schnitzel & Things can choose from a variety of other sides including braised sauerkraut ($3), roasted beets ($3) and chickpea salad ($3). The truck traverses Manhattan's East Side.



Wafels & Dinges
You've had your savory lunch or dinner so what's for dessert? Wafels & Dinges satisfies your sweet tooth, any time of day. If you like your waffles crispy, try the Brussels Wafel ($5). If you like a bit more gluten, try the chewy Liége Wafel ($5). The De Verdekke($5) is a popular choice because it most resembles an ice cream sandwich. Top your waffles with a dinge (aka topping) such as dulce de leche or Belgian chocolate fudge. During cold weather months, nothing beats a toasty waffle accompanied by tart hot apple cider ($3-$4). The truck makes it way through popular spots in Manhattan and Park Slope, Brooklyn.
Shandana A. Durrani
Shandana A. Durrani is a travel and lifestyle journalist based in New York City. She is the author of "Day Trips from New York City" (Globe Pequot Press, 2011) and co-author of "Insiders' Guide to New York City" (Globe Pequot Press, 2011), both travel guidebooks. She was Cigar Aficionado magazine's Travel Editor for more than 10 years and has visited such far-flung locales as New Zeal...(Read More)