Jul. 18th, 2011
Rooftop Bars NYC: Drinks With an Altitude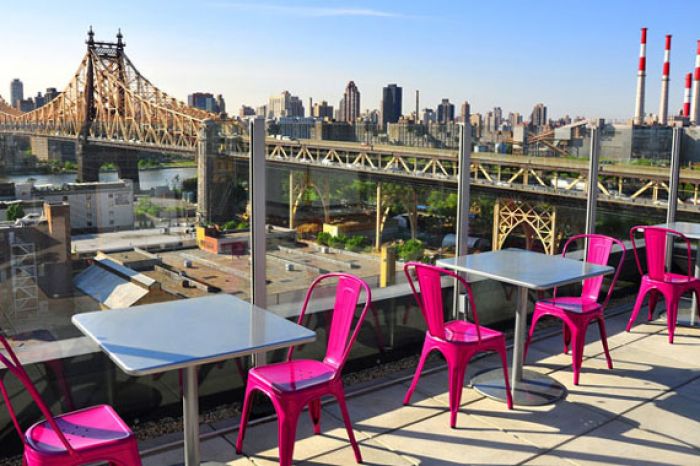 Photo Courtesy of Z Hotel
Summer usually means heading to the beach to enjoy the waves, sunshine and the company of friends. But for anyone not lucky enough to have a Hamptons share, there are plenty of places to spice up your social life should you stay in the city. Rooftop bars are the most popular places to hang in the urban jungle during the dog days of summer. Here are five of the hottest new rooftop
bars in New York City
.
Berry Park
The hipster enclave of Williamsburg tends to skew towards dive bars and serious rock joints so it's a surprise to see a bona fide rooftop bar in the heart of the nabe. Berry Park serves traditional American and biergarten fare - burgers, sausages, etc. - and the beer list includes a number of well known, and lesser known, choice brews. The interior is typical bar decor with wooden slabs surrounded by benches. The rooftop bar features potted plants, wooden tables and chairs, expansive umbrellas and fantastic sunset views of Manhattan. Berry Park holds events throughout the year including musical bingo nights. Head here on a Wednesday to beat the weekend crowds.

4 Berry Street, Brooklyn, NY 11211 718-782-2829


PH-D at Dream Downtown


You don't need an advanced degree to hit this new rooftop lounge. The Penthouse at Dream Downtown is one of the more popular new bars, thanks to its location on the edge of the hyperkinetic Meatpacking District and Chelsea. PH-D features a large dance area enveloped in floor-to-ceiling glass walls. The outdoor portion of the space - all 1,500 square feet - boasts greenery, plenty of comfortable seats and a retractable awning for inclement weather. Master mixologists create yummy cocktails.

355 West 16th Street, New York, NY 10011 212-229-2559


Rooftop Garden at The Surrey


Most rooftop bars have pulsating music and large crowds. For a pleasing and elegant respite, head to the Rooftop Garden at The Surrey. The elegant Upper East Side hotel is known for its impeccable service and tranquil environs. The Garden is no different. Situated on the 17th floor with views of Central Park, the seasonal space features cushioned chairs and chaises, a profusion of ivy and box trees and light fare from Café Boulud. Try the fresh Muddled Lemonade infused with herbs and various fruits.

20 East 76th Street, New York, NY 10021 212-288-3700


Terrace at Yotel


The new 669-room Yotel has made far west midtown a happening spot, thanks to its space agey vibe, swank design and 18,000-square-foot lounge/meeting space/lobby. A fourth of that 18,000 square feet is occupied by Terrace, the hotel's sweeping outdoor lounge. It's arguably the largest outdoor space of any Manhattan hotel. Terrace is at once chic and inviting. Guests sit at curved modern chairs amid bamboo trees. Service is attentive but not intrusive. Reserve a private inflatable covered cabana so you can sip your cocktail and enjoy your light repast in peace.

570 Tenth Avenue, New York NY 10036 646-449-7700


Z Roof at Z Hotel


Even Queens has gotten in on the act. The newly opened Z Hotel in Long Island City is decidedly egalitarian in its door policy. You don't have to be a hotel guest to hang out on the expansive rooftop bar on the 11th floor. The views of Manhattan and the Queensboro Bridge amaze as do the sunsets. The 5,000-square-foot bar is never too crowded, making it an ideal after-work spot. One of the best parts of the lounge is the pizza oven. The thin-crust small pies arrive in minutes after your order. No waiting for food from the ground-floor kitchen. Next summer, the hotel will offer an even larger outdoor space when the third-story biergarten opens.

11-01 43rd Avenue, Long Island City, NY 11101 212-319-7000
.

New York Map

.
.

Luxury Hotels in New York

.






Carolyn Hsu

Carolyn Hsu is the New York Correspondent for JustLuxe and has been beauty, fashion, and travel editor at The Daily Obsession and a freelance writer...