By Suzanne Aaronson Sep. 12th, 2011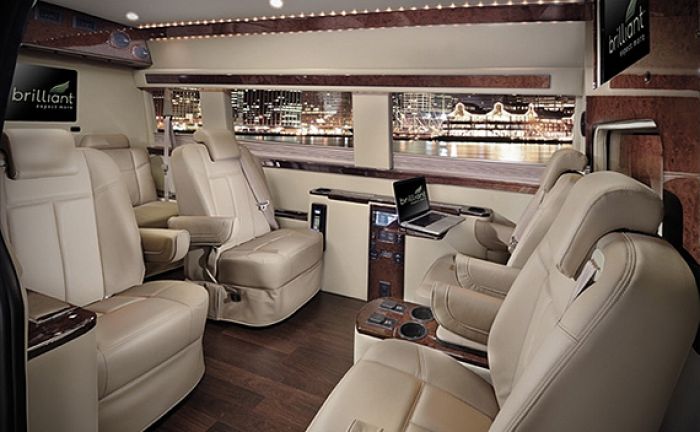 Photo Courtesy of Brilliant Transportation
After living abroad in Paris, Buenos Aires, and London for many years, I moved back to the U.S. in spring 2010 and settled in a gorgeous farmhouse in Greenwich, CT. Lots of rolling countryside, plenty of space, fresh air, some of my own farmed food – and less than an hour from the city that never sleeps, New York. Now I find myself spending more and more time in this city that has so much to offer and is so great in autumn.
I know lots of readers also spend a lot of time in The Big Apple for biz, so I'm sharing some of my top tips to make your next trip more productive.
NYC buzzes, excites, is eclectic and constantly changing and there's no reason you can't take advantage of this even if you're only on a fleeting business trip. First tip: Be efficient in your choice of transport.
The train from Greenwich only takes 45 minutes, and the drive about the same, but as I recently had six meetings in one day with a stop off in Westchester at the Starwood offices, my assistant looked for an alternate to a regular car service. She was coming along as was a new team member we'd just hired and after the fourth meeting, three others were joining to go to an industry event and I thought it would fun if we all went together.
We tried a new company called Brilliant Transportation. One word: brilliant! Luxury chauffeured service: 7-passenger Mercedes-Benz vans, 14-person Mercedes-Benz minibuses or 6-person Cadillac Escalade ESVs all have hardwood floors, comfy leather chairs and drinks stocked in an onboard fridge. It's just perfect for biz, because there is Wi-Fi connectivity (usually such a hassle on the go), hands-free conference calling and LED screens that connect to your laptop, iPod or iPad. Also good to remember for family trips as well, as there are video game consoles upon request and DirecTV to keep kids occupied.
Secondly, pick your restaurants carefully – it's too tempting in the city of best world restaurants to fall into the trendy/poor service trap. There are those that are great for chilling out and relaxing, those that are great for meeting with friends after a long day and those that are perfect for serious business chats – but only a few do all equally well. Power breakfast at Sant Ambreous, or brunch with friends at the BLT Market, with its seasonal specials and proximity to Central Park for a walk/run after. Then, if you need to combine munching with meetings, try Asiate in the Mandarin Oriental (with that view!) or join the media moguls at Michael's for lunch. Cocktails have to be at the amazing and unusual Mark Bar at The Mark, either for biz or pleasure – or even solo. Relative newcomer Crosby Street Hotel has a great adjoining restaurant for a working dinner or Kuruma Zushi for authentic sushi that has been delighting diners since 1977.
Finally: where to sleep. I try new hotels all the time in NY; when traveling for business I find I often have to compromise between comfort and convenience. My last trip I tried out the new Setai Fifth Avenue. Sleek, chic Asian style meets super-convenient New York location, right in the center of Fifth Avenue. Not my favorite neighborhood of course, but it made walking everywhere easy. It might not be the first hotel to spring to mind for business – but for relaxing after a long day, with enough in-room amenities to keep you productive it comes up trumps. Huge rooms are modern and clutter-free with an Eastern twist and massive windows. There are meeting rooms if you need them, otherwise bedrooms are equipped with free Wi-Fi throughout, two-line telephones and personalized voicemail. What I liked and valued most? The ultimate quiet within the hotel walls, a real cocoon from the chaotic city.
The Surrey and The Mark are my two Upper East Side favorites for their style, panache and stone's throw to Central Park. Gramercy Park Hotel with its most unusual outdoor space (roof top garden) and wonderful Mailino restaurant (even fab for breakfast solo or biz meeting) is the best Flatiron area pick, Crosby Street Hotel is, thus far, my all time favorite downtown/Soho choice to rest my weary head.
Suzanne Aaronson
Suzanne Aaronson is the founder/publisher of What's Worth It and the original founder/publisher of Suzanne's Files. Drawing on years of personal travel and extensive research & experiences, Suzanne provides in-the-know insight for discerning individuals who crave interesting experiences, products and inspiring destinations but have no time to source them....(Read More)