By Eric Meyers Sep. 28th, 2011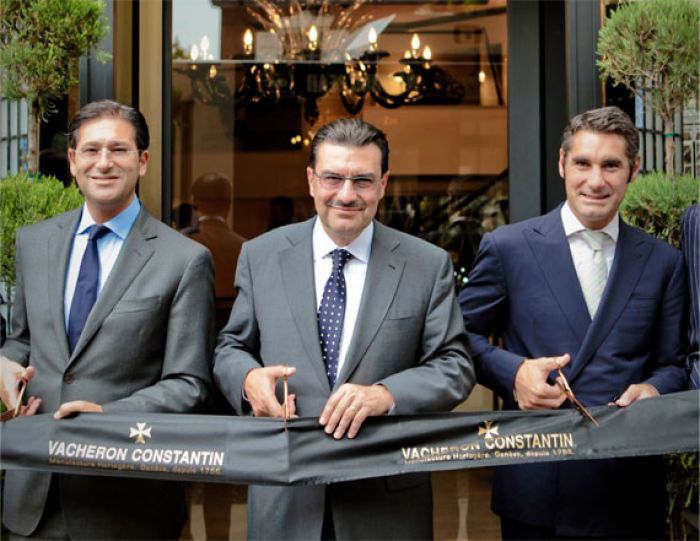 Photo Courtesy of Vacheron Constantin
Vacheron Constantin
opened their first ever American store this week on Madison Avenue at East 64th Street. To celebrate their official landing on American soil 179 years after they first began to sell their timepieces here, the company hosted three nights of big names and big parties.


Each evening's celebration began at the new retail store, where celebrity guests got a first look at the exclusive American Heritage collection before being whisked away to a private mansion on the Upper East Side for fine dining and good company.

Celebrities like Darren Aronofsky, Kelly Rutherford, Jay McInerney, Christine Mack, and more flocked to the mansion to officially welcome the Geneva watchmaker to American soil. The mansion also hosted dinners by the country's best chefs like Eric Ripert and Thomas Keller.

The grand opening parties are over, but the celebration continues at the Vacheron Constatin store, where there are three New York boutique exclusive models. The Patrimony Traditionnelle is a classic VC timepiece, the Historiques American pays homage to a piece from 1921, and the Overseas Chronograph is a perfect watch for the fall with a blue face and blue leather strap.

For more information about the store, or to set up an appointment, visit VacheronConstantin.com.


Eric Meyers
Eric Meyers is a native New Yorker who graduated in Journalism at San Francisco State University. While in the bay, he wrote for various publications like 944 and [X]Press. He has considerable experience in many aspects of culture, and holds a minor degree in the subject. Eric Meyers is also an Online Content Creator for The House Boardshop and author of two cover features for Snowboarder Ma...(Read More)