By The Daily Meal Oct. 5th, 2011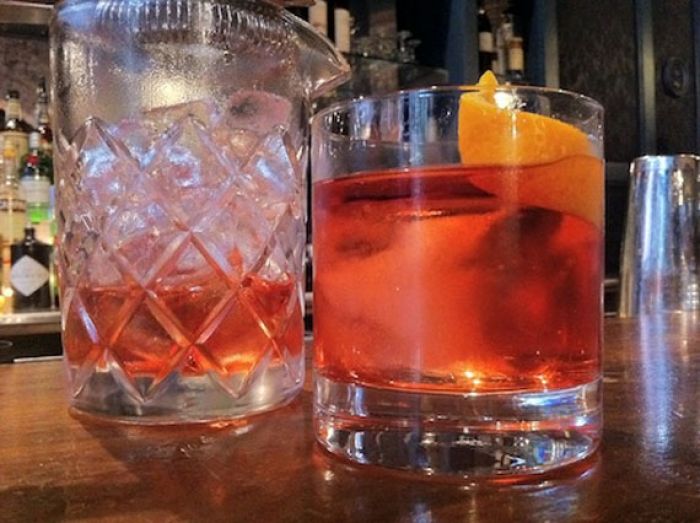 Photo Credit: Naren Young
For whatever reason, the Negroni has become the bartender's favorite tipple. From Munich to Manhattan, Sydney to San Francisco, it is the one universal
cocktail
that we barkeeps tend to drink after work, on our nights off, before dinner, at a BBQ...
Heck, whenever the moment calls for something bright, complex, and soothing, there isn't a mixed drink on the planet that carries the industry cache that this bright red and bitter elixir does.

Maybe it's the simplicity of its preparation. Maybe it's that unique mix of spice, bitterness, and sweetness that only comes when gin, Campari, and sweet vermouth get together for a party. Or perhaps it's just the fact that we like drinking things that most of the population doesn't. Campari, for one, could most certainly be considered an acquired taste. (Although if they made Campari-flavored toothpaste, I'd use it. I'm a little weird.)

The Negroni originated in Florence, Italy around 1919, just as Prohibition was rearing its ugly head on our shores. As thirsty Americans flocked to Europe, the city's alfresco cafés and bars were teeming with strange elixirs like the Americano and, eventually, the Negroni. It was named after Count Camillo Negroni, who would stop off at the Caffe Cassoni where bartender Fosco Scarselli would make him a curious mix of gin, Campari, and vermouth. A legend was born.

Now, as is the common practice among today's bartenders, many are putting their own individual spin on this iconic drink. I ventured around town to see what some of our finest are doing to their Negronis. For the cocktail purists among us, turn away now.


Osteria Morini

At Michael White's ode to the hearty cuisine of Emilia Romagna, bar manager and drink-slinger Richard Ervin has compiled a wonderful menu of five Negronis, each based on a different spirit. You can, of course, stick with a classic version spiked with Tanqueray and Carpano Antica vermouth or you might prefer something laced with reposado tequila, dark rum, or rye. All are stellar, although I did enjoy the Bianco on my last visit (pictured above), which features Junipero gin, Cocchi
Americano, and Gran Classico Bitter, standing in admirably for the Campari.

Fedora

Gabe Stulman's expansion deeper into the West Village continues at this hip new subterranean joint where a monstrous bar runs the length of the entire room. It's a fine piece of mahogany from where you might enjoy, like I did, their barrel-aged Negroni, which follows a popular trend of bartenders experimenting with the wood's influence on their cocktails. Delicious!


Dell' Anima

When day turns to night and plates of antipasti crowd the tables at this West Village staple, owner Joe Campanale might suggest his own take on a Negroni Sbagliato, which translates literally as "Wrong Negroni." The drink was apparently created in 1972 at Milan's Bar Basso when the bartender reached for a bottle of Prosecco instead of the usual gin, and thus a low-octane, highly refreshing variation was born.

Campanale's twist incorporates a muddled wedge of roasted orange, adding its own toasty nuance.

Amor Y Amargo

Husband and wife team Avery and Janet Glasser started out as a couple of cocktail geeks, making their own bitters at home, which eventually led them to creating special blends for some of the city's top barkeeps. Now they have a retail outlet that doubles as a bar. Amor Y Amargo ("Love and Bitters") on Sixth Street is a tiny hole-in-the-wall dishing up all manner of bitter treats including their "Bespoke Negroni." I let Avery take the reins one night and what was presented included Red Breast Irish whiskey, Cocchi Americano, and Aperol. Hardly a Negroni by any stretch, but it sure was tasty.

PKNY

In a setting where you're more likely to get a killer Mai Tai — replete with all the kitschy trimmings — owner Richie Boccato will also knock you up a frozen Negroni. Only available for another month or two before the chill sets in, it is a surprisingly delightful respite from our stinky and sweaty New York summer. It's nice to see a little fun and whimsy put back into the serious world of modern mixology.


More from our friends over at TheDailyMeal:
The Daily Meal
The Daily Meal covers every aspect of the food and drink experience: restaurants, chefs, food trends, cookbooks, wine and spirits, healthy dining, home entertaining, food-oriented travel ' and of course cooking. We believe that cooking and eating together unite us and connect us with the outside world. These pursuits can and should be fun ' as should a web site dedicated to them. And the...(Read More)