By Jared Paul Stern Dec. 16th, 2011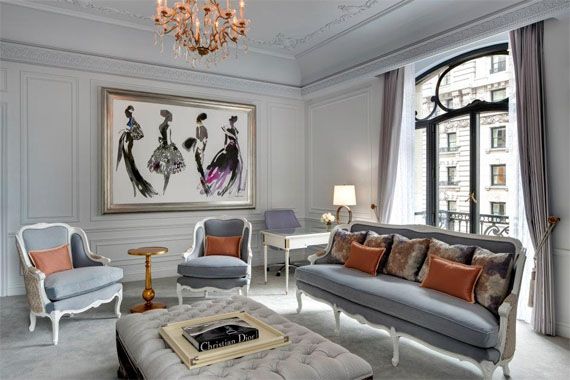 Photo Courtesy of St. Regis
One of the world's most stylish hotels just got even more fashionable. The legendary
St. Regis New York
has recently unveiled the Dior Suite, an ultra-luxe, 1,700-square-foot space on the landmark's 12th floor.
It features a living room complete with a fireplace and large windows overlooking Fifth Avenue towards Central Park, available from $8,500 per night. Inspired by Dior's ateliers in Paris, the elegant suite is finished in a "serene and sophisticated" palette of muted, neutral tones including warm grays and shades of pink and white straight off a haute couture Dior runway, set off by quintessentially French Louis XVI-style furniture.

That aesthetic extends to the luxe fabrics used throughout the space including lace, tulle and metallic leather. The design of the suite's stunning living room is based on that of Dior's famed headquarters in Paris with airy ceilings, ornate crown moldings, wainscoting and a chic crystal chandelier. The 10-seat dining room features a chainmail chandelier.

"We are delighted to collaborate with Dior to create such a stunning designer suite for our guests," notes Paul Nash, General Manager of The St. Regis New York. "Our mutual commitment to outstanding quality, service and luxury will promise an unparalleled and truly memorable guest experience." Visit StRegisNewYork.com to learn more.
Jared Paul Stern
Jared Paul Stern has written for the Wall Street Journal, New York Times, the New York Times' T magazine, GQ, WWD, Vogue, New York magazine, Details, Hamptons magazine, Playboy, BlackBook, the New York Post, Bergdorf Goodman magazine and Luxist among others. The founding editor of the Page Six magazine, he has also served as a judge for everything from the International Best Dressed List to the Fo...(Read More)