By Carly Zinderman Feb. 25th, 2012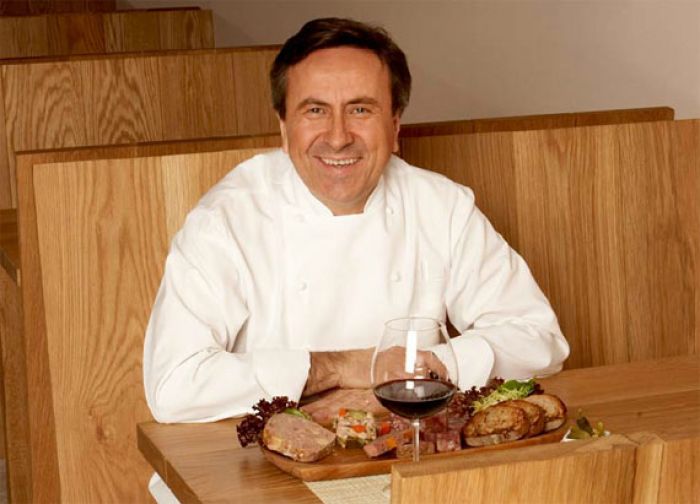 Photo Courtesy DanielNYC
Although he hails from France and speaks with a strong accent,
top chef
Daniel Boulud has become a superstar in the New York City restaurant scene and an American culinary legend. Boulud is renowned for his 3-Michelin starred restaurant DANIEL in NYC and for his contemporary take on traditional French cuisine. After having such huge success in the city, Boulud has opened restaurants all over the world.
Although DANIEL is commonly considered the pinnacle of his culinary success, Boulud has continued to transform fine dining and the American palate through the use of the finest ingredients and seasonal inspirations. Boulud was raised on a village farm in France and later went on to train with some of the best chefs in the country. He eventually made his way to the States, becoming the Executive Chef at the famed Le Cirque. There he brought international acclaim to the restaurant by incorporating his unique take on European flavors and infusing staid French cuisine with a burst of life.
Since the beginning of his career, Boulud has gone on to open numerous restaurants around the world, however, he is based mainly out of New York. These restaurants not only include famed DANIEL, member of the prestigious Relaiz & Chateaux, but also Café Boulud, Bar Pleides, DB Bistor Moderne, Bar Boulud and DBGB Kitchen and Bar. Last year, Boulud also added Boulud Sud and Epicerie Boulud to his Manhattanite culinary empire. Outside of his home turf of New York City, Chef Boulud has opened Café Boulud in Palm Beach, Florida and DB Bistro Moderne in downtown Miami as well as Maision Boulud in Beijing and DB Bistro Moderne in Singapore. Bar Boulud is located in London's Mandarin Oriental. Chef Daniel Boulud has also mentored numerous chefs that have become famous in their own right, including Los Angeles Chef David Myers.
When he isn't opening a restaurant (or dining at DANIEL as a patron), Boulud has quietly become a pop culture success, making appearances on the reality cooking show
Top Chef
, as well as on his own series
After Hours With Daniel Boulud
. He has written six cookbooks and is active in the New York City's Meals-On-Wheels charity. In addition, Boulud sits on the American Bocuse d'Or Board of Directors, alongside Thomas Keller of The French Laundry and Jerome Bocuse.
Having given so much to the culinary world, it's no wonder that Chef Daniel Boulud has been awarded with numerous accolades from the James Beard Foundation Awards Committee and has even been bestowed with a Chevalier de la Legion d'Honneur from the French government.
See More
New York Restaurants
Carly Zinderman
Carly Zinderman is a Senior Staff Writer for JustLuxe, based just outside of Los Angeles, CA. Since graduating from Occidental College with a degree in English and Comparative Literary Studies, she has written on a variety of topics for books, magazines and online publications, but loves fashion and style best. In her spare time, when she?s not writing, Carly enjoys watching old movies, reading an...(Read More)