By James Rothaar Mar. 2nd, 2012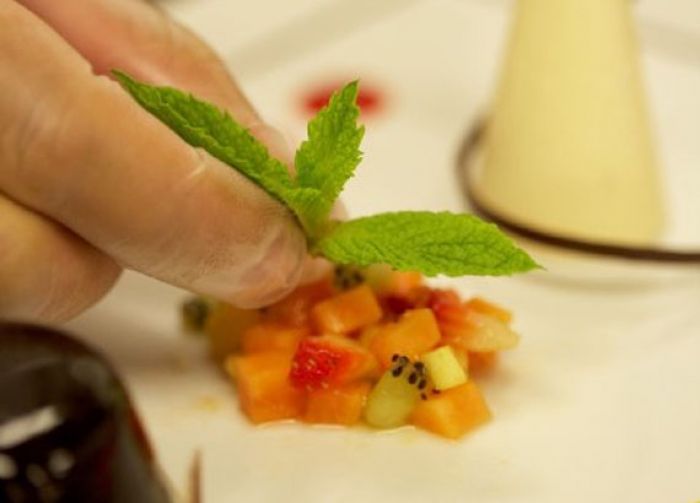 Photo Credit: Celebrity Cruises/James Beard Foundation
The James Beard House in New York City will feature cruise line chefs for the first time on April 5, 2012, when Celebrity's
top Chefs
 Jacques Van Staden and John Suley will cook at the venue.
The James Beard House aims to educate, inspire, entertain and foster an appreciation of cuisine among members as well as the general public, while benefiting the non-profit James Beard Foundation. Once the home of James Beard, the James Beard House today is regarded as a culinary performance space.

"We selected Jacques and John to cook at the James Beard House because the culinary journey that they have created for guests on Celebrity Cruises' ships truly is outstanding," said Izabela Wojcik, director of house programming, the James Beard Foundation. "Their incredible creativity is the reason why Celebrity's guests have the opportunity to delve into an extraordinary range of globally influenced flavors and presentations."


The April 5 dinner will begin with an assortment of six hors d'oeuvres and canapés, many of which are inspired by the chefs' history of cooking together as well as other career experiences that have shaped their culinary style.

The dinner marks the second time that Van Staden, Celebrity's VP of culinary operations, has cooked at the James Beard House. It is the third time that Suley, director of culinary operations, has done so. Both chefs will be part of Celebrity's Excite the Senses culinary-themed cruise sailing on the Celebrity Eclipse on March 24, 2012. For more information on the James Beard House and Celebrity Cruises, visit JamesBeard.org and CelebrityCruises.com.
James Rothaar
As an independent contractor, James has written content for Justluxe.com and other leading online luxury lifestyle magazines. Rothaar previously served as the senior-tenured staff writer for JustLuxe, having worked with the digital magazine since 2005. He resides in Jacksonville, Florida, and works as an independent marketing consultant and a freelance writer. James Rothaar has an MBA degree...(Read More)