By Carolyn Hsu Apr. 6th, 2012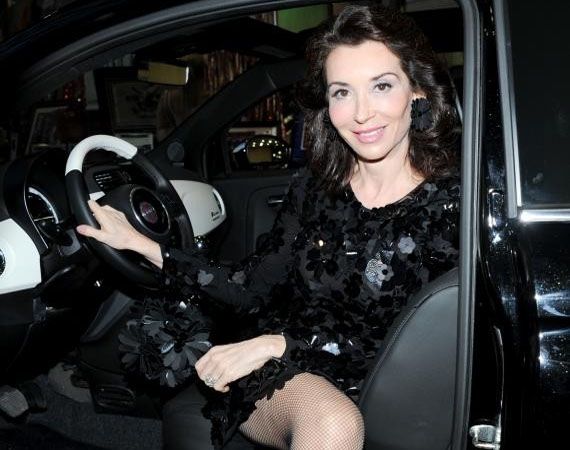 Photo Credit: Billy Farrel Agency
The
New York International Auto Show
opened last night to press and VIP with a private benefit gala event hosted by the East Side House Settlement. Established in 1891, the East Side House is a community resource focused on education, community and professional outreach for children, families and seniors in the South Bronx.
Proceeds from the cocktail and dinner ticket sales, along with a silent auction and a live auction of a new Fiat 500 Abarth went to supporting the East Side House Settlement's highly successful college preparatory programs. During the past three years, New York International Auto Show has partnered with the East Side House Settlement to provide financial assistance to over 350 students accepted into college.
The gala was chaired by Fe Fendi (above) and Mariana Zois (right) and featured a live auction conducted by Lydia Fenet of Christie's. The evening started with a private reception at the Javits Center, where guests mingled cocktails in hand among a curated lineup of Fiat cars, the official sponsor of the event. 
Of particular interest to the fashionable crowd was the new Fiat 500 by Gucci, a vehicle outfitted entirely by the Italian luxury fashion house. The exterior of the compact performance car featured Gucci's signature stripes and raised logo on door and rear and the interior was furnished entirely in the brand's monogrammed leather and décor.
Guests were then able to enjoy a private preview of the New York International Auto Show — multiple floors showcasing brand new 2013 production models and concept vehicles from around the world. Alongside German luxury powerhouses Mercedes Benz and BMW, was a showcase of the latest Fisker automobiles — an American luxury brand of electric and solar powered hybrid cars. Of course, the most popular exhibit was by Porsche, which inspired guests to wait in line for the chance to sit inside and mock drive the latest Boxster.
Other brands showcasing at the Auto Show include Lexus, Acura, Audi, Ford, Aston Martin, Bentley, Chrysler, Rolls Royce, Volvo, Land Rover, Acura, and Infiniti, among many others. Later in the evening, select benefactors dined at a private dinner at the center, where patron tables went for as much as $25,000 to benefit the East Side House.
Before stepping out for the evening, guests were also able to view a particularly special vehicle. At 9 p.m., guests were treated to a "wing unfolding" of the
Terrafugia
, a car that fully transforms into an aircraft. This flying car, if you will, is currently in production and expected to roll out to consumers as early as 2014. The company offered flying enthusiasts and early adopters the option to hold their position in the production cycle with a $2,500 deposit, a special rate offered to gala guests.
The New York International Auto Show officially opens to the public today and at the Javits Center through April 15. For more information, visit
AutoShowNY.com
.
Carolyn Hsu
Carolyn Hsu is the New York Correspondent for JustLuxe and has been beauty, fashion, and travel editor at The Daily Obsession and a freelance writer since 2006. Her writing has been featured in Health.com, Refinery29.com, Q by Equinox, and Vivid Magazine among others. She also maintains a personal fashion blog at The Hsu Closet. A child of the digital age, Carolyn also works on social marketi...(Read More)