By Carly Zinderman Apr. 7th, 2010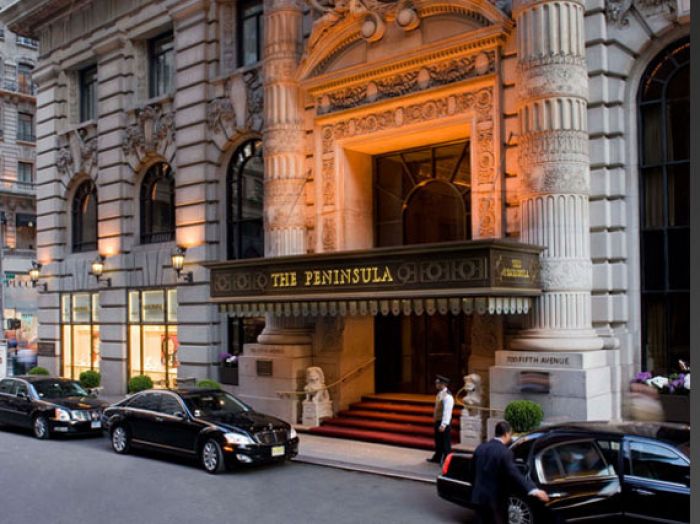 Hotel Review:
The luxurious Peninsula New York boasts a location right in the midst of Manhattan's most prestigious neighborhood. Classic design, intimate ambiance and personalized service all meet up
The Peninsula New York
, right in the middle of Midtown, filled with New York's finest shopping, culture and business districts.
Famed photographer Annie Leibowitz recently shot two advertising campaigns for the Peninsula Hotel, focusing on the culture and service behind the scenes that make staying at the Peninsula Hotel so special, including the spa at the Peninsula New York, which has the prestige of being one of only two 5-star spas in New York City.

Recent renovations in 2009-2010 at the property include all guest rooms, spa, meeting space and dining/bar. Accommodations at the Peninsula include a variety of room choices that all center on the comfort of a restful bed. Views of bustling Fifth Avenue as well as peaceful courtyard-facing rooms are available, as are luxurious marble bathrooms and mood lighting as well as other superior amenities to make each guest experience as accommodating as possible. The ultimate accommodation can be held in the Peninsula Suite, 3, 3000 square feet of every luxury imaginable, overlooking Fifth Avenue and 54th Street. The special features of this suite include crystal lamps, grand piano, library and a private dining room as well as black Jacuzzi tub and an optional additional third bedroom, among other touches.
Whether you want to experience one of the Hotel's exclusive dining establishments or the one of the most highly rated spas in the city, The Peninsula is a pampering destination located right in the midst of the city's biggest attractions. Dining at the Peninsula ranges from breakfast and lunch at Fives Restaurant, which attracts the most powerful businesspeople in the city to Peninsula Afternoon Tea, which is served daily in The Gotham Lounge. Salon de Ning is a throwback to 1930s Shanghai, serving elegant cocktails along with rooftop views of the city.
The Peninsula Spa by ESPA is the place to go for the most luxurious ways to relax. The line of products created just for the hotel is available for purchase, so that you can take the hotel experience home with you. The spa experience at the Peninsula also includes a state of the art fitness center and the Naturally Peninsula special menu.
The Peninsula has become a favorite spot for special occasions, from weddings and meetings to other special events held in the hotel's newly renovated private event space, complete with Murano glass chandeliers and new decor.
The Peninsula New York is the perfect destination whether you are visiting for leisure, business, to celebrate a special occasion, a family vacation or a romantic getaway.
Carly Zinderman
Carly Zinderman is a Senior Staff Writer for JustLuxe, based just outside of Los Angeles, CA. Since graduating from Occidental College with a degree in English and Comparative Literary Studies, she has written on a variety of topics for books, magazines and online publications, but loves fashion and style best. In her spare time, when she?s not writing, Carly enjoys watching old movies, reading an...(Read More)