By Nicolle Monico Jun. 14th, 2010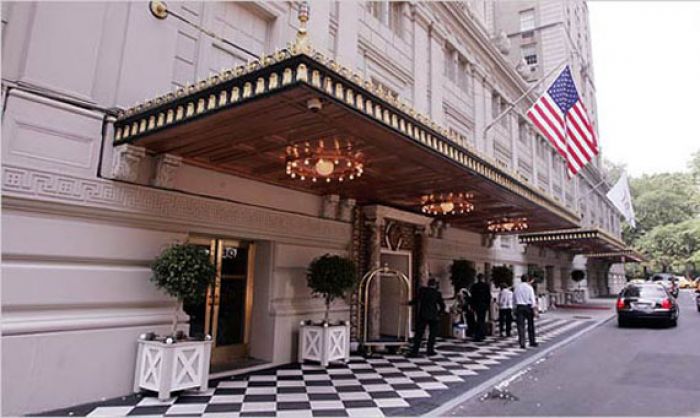 Hotel Reviews:
With $100M in re-design, the iconic
Pierre Hotel
has become even more esteemed, offering guests a venture into elegance and refinement with an inviting simplicity of a boutique hotel. With guests like Queen Elizabeth II, Coco Chanel, Katharine Hepburn, and Elton John staying at your hotel, every detail must be accounted for.
For this reason, the Pierre has been awarded a 2010 AAA Five-Diamond rating that places them in the elite group of just 113 five-diamond hotels across America, Canada, Mexico and the Caribbean. The Pierre prides itself in pampering its guests with lavish amenities and modern-day luxuries during each stay. Located on
New York's
Fifth Avenue, The Pierre overlooks Central Park in Midtown Manhattan and sits within a mile of Bloomingdale's, Saks Fifth Avenue, Museum of Modern Art, Radio City Music Hall and Grand Central Station.

The Pierre contains 189 rooms, 49 suites and 10 Grand Suites. All rooms and suites present an air of quiet luxury with natural light and high ceilings. Rich woods mix with taupe and coral color palettes in each suite, while leather headboards and silk fabrics showcase pure refinement. A stay in the Presidential Suite, or the Tata Suites, means staying in one of ten residential style suites featuring a large living room and private bar. The two bedroom suite includes a king sized bed, two twin beds and separate bathrooms for each room. Subtle couture touches highlight the Taj's Indian Heritage and boasts 2,000-square-feet of space with panoramic views of Central Park.
The 1,015-square-foot Getty Suite pays tribute to John Paul Getty, the oil company tycoon who purchased The Pierre in 1938. The Getty Suite also includes partial views of Central Park and includes a bedroom with bath, living room, dining area and a grand terrace. Because the staff outnumbers guests by a ratio of three to one, guest's needs are met with the utmost attention and sense of urgency.
In addition to lavish guestrooms, dining at The Pierre brings European cuisine to New York with
Le Caprice
, London's most fashionable restaurant. As its first venture overseas, Le Caprice brings its distinguished style and classic cuisine to The Pierre in homage to the many New Yorkers who frequent the London restaurant. Favored dishes include: salmon fishcake with buttered spinach and sorrel sauce, Thai-baked sea bass, and Scandinavian iced berries with hot white chocolate sauce. Art enthusiasts will enjoy the series of photographs of sixties model Jean Shrimpton by legendary British photographer, David Bailey. With a rich history dating back to 1930, The Pierre sits among the elite hotels in New York and has perfected the art of hospitality while including renovations to remain modern and chic. In a city where the elite rule and luxuries are the norm, The Pierre continues to set the standard for elegance and sophistication.
Nicolle Monico
Nicolle is an award-winning writer and Travel Editor using her expertise in the industry to write about luxury travel around the world. You can find her daily searching the web for the latest trends, best new hotels and most beautiful destinations to visit and share with her readers. She's been featured on The Huffington Post, Hard Assets, AMD Entertainment and Remy Martin. In 2014, she was vo...(Read More)