By Carly Zinderman Jun. 29th, 2010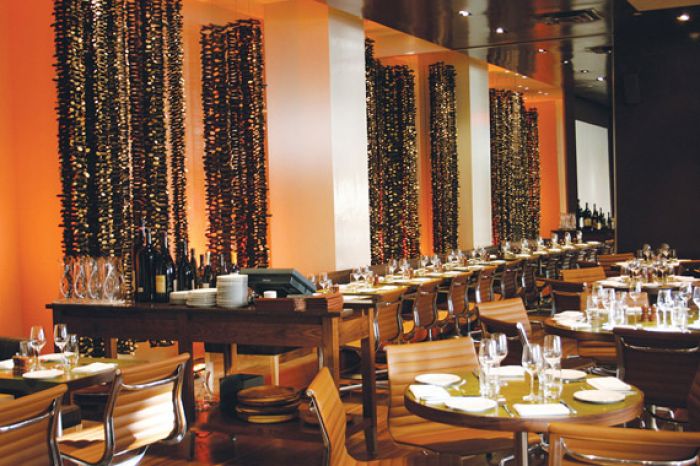 City Guides:
New York neighborhood hangouts A Voce Madison and A Voce Columbus, part of the Marlon Abela Restaurant Corporation (MARC) have recently introduced Happy Hours into their elegant casual repertories.


Renowned for comfortable Italian cuisines and an extensive wine list, A Voce Madison and A Voce Columbus Happy Hours offer infused cocktails such as Margarita in Fuoco and Melone are $7 each Mon-Fri from 4-6pm. Too far away? If you can't make it to the restaurant locations, try the following recipes for a taste of A Voce at home:

Platino
Ingredients:
1.5 OZ PINEAPPLE INFUSED VODKA
0.5 OZ CRÈME DE CASSIS
1 OZ LIME JUICE
1 OZ GINGER ALE
Instructions:
1. Shake vodka, crème de cassis, lime juice with ice and strain into martini glass.
2. Garnish with floating pineapple ring.

Margarita in Fuoco
Ingredients:
1.5oz Tequila infused with peppers.
0.5oz Triple Sec
0.5oz lime juice
0.2oz simple syrup
Instructions:
1 . Shake all the ingredients and pour into rocks glass.
2 . Garnish with salt rim, lime wedge, pepperoncini.
Carly Zinderman
Carly Zinderman is a Senior Staff Writer for JustLuxe, based just outside of Los Angeles, CA. Since graduating from Occidental College with a degree in English and Comparative Literary Studies, she has written on a variety of topics for books, magazines and online publications, but loves fashion and style best. In her spare time, when she?s not writing, Carly enjoys watching old movies, reading an...(Read More)