By Jared Paul Stern Jan. 31st, 2012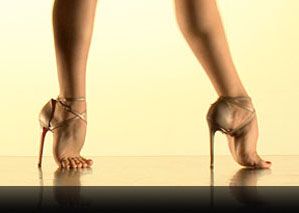 Photo Credit: Youssef Nabil
Paris' legendary Crazy Horse cabaret has hosted many curvy celebrity guests on its famed stage, from Pamela Anderson to Dita Von Teese. Now the venue is working with its first-ever "Guest Creator," world-renowned shoe designer
Christian Louboutin
.
As the man behind some of the world's sexiest high heels, known for their signature red soles, the partnership with the mecca of beautiful women is a fitting one. Louboutin also brought in musical collaborators including director David Lynch and producer Swizz Beatz to create music for his production, which is sure to be sold out long in advance.



Louboutin's show will consist of four original and unique tableaux, inspired by various creative expressions ranging from hip hop to art masterworks, designed to "constitute a personal look at femininity in all its forms." Entitled FEU (fire), Louboutin's show will preview on Sunday, March 4 and remain in the Crazy Horse's repertoire until May 31, 2012. "I am interested in all things that celebrate and enhance the female form," Louboutin notes.

"Because of what I do, for these numbers I have focused on the lower half of the body, rather than the top. The language of legs can express any and every feeling, and without giving too much away, the body becomes the flame." Visit LeCrazyHorseParis.com to learn more.
Jared Paul Stern
Jared Paul Stern has written for the Wall Street Journal, New York Times, the New York Times' T magazine, GQ, WWD, Vogue, New York magazine, Details, Hamptons magazine, Playboy, BlackBook, the New York Post, Bergdorf Goodman magazine and Luxist among others. The founding editor of the Page Six magazine, he has also served as a judge for everything from the International Best Dressed List to the Fo...(Read More)