By Eric Meyers Feb. 22nd, 2012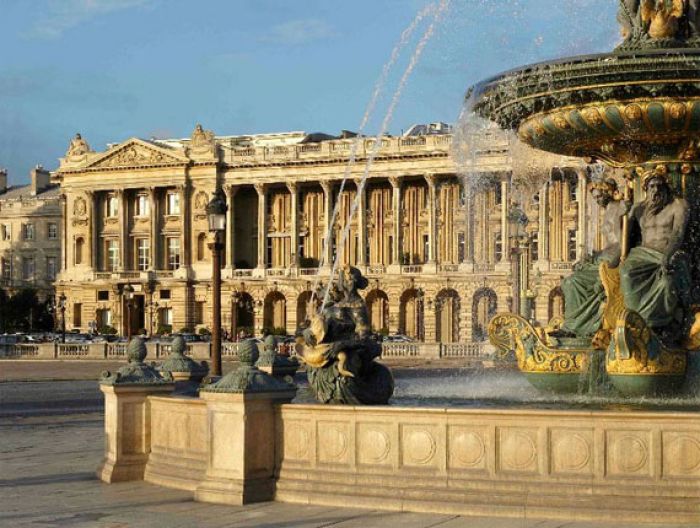 Photo Courtesy of Hotel de Crillon
Prior to 1909, the Hotel de Crillon existed as a palace to French royalty, a fact that becomes only more apparent with each step you take toward the hotel as you cross the expanse of the Place de la Concorde. This luxurious property stately stands on a corner of the plaza, with the refinement of 18th-century architecture giving it a powerful presence, here, in the heart of
Paris
.
Upon entering the hotel, guests pass through a beautiful hallway that opens into the lobby. This becomes the first taste of the elegance within Hotel de Crillon. The staff is attentive, as anyone would expect, but allow them the indulgence of giving you the tour, because there are several spaces inside that should not be overlooked.
Just off the lobby lies the Winter Garden. A distinguished tearoom in a city full of them, this venue features an atmosphere of plush seating and lively conversation that many lounges around the globe strive to match. The tearoom opens up into the Summer Patio, a courtyard into which the sun streams, inviting guests to take lunch.
The ground floor also boasts several sitting areas, each so welcoming that it's easy to forget you have a room to get to. The rooms, once you do arrive, are very evocative of French aristocracy. Elegant moldings and walls envelop opulent appointments, from overstuffed armchairs to flowing floor-to-ceiling drapes. The bathroom, adorned with walls of white marble, separate and massive showers and baths, and even a walk-in closet.

Hotel de Crillon also offers fine dining with Les Ambassadeurs, a Michelin-starred restaurant that lives within the original ballroom of the palace. Here, you eat surrounded by all the original splendor of the extravagance of the era in which it was built. The dishes found here are gastronomic delights of each season, drawing a crowd far beyond just the guests of the hotel.
If you can get past all of the elegance and out into the city itself, visitors to the hotel are placed right in the middle of the city, with views of the Tuileries from the rooms, and the Eiffel Tower from out front. Also within walking distance, is the world-renowned shopping of Rue du Faubourg Saint Honoré.
After a day of looking at landmarks and high-end labels, be sure to stop by the cozy and old-fashioned bar, or the bistro L'Obé within the Hotel de Crillon. For more information about the Hotel de Crillon, visit
Crillon.com
.
Find More
Luxury Hotels in Paris