By Elizabeth Nicholas Apr. 14th, 2014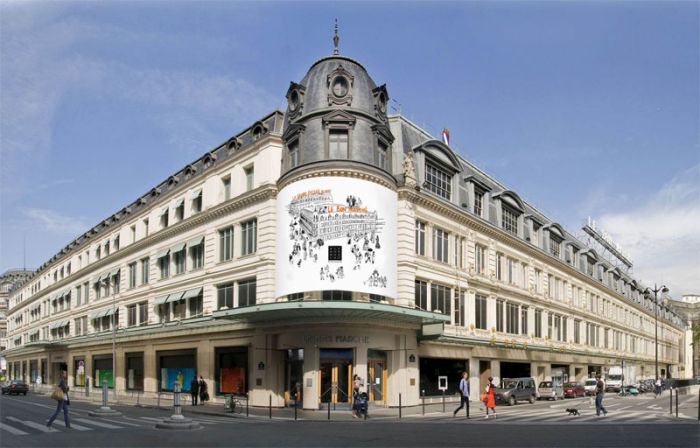 Photos Courtesy of Le Bon Marché
If Le Bon Marché doesn't set your heart aflutter, then it's debatable whether you really belong in Paris. Staking out a prominent corner in the heart of Saint-Germain-des-Prés, the department store distills the essence of Parisian elegance and luxury underneath one breathtaking art-deco glass ceiling. Like most things in the French capital, Le Bon Marché carries with it significant cultural history.
Conceived in 1852 by hatmaker Aristide Boucicaut and his wife Marguerite, the store answered the unmet demand for a place where patrons could browse everything they might need. This heralded in the now-standard hallmarks of department stores such as: home delivery, exchange, promotional periods, private events, and fixed prices. The store quickly became a staple on the Left Bank for locals and tourists alike, and an icon of the neighborhood—even opening up an art gallery for artists and patrons in the late 19th century.
Today's shoppers will find everything from couture to coffee table books in the grand magasin. The ground floor is home to some of the most iconic ateliers in the world, including Dior, Chanel, and Louis Vuitton. These wardrobe staples are surrounded with a selection of accessories, from Aurélie Bidermann baubles to Marni belts to (only in Paris) Maison Michel rabbit ears. Givenchy slip-ons mingle with Pierre Hardy skyscrapers perfectly in the shoe department, and—unlike the store's original patrons—you can shop an electronics section stocked with Proenza Schouler iPad cases and Marc by Marc Jacobs iPhone cases.
The beauty department is the nexus of the first floor, encircling its gorgeous central escalators, and circled by balustrade-ed mezzanines. Stateside staple Aesop sits beside beauty editor favorite Tom Ford Sachajuan hair care, and seemingly every iteration of Acqua di Parma the line has ever created. Men and women's fashion are given equal billing, with collections from everyone from Swedish cult brand Acne to the uber-French lines Kitsuné, Kenzo, and Iro on the second floor. The in-house line makes a particularly compelling collection of cashmere. A simple black cashmere turtleneck I bought this fall has seen more wears than almost anything else in my closet.
Home wares are stocked on the second floor, from the most monumental pieces of furniture to fill out a new apartment to the smallest buttons and trim for drapes to decorate it. Eames rocking chairs, Forscarni light fixtures, Jura espresso machines, and Maison de Vacances throws are just a small sample of the joys on offer. Valextra bags, Tumi luggage, and Alex Wang Roccos commingle in the bag section, while nearby a brilliant bookstore offers travel guides from Red Maps and Louis Vuitton, novels from French writers like François-Guillaume Lorrain, and cookbooks from Rose Bakery.
Speaking of Rose Bakery, the beloved bakeshop has opened up an outpost on the second mezzanine level (just below the third floor children's section, which stocks everything from Baby Dior to Burberry to, of course, Bonpoint.) The café is an airy oasis in the bustling neighborhood, and it is not uncommon to see shoppers taking their carrot cake and coffee (that's "café American" to you) with piles of the store's bright orange shopping bags at their feet, having worked their way from the ground floor up. Travelers, take note: The cafe has Wi-Fi, or as the French would say, "le wee-fee".
The store's symbiotic relationship with Paris remains, with a concierge on hand to assist customers with anything from a town car to a recommendation on which of Paris' ever-rotating art exhibitions are worth the trip. Though famous the world over, Le Bon Marché's only location remains in Paris. So when next in the splendid city of beautiful design and considered living, make haste to the Left Bank, and get lost in Le Bon Marché's enchanting corridors.
Elizabeth Nicholas
Journalist focusing on architecture, art, fashion, food, literature, and travel. Lives in Paris, but will travel almost anywhere at the drop of a hat. ...(Read More)