By JustLuxe Team Jul. 24th, 2008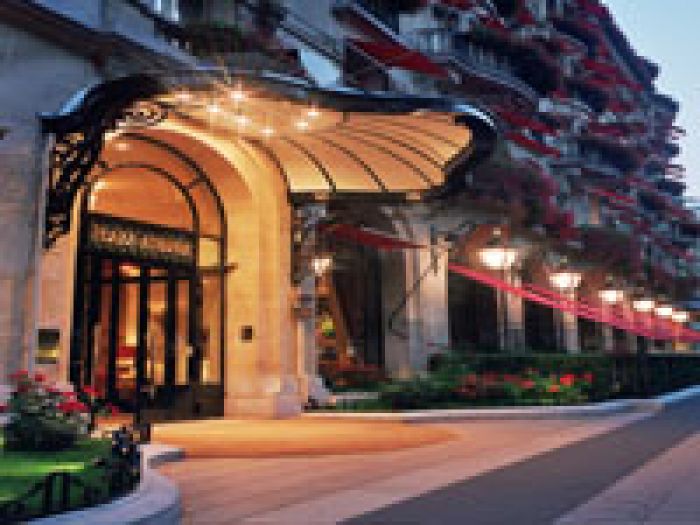 Luxury Hotels:
Hotel Plaza Athénée, close to Champs Elysees and Théâtre des Champs Elysees, is located on the chestnut tree-lined avenue of Montaigne. Quite close by are Montmartre and the Eiffel Tower. Based in the hip "fashion triangle" of Paris, guests will find themselves hemmed in by the trendiest boutiques flaunting the names of Christian Dior, Louis Vuitton, Chanel, Prada, Calvin Klein, and heaps of others.
Hotel Plaza Athénée is the only hotel that can claim to have two decors. Built in 1911 it underwent an overhauling of sorts in 2003, after the Sultan of Brunei purchased it. The outcome is an interesting fusion of traditional with the Art Deco style.
Guests will be immediately struck by the exterior of Hotel Plaza Athénée which appears so striking with its geraniums and red awnings. The theme of the hotel throughout is the color red. Bouquets in red greet the guest at practically every nook and corner.
The entrance of the Plaza Athénée is pretty self-effacing and introduces the guest to the Art Deco design thanks to its arched awning. The revolving door leads to the round-shaped lobby with a massive concierge desk. The lobby, though small, is striking thanks to the lovely murals mounted on its walls and the huge mirrors.
The gorgeous scent of amber prevails throughout Hotel Plaza Athénée, including its 43 rooms and 145 suites. The first six floors comprising really large rooms are patterned after the Regency, Louis V and VI styles. This becomes evident through copies of 18th century fabrics, antique prints, scrolled moldings and bowls containing fresh flowers. These rooms at Hotel Plaza Athénée come equipped with air-conditioning, sound-proofing, cabinets made out of steamer trunks, in-rooms well-stocked mini bars, CD and DVD players, flat screen television sets with more than a 100 channels, high-speed Internet, dual line phones with voice mail and data port, etc.
Hotel Plaza Athénée is one of the few hotels that give a plethora of "pillow choices" to its esteemed guests. One can choose from a veritable "menu" comprising pillows stuffed with wheat germ or horse hair. You may also choose synthetic or osteopathic pillows. Hotel Plaza Athénée is lined with perks such as a private fitness and sauna, plasma TVs and fax machines.
The top two floors flaunt the Art Deco style replete with fashion sketches from the studious of the most talented artists in France. Among the vaunted boasts of Hotel Plaza Athénée is the talented Parisian chef Alain Ducasse whose delectable menu has led to many repeat guests.
Hotel Plaza Athénée is a true luxury hotel in every sense of the word.
JustLuxe Team
The JustLuxe Team strives to bring our members and readers the very best in luxury news and conversations. We love to hear your opinions and suggestions, but most of all, we love to interact with you. ...(Read More)