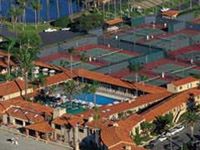 Luxury Resorts:
My loyal Luxe List readers know there's nothing I enjoy more than a weekend getaway with my friends, when we leave our over-stuffed schedules and worries behind if even for a day. I recently took another such power vacation with three of my gal pals -- this time at San Diego's famed
La Jolla Beach & Tennis Club
. This spectacular beachfront resort, with its old world charm, modern amenities, gorgeous grounds and amazing service, proved itself to be a great escape for some female camaraderie-based R&R surf-side.
While both full year and non-resident/off-season memberships are available at the La Jolla Beach & Tennis Club, with the full family package currently running $70,000 per year plus annual dues of $6,745, the property also functions as a traditional resort. Non-member guests are welcome to stay and enjoy the Club's decidedly relaxing oceanfront accommodations and sea of activities. Summer season standard room rates start at $379 -- a small price to pay for the extraordinary experience you'll undoubtedly have at this ultimate vacation playground.
A Venerable History
The La Jolla Beach & Tennis Club originally opened in 1927 as the La Jolla Beach & Yacht Club but was later renamed in 1935 when tennis courts and a Junior Olympic-size swimming pool were added to the grounds. In its long history under the Kellogg family's watch now four generations strong, the La Jolla Beach & Tennis Club has established a reputation as an uber-exclusive seaside retreat and one of California's most prized oceanfront properties.
It's also a fixture on the tennis circuit. Over the years, the La Jolla Beach & Tennis Club has hosted many prestigious amateur and professional tennis tournaments, including the Pacific Coast Men's Doubles Championship as well as four other USTA national championships. The Club has been rated as one of America's Top 50 Tennis Resorts by Tennis Magazine and one of the Top 75 Tennis Resorts by TennisResortsOnline.com. If you've got game, this Club is the place to be.
Book your stay at La Jolla Beach & Tennis Club >>
Divine Design
Spread over a full 14 acres, guests enter the La Jolla Beach & Tennis Club through a private entrance leading to a porte-cochere and main lobby. The expansive, palm tree lined drive extends past the Club's wildlife lagoon, nine hole Par-3 golf course and the tennis complex boasting no less than 12 hard surface courts.
The structures and hardscapes are reminiscent of a Spanish-style hacienda, with light-brown adobe facades and red tile walkways. While the original structure was built in the late 1920s, the Club has undergone a number of facelifts and modernizations over the years that have maintained its appealing aesthetic.
Rooms and Respite
There are 98 rooms at the La Jolla Beach & Tennis Club -- 14 hotel rooms, one parlor, two fairway cottages, 18 studios with kitchens, and 55 one-, two- and three-bedroom suites with living room as well as one or two baths and a kitchen. The cottages feature a fireplace, kitchen, and living room.
Nearly all the suites and some hotel rooms have oceanfront views and direct access to the private beach while the rest enjoy views of the patio courtyard area. The suites range from 560 to 1,300 square feet, while standard rooms span from 250 to 325 square feet for those with kitchenettes. Additionally, there are 128 more rooms at the Club's companion property, the La Jolla Shores Hotel.
Book your stay at La Jolla Beach & Tennis Club >>
My ample two-bedroom corner suite boasted large picture windows on two adjacent walls, which made the handsomely appointed room bright and cheery. Most notable, however, is how close this and the adjoining rooms were situated to the ocean. As the waves crash against the shore, the briny air and a delightful mist permeates the rooms like a pelagic potpourri. This room, as all rooms on the property with a kitchen, had a refrigerator, oven, microwave, coffee-maker and all the utensils, dishes, pots and pans one needs.
As one would expect from a resort of this caliber, guest room amenities are extensive and include an in-room safe, coffee-maker with complimentary tea and coffee, complimentary in-room high speed Internet, complimentary local calls, telephone with data port, color TV with cable and HBO (a flat screen in my suite), DVD players and complimentary movie rental, iHome docking stations for iPods, irons and ironing boards, hairdryers, robes, and complimentary local newspaper.
To encourage Club loyalty, the resort has a "Long-Term Stay Program" that offers special rates for one-week, two-week, or monthly stays. Don't I wish! Loyalty perks also include preferential status for specific reservation dates and guaranteed favorite rooms. Trips of 14 nights or more for at least two consecutive years grants you automatic entry into this "club within the Club."
Relaxation and Recreation
As its name implies, the La Jolla Beach & Tennis Club is a great destination both for those looking to relax and unwind ocean-side and those looking to get-up-and-go. Its private beach, with a full 2,200 feet of coastline, offers an exclusive enclave for fun in the Southern California sun. The Club's staff carefully rakes, grooms and sets-up beach equipment each morning by 8 a.m. Cabanas are also available for an additional charge. Guests want for nothing, enjoying complimentary beach accessories like towels, chairs, tables, and windbreaks as desired. Staff is also on hand to deliver food and drinks to beach-goers from its "Beach Hut" snack bar in operation during the summer season.


For those looking to break a sweat, tennis triumphs at this Club with eight of the twelve courts also lighted for night games. The Club does not charge for court time for members or non-members, and, while court reservations are not required, they are recommended. An on-site pro shop offers tennis apparel and accessories from some of the industry's top brands and accepts custom club orders for Callaway, Titleist and King Cobra products. Racquet rentals are available as are individual and group tennis lessons from USPTA professionals.

Other activities offered at the La Jolla Beach & Tennis Club include roque/sand croquet, beach volleyball, table tennis, a 75-foot heated Junior Olympic outdoor swimming pool, a quarter-mile jogging path, fitness center, two children's wading pools, and a children's playground.

Also on-site is a Par-3, 9-hole golf course that also provides key services, such as adult and junior lessons and clinics, complimentary use of clubs and other golf equipment, a practice putting green, chipping area, and driving net.

Rather than a full-service spa, La Jolla Beach & Tennis Club has taken a more specialized approach by offering an array of massage treatments in 320, 60 or 90 minute increments, with or without accompanying aromatherapy.

Book your stay at La Jolla Beach & Tennis Club >>

From my own conversations with the concierge staff, it's apparent these pro's will bend over backwards to ensure guests have a memorable time at the Club. They are more than willing to arrange any number of ocean activities, golf, spa and dining reservations, sightseeing and wine tours, tickets for local-area attractions and luxury transportation. The staff will also help with special, personal touches for friends, colleagues or loved like flowers, gift baskets, and balloons.

Surf and Turf
One of my favorite features of the La Jolla Beach & Tennis Club is the barbeques available for rent. Around dinnertime in those electric few hours before dusk, groups of all sorts kick off their shoes and gather at private tables on the shore for barbeques and other food and drink-laden get-togethers. In one glimpse you may see a family grilling hamburgers while small children try to catch the incoming and outgoing surf, in another a couple quietly enjoying a fine bottle of wine, cheese and the view, and in another a group of friends apparently celebrating a special occasion. The atmosphere at this nightly communal sand soiree is extremely relaxed, festive and inviting.


The La Jolla Beach & Tennis Club is also home of the legendary Marine Room restaurant, which for more than 50 years has beguiled celebrities, world figures, residents and visitors alike. Although the Marine Room's reputation more than precedes itself and I knew what to expect, with my first visit I was still captivated by the elegance and adventurous spirit of the dining room set so close to the ocean waves can caress the windows during a particularly high tide. My experience at the Marine Room during my short sabbatical with the gals was so extraordinary that it required a story unto its own, which you may read here.

Other seaside eateries available to guests are the Club dining room for casual fare and Shores restaurant, which is located next door to the Club at in the La Jolla Shores Hotel. Shores features a classic steakhouse menu along with coastal cuisine also served up with extraordinary ocean views. Some dinner favorites include bay scallop ceviche, pistachio crusted natural salmon, gorgonzola crusted filet, sun dried apricot sage roasted chicken, and butternut squash risotto. Be sure to save room for the high top cookie dough mud pie or bailey's Irish crème brulee! Breakfast, lunch, dinner, and Sunday brunch seatings are available along with a lounge for drinks and snacks. Banquet packages are offered for parties, events, and wedding receptions.

Book your stay at La Jolla Beach & Tennis Club >>

In all, I left the La Jolla Beach & Tennis Club feeling refreshed, rejuvenated and ready to take on the daily grind once again. As the girl's and I vowed to come back for more wondrous weekends of lounging and laughter, I couldn't help but think of the Club's slogan, "Where Traditions are Born and Raised." Indeed.

The La Jolla Beach & Tennis Club is located at 2000 Spindrift Drive, La Jolla, CA 92037. Additional information may be found online at www.ljbtc.com.

The Luxe List product, service and travel review editor Merilee Kern scours the luxury marketplace for new and captivating "musts." Submissions accepted via e-mail at Merilee@JustLuxe.com.

- Merilee Kern
JustLuxe.com's "The Luxe List" Executive Review Editor