The all-suite resort has 30 bungalows and 70 over-water villas. The options include Spa Beach Villa, Over-Water Bungalows, Deluxe Over-Water Bungalows and Premier Over-Water Bungalows. Of the different villas at the resort, eight villas have terrace Jacuzzis, five are two-bedroom over-water villas with private swimming pools, and 11 one-bedroom villas and two two-bedroom villas are located on the beach. All of the villas and bungalows are large ranging in size from 1,550 square feet to the 13,000 square feet royal estate. All are equipped with plasma TVs, iPod adapters, DVD players and butler service. The décor is a luxurious combination of Balinese and Thai influences that fits the upscale but easy beach vibe perfectly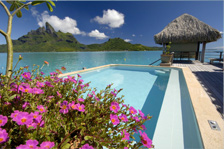 My husband and I stayed in one of the Over-Water Bungalows and were extremely impressed with the large size of the villa and its luxurious décor. The bathroom is spacious to say the least, with a Jacuzzi bathtub, a beautiful separate stone shower and his and her sinks. The living room has a glass bottom where you can see tropical fish swimming at any time of the day or night. Our private patio was
also impressive and spacious with room for entertaining several guests. There is a lower deck with two lounge chairs and end tables, and a covered upper deck for in-room dining (which I highly recommend!). The water under and around the bungalows is about 10 feet deep so it is safe and convenient to dive right off of your room into the beautiful turquoise water. Closet space was a bit tight but not a problem as the year-round balmy climate does not require many wardrobe changes.
The resort boasts three restaurants including the Lagoon restaurant by noted chef Jean- Georges Vongerichten. Lagoon is located over water with completely unobstructed views of Mount Otemonu across the Bora Bora lagoon. There is an outside deck that is perfect for watching the sunset while sipping one of the tasty cocktails that are served.
The menu is gourmet, emphasizes local seafood, and changes constantly. We dined at Lagoon twice and were impressed with everything that came out of the kitchen. The service was efficient and attentive, and our servers offered great recommendations. Lagoon also has a wonderful wine list.