By Tara Imperatore Dec. 21st, 2010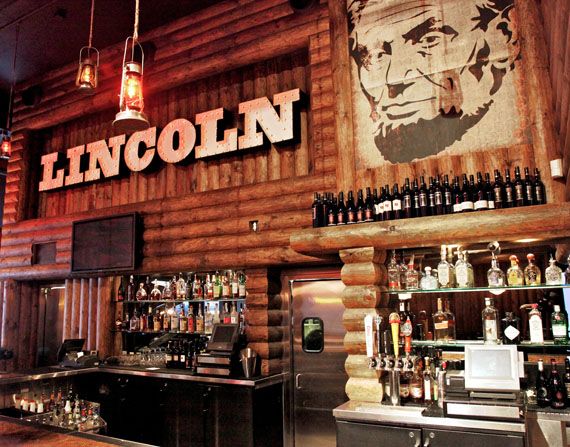 Dining:
When we went in for our personal tour of the Lincoln Room's newly renovated interior, we were instantly transported. Walking in the door was like stepping out of a time machine and into Abe Lincoln's
19th century
home, modernized for the 21st century crowd.
The first thing my eyes went to was the main bar. The top had been meticulously lined with hundreds of real pennies and lit from above by a larger-than-life bulb sign displaying the word "Lincoln".

Slated to open in January, just in time to salute our forefathers, The Lincoln Room is downtown San Diego's newest restaurant and bar. Replacing Confidential Restaurant + Loft, but keeping the same creative team, the Lincoln Room is going to be a place for locals to come for some fun and relaxation.


"The Lincoln Room is a straightforward neighborhood bar drawing inspiration from a more simple time in early America. A time where local bars acted as the social centers of the community, welcoming neighbors with friendly conversation, great food and a stiff drink," explains proprietor Darren Moore.

The walls are stacked high with wooden logs and dark brick giving the space warmth and depth. Hanging on ropes from the ceiling are antique-inspired lanterns providing dim, but appropriate lighting. Custom made semi-circle booths with thick, studded leather sit snug along one wall, while high bar tables and chairs are spread out for additional seating. And because it wouldn't be a San Diego restaurant without somewhere to sit and enjoy the city's ideal weather, they are installing bay windows to open up to an outdoor patio.


Our next stop on the tour was the loft. When we were taken up the wooden staircase it really felt like I was in somebody's home. This part of the restaurant, formerly used for bottle service and VIP guests, has been transformed into the "Presidential Suite". Although the name may give off the idea of exclusivity, it is open to all guests, in keeping with the accessible and mellow atmosphere of the place. This cozy little area contains a smaller bar, a few more booths for larger parties and space for flat screens to be mounted.

Because the same successful team is behind this inventive new joint, they're sticking with the former award winning menu. That means whoever was addicted to their famous Ahi Tuna Tartar or Bacon Wrapped Dates can still order them whenever the craving arises. They are also creating a specialty cocktail menu and offering guests a selection of handcrafted and local beers along with wines by the glass.

Be sure to mark your calendars for the upcoming President's Day weekend and Lincoln's birthday in February, when I'm sure they'll be rolling out some fun events along with food or drink deals. I thought I'd offer up some namely suggestions for drinks that could be on special: "George Washington Apple" shots; "Red, White, and Blush" wine; "Cherry Vodka Tree" cocktails; and perhaps the "He's The Only President Who Could Reach the Top Shelf" drinks (well, maybe that one's a stretch). We'll just have to stay tuned to see what the Lincoln Room comes up with, but regardless they will definitely liven up any patriotic celebration.

I can honestly say I have never seen a restaurant/bar like this before and it was really refreshing to see a unique idea come to life. Laid back, affordable, witty and welcoming are some of the themes running through this exciting new locale. Just when you think Downtown San Diego doesn't have room for one more restaurant, experiencing the Lincoln Room will change your mind.

Lincoln Room
901 4th Avenue
San Diego, CA 92101
619.696.8888
Tara Imperatore
Since graduating from Penn State University, Tara has dabbled in several different realms of the publishing world. From food writing to an opinion column to city guide editorials, her work can be seen in newspapers, luxury lifestyle magazines and various websites. As Associate for JustLuxe, she is busy sharpening her eye for all that is opulent around the world. She is also a freelance writer for ...(Read More)