By Katherine Bond Jan. 26th, 2011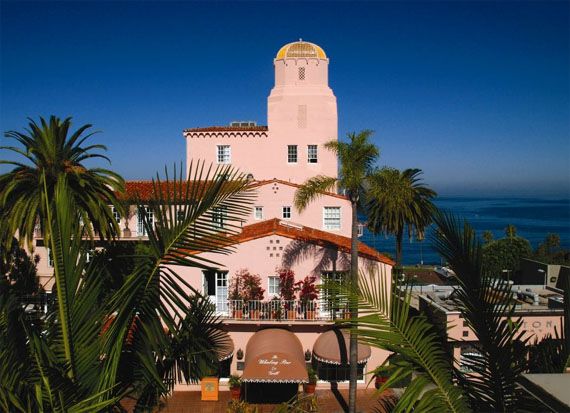 How could I resist a stay at the "Pink Lady of La Jolla" this Valentine's season? The La Valencia Hotel, the iconic property of seaside
La Jolla
, still radiates with grace and elegant charm that makes any discerning traveler blush with delight.
My recent stay acquainted me with this darling dazzler, recently included in Travel and Leisure's 500 World's Best Hotels of 2011. Here are the top reasons the Pink Lady of La Jolla has me swooning this Valentine's:

Beachside Bliss

Of La Valencia's 113 guestrooms and suites, 15 are Ocean Villas, tucked along the bottom terraces of the hotel. The Ocean Villa my guest and I stayed in was secluded and seductive. As a bonus, beyond the expansive sliding glass doors, the suite boasted an ocean patio, framed by breezy palm trees. We loved the oversized bathroom, and particularly its steam shower and gigantic bathtub. A private butler was a lovely touch of luxury as well. Best of all, the plump King size bed was perhaps the best bed I've ever slept on.

Bound in a Basket

With the stunning natural backdrop of La Jolla's shores and sandy stretches, a romantic picnic is an ideal Valentie's Day idea. This season, La Valencia offers a package, the "Picnic in the Park." This special includes a gourmet picnic lunch for two, packed with fruits, cheese selections and a bottle wine. Nearby canoodling spots, from the La Jolla Cove to Scripps Park, make the possibilities nearly endless for a picturesque picnic place.

Divine Dining

La Jolla brims with dining options and has long been a dining destination throughout San Diego. Within La Valencia however, there is hardly a need to venture to the Village. The Sky Room, an intimate 11 table restaurant atop the hotel's 10th floor, is one of La Jolla's most alluring dining spots. Ocean views span the entire restaurant and the cuisine reflects a contemporary coastal lineup with a formal flair. From February 11 to 14, a five course Valentine's Day Dinner will be prepared by Executive Chef Lance Repp.



For a less formal, yet still stunning, dining affair, the Mediterranean Room and Patio provides breakfast, lunch and dinner against the backdrops of the Pacific Ocean and the Pink Lady's famed rosy tower. This Valentine's season, Chef Repp will be unfurling a three-course dinner featuring such options as Butter Poached Lobster and Rosemary Roasted Rack of Lamb.

La Valencia Hotel
1132 Prospect Street
La Jolla, CA 92037
858.454.0771
www.lavalencia.com
Katherine Bond
Katherine Sutton Bond is a freelance travel and luxury item writer for Justluxe.com. She's traveled the world and sampled some of the leading hotels and destinations of the globe. She often covers luxury events and technology. ...(Read More)