By Ryan Eisenacher Mar. 17th, 2011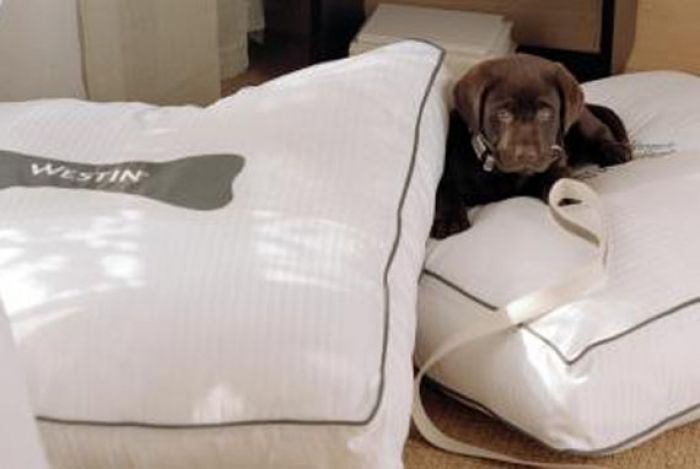 Photo Courtesy of Westin Hotels
Eight months ago, I ventured into Rancho Coastal Humane Society and came home with a loveable, snuggable, short and stubby, four-year-old Chow/Corgi mix named Hank. It's more than safe to say that out of all the things I've ever purchased in my entire life, he is the best investment I have ever made.
I used to think it was absolutely ridiculous how a person could be so obsessed with their dog. The annoying baby talk, the wardrobes of bedazzled doggie clothes, the shrine of photos of cutesy little Fido all over their house; I couldn't stand it. But that was then and this is now. And now...well, now I'm one of those people I used to hate.


We're like two peas in a pod, Hank and I. He's the peanut butter to my jelly. He's the bacon to my eggs. He's the Robin to my Batman. I can't help it. I love him more than anything in the whole world and I can't resist bringing him with me wherever I go.

If you're anything like me, you probably bring your dog with you wherever you go too. Fortunately, I'm lucky enough to live in a city where four-legged friends are highly tolerated and always welcomed with a smile. Whether you're a local in search of a staycation or a vacationer looking to take a trip down south, discover the top five pet-friendly luxury hotels in San Diego.

Hotel Indigo
There's absolutely no reason to settle for hotels that merely tolerate your four-legged pal. Hotel Indigo in East Village knows that your pup is just as much a part of your family and travel time as you are. This dog friendly boutique hotel even has their very own residential pooch, Sandie, adopted from the San Diego Humane Society, to affectionately welcome you and your four-legged pal upon arrival.


The Ruff-Life San Diego Hotel Package features everything you and your furry friend need to best enjoy your stay and have a barking great time, including dog food and water bowls, a plush doggie bed and, of course, the much-desired treats and goodies for top-paw behavior.

The US Grant
For close to a century, the US Grant Hotel's commanding presence and historic appeal has maintained unwavering popularity amongst tourists and locals alike. And now, your loveable pooch can enjoy all the wondrous amenities it has to offer as well. The US Grant happily welcomes dogs 40 pounds or less per room. They even provides Fido with all the rufftastic amenities they could imagine including a water bowl, a mat, a comfy doggie bed and a Pet Welcome Kit.

Guests are required to sign a liability waiver at check-in and a non-refundable $150 cleaning fee per room per stay will apply. The US Grant only asks that guests utilize the "Dog in Room" door hanger at all time and to keep all dogs on a leash or in a carrier bag when outside the room.

Westin Gaslamp Quarter
The Westin has gone to the dogs...literally! The Westin Gaslamp Quarter proudly welcomes your canine companion (up to 50 pounds) with an amenity bag for the urban dog, as well as his or her very own Westin Heavenly dog bed and a polished food and water bowl for your guestroom upon request. Best of all, the Westin requires no extra fee for you to bring your pooch along on your travels, simply a waiver that outlines the rules for your pet that must be signed upon check-in.

Porto Vista Hotel
The vintage chic Porto Vista Hotel in Little Italy offers a charming taste of classic 1960s Italy right here in San Diego. Best of all, their gracious hospitality is extended to your pets, so don't hesitate to bring them along for the fun.


To top it off, the Porto Vista's favorite hotel dog, Barklee, is excited to show your pup the ropes. When making your reservations at the Porto Vista Hotel, simply let them know you're traveling with your furry, four-legged friend. Sometimes a little companionship on the road is just what you need; therefore the Porto Vista offers a warm range of San Diego pet-friendly lodging services. They're all just a short walk from the city's best dog boutiques and parks.

W San Diego
The W Hotel firmly believes that your furry friend should travel in luxury with you. That's why dogs are always welcome when you book your stay at the W Hotel in downtown San Diego. Guests may choose from a variety of different packages including personalized birthday cakes, maps to the nearest dog parks and dog runs and P.A.W. Doggie Happy Hour on the last Tuesday of every month from 5 p.m.-7 p.m. But wait, there's more!

You can even spoil your special love with a PETicure that will have them looking fancier than ever. For $30, this 30-minute dog-friendly nail treatment includes a calming massage and will leave your best friend with smooth, filed nails and well-oiled paws. If you want to go glam, you can even add a PAWlish for an extra $5. It doesn't get much more wooftastic than that!
Ryan Eisenacher
Hailing from the town of Brea in Orange County, California, Ryan Eisenacher moved to San Diego five years ago to attend college at San Diego State University. While working towards her degree in journalism, Ryan was a senior staff writer for her campus newspaper, The Daily Aztec. During her sophomore year of college, Ryan took on an internship with DiscoverSD.com, and instantly felt at home. Since...(Read More)