By Merilee Kern Apr. 25th, 2011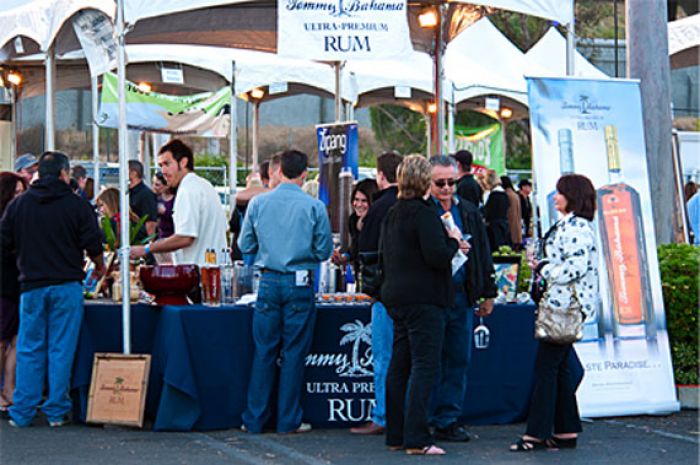 Photo Courtesy of Fast Forward Events
As an ever-appreciative San Diego resident and a good life connoisseur indelibly on the hunt for the
best of the best
, it's incumbent on me to experience and inform you, dear reader, about notable San Diego-area "happenings." You know, those society events, grand openings, launch parties and such where the A-listers lurk...and that make the local luxury scene tick.
Here's the inside track on yet another sensational San Diego soirée:

The Event

As expected given its spectacular showing last year, the third annual Rhythm & Vine festival benefitting he Boys & Girls Clubs of Greater San Diego did not disappoint. Held at the Westfield North County Shopping Mall in Escondido, scores of product purveyors, wineries, breweries, spirits vendors, and leading San Diego restaurants convened to help attendees eat, drink and make merry while supporting a worthy cause benefitting San Diego's youth. This notable North County event featured three live musical performances, an exclusive VIP section and after-party and a wine and lifestyle silent auction that inspired feverish bidding.

The Scoop
The Boys & Girls Clubs of Greater San Diego supports more than 25,000 youth every year through its 13 facilities and four school-site programs throughout the region. Funds raised at the Rhythm & Vine event allow the Boys & Girls Clubs of Greater San Diego to continue to serve and to expand its services for local at-risk youth. For more than 66 years, the venerable organization has been committed to serving children ages five to eighteen in need. By all accounts a commendable cause.


The Rhythm
Rhythm & Vine performances included Simeon Flick - an independent heritage artist who croons a mixed style of innovative folk-jazz, alternative R&B, alternative country and pop-rock music. Espiritu Flamenco also lit up another Rhythm & Vine stage with toe-tapping Rumba, Bulería, and Colonbiana, which further charged the festival's kinetic atmosphere.

Rhythm & Vine VIPs had all-access, including admission into a VIP area from which gift bags, exclusive wines and gourmet foods were offered, including ever-popular behemoth Godiva-dipped strawberries. On the VIP Stage was the Clay Colton Band, jamming an eclectic blend of Classic Rock, Alternative Rock and Americana/Southern Rock. Attendees danced in front of the stage as the band covered songs from timeless bands such as The Beatles, Zac Brown Band and Pearl Jam.

The Vine
Each year Rhythm & Vine features wineries from some of the premier wine-producing regions in the nation, including Napa Valley, Paso Robles, Temecula and others. World-class wineries on hand at this year's festival included Artesa Winery, Bernardo Winery, Callaway Vineyard & Winery, Cinnabar Winery, Falkner WInery, Hearthstone Vineyard & Winery, Michael~David Winery, Thornton WInery, and Witch Creek Winery among many others.

For those who prefer a more spirited beverage, the event also featured craft breweries and spirits companies offing their elixirs. Included among these were Tequila Fortaleza, Rock Bottom Brewery and Stone Brewing Company.

The Sublime

Pairing nicely with the copious drink selections were delicious appetizers and small gourmet bites from scores of popular San Diego eateries. Participating restaurants and food purveyors included Champagne French Bakery, Cupcake Love, Godiva Chocolatier, Phil's BBQ and the Spinelli Mobile Wood Fire Oven - a mobile pizza purveyor that drew quite a crowd.

The Goods Up for Grab
The silent auction - for which I was again thrilled to see a great deal of bidding activity - featured more than 115 options. Some representative items on the block included 1.5 L (Magnum) bottle of Darms Lane 2006 Cabernet Sauvignon, Bon Passe Vineyard signed by winemaker, Brian Mox; a day of wine tasting at Cass Winery in beautiful Paso Robles, California; six bottles of 2005 Syrah - Rockcreek Vineyard; two pounds of Ultimate Collection Godiva Chocolates, Truffles, and Biscuits; a reversible tote from Vera Bradley; a gift basket from Sauce Goddess Gourmet; and a basket filled to the brim with items from The Naked Grape. Of course, all proceeds from the silent auction benefit the Boys & Girls Clubs of Greater San Diego.

The 411
This year's tickets for Rhythm & Vine cost $75 for General Admission in advance and $100 at the door. VIP tickets cost $125 in advance and $150 at the door. A Designated Driver ticket is also available for $40 in advance and $90 at the door for those who just plan to eat and enjoy the music and leaving the imbibing to others. Learn more at www.rhythmandvine.org. Or, you can log on and donate directly to The Boys & Girls Clubs of Greater San Diego at www.sdyouth.org/hych/donate.

The Bottom Line
Rhythm & Vine is an annual event that should not be missed, should you want to pair your love of vine, fine fare and philanthropy.
Merilee Kern
Branding, consumer product trends, leisure and lifestyle expert Merilee A. Kern is a good life connoisseur who keeps her finger on the pulse of the marketplace in search of new and innovative must-haves and exemplary experiences at all price points, from the affordable to the extreme. The best of the best across all product, service and travel categories–as well as noteworthy marketplace change ...(Read More)