By Courtney Driver May. 23rd, 2011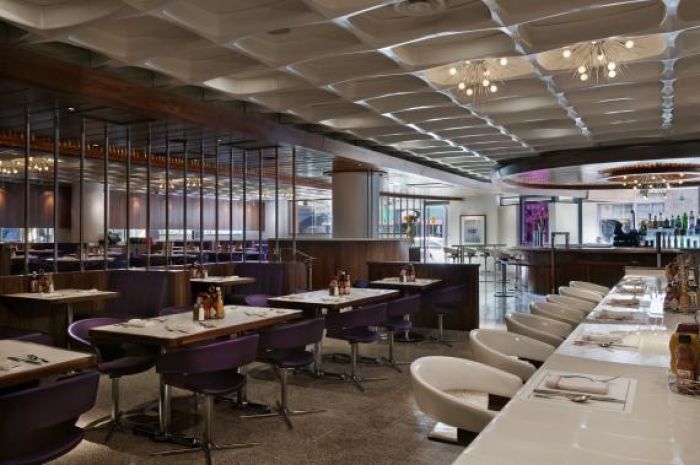 Photos Courtesy of Hard Rock Hotel San Diego
There are a handful of hip hotels in the Gaslamp, but the Hard Rock is easily a flagship to the area. Located in the heart of the Gaslamp, this hotel oozes cool in more ways than one and whether you are staying there or not it's worth a visit. Stop into Pink Berry for a quick and refreshing treat, dress up and make reservations at NOBU for hot date or drop into
MaryJane's
for a more casual experience, now with an all-new menu.
While MaryJane's has the presence and atmosphere of a diner, the fare is a sizeable step above what you may expect of an establishment labeled as such. We were more than pleased to try out a sampling and report back to JL readers.
During our experience we had the privilege of sampling a broad menu, including an appetizer of pita slices and two kinds of humus: one delicious and of the standard variety and another, more unique black bean-based sort. What I loved about the latter is that I practically expected an olive tapenade by the looks of it, but was surprised by the different flavor. Don't get me wrong, I love olives and I relish a classic tapenade. However, the idea of a black bean hummus was a fabulous choice for the many who are not olive fans; a great starter.
As the evening progressed we additionally had the opportunity to sample a salad topped with buffalo chicken pieces, a burrito featuring a classic combination of guacamole, chicken, pico de gallo and more paired with refried beans and salsa. However the star of the show was the Sonoma Burger that included creamy goat cheese, arugula and crispy bacon. Yum. But if a goat cheese burger is not your cup of tea, not to worry. One of the most exciting menu options that MaryJane's has to offer is the Build Your Own Burger: pick what you want, design your own perfect ensemble. Potentials include a base of beef, turkey or veggie, with a wide variety of cheeses (if your forgo the Sonoma Goat Cheese, go for the Mozzarella, the Maytag Blue or more). Additionally you can choose from a plethora of toppings, like an Olive and Tomato Tapenade, a fried egg or a more classic pile of bacon. Sauces run the gamut, but a couple available for your reading pleasure include Sun Dried Tomato Ketchup and Peanut Butter: whatever your choice may be, MaryJane's will oblige to your hankering.
It was easy for the
Hard Rock San Diego
to take main stage as one of the best hotels in the Gaslamp when it opened just a few years back, however offering a stand out restaurant is tough among the dozens upon dozens in the area. NOBU was a shoo-in with the namesake being so prominently chic, but MaryJane's had her work cut out for her. There are indeed a few places to get a great burger in downtown San Diego; nobody will argue that. However there is more variety here and the environment is very fun: booths supplied with televisions, rock star memorabilia. Located right across the street from the convention center this is a no-brainer. The menu offers an array to please everyone, the service is solid and quick, and the food is just plain good.
Read the full review on the San Diego Hard Rock
Courtney Driver
Courtney Driver combines her passion for luxury with her love for writing as the Executive Editor for JustLuxe. An authority on the luxury lifestyle, Driver's travel experience has come to encompass visits to some of the most lavish properties in the world, exclusive transportation methods such as helicopter and private jet, as well as exotic locales like Africa, Asia and the South Pacific. Having...(Read More)