Apr. 19th, 2013
Sample SoCal Life at The Lodge at Torrey Pines
Photos Courtesy of The Lodge at Torrey Pines
If it wasn't for the view of the Pacific Ocean, which is just visible behind the green of the Torrey Pines Golf Course, the rustic, cabin-like appeal of the AAA Five Diamond
Lodge at Torrey Pines
would lend the impression of having arrived at a mountainside escape. La Jolla's signature pines, the rarest native species of its kind in the United States, shade the scenic property, which is situated on the 18th hole of the world-renowned Torrey Pines Golf Course (the site of Tiger Woods' recent PGA Tour victory), which I admired from the patio of its fine dining restaurant, A.R Valentien. I ended up visiting on one of those postcard-ready San Diego weather days with the ideal ratio of breeze and sunshine — the kind that has the rest of the country so envious most of the year (and seemingly never wants to show up when visitors are in town).

The location sure wasn't hurting either. There was a hum of conversation over the Lodge's outdoor patio as I watched a few families enjoying a meal together and a pair of older women with cotton-teased hair complimenting each other on their clothes. Being my first trip to the Lodge, I was appreciative enough to have a dining partner to lead me through the afternoon, starting with lunch at A.R. Valentien.

The restaurant's kitchen is led by Executive Chef Jeff Jackson who provides a menu that changes daily. After making a few lunch suggestions and bonding over a mutual fondness for European travel and the West Coast Swing, Julia told me a little bit about the restaurant, which hosts a relaxed, four-course dinner-party every Thursday evening ($85 a person). I started with a seared rare albacore "tonnato," which was served on a smear of Nicoise olive and Marcona almond salad. Julia ordered A.R. Valentien's citrus salad, which was jeweled with kumquats, slices of avocado and drizzled with a citrus vinaigrette—if you're watching your figure, it's a nice light alternative to some of the other richly prepared appetizers such as the butter poached Maine lobster and charcuterie plate (consisting of duck and pistachio terrine, potted short ribs and chicken liver pate).

The retreat also has a more relaxed dining venue, The Grill at Torrey Pines, which hosts a craft beer dinner series for $75 per person. The Lodge has partnered with San Diego's newly established Acoustic Ales Brewing Experiment to offer seasonal, handcrafted beverages, ranging from light to dark ales while Chef Dan Boling crafts dishes to accompany the beer.

On September 30th of this year, the Lodge will celebrate its Tenth Annual Celebrate The Craft event which is arranged on the hotel's croquet lawn — a pretty circle of green that sits between the north and south sides of the golf course with that sliver of ocean I mentioned was visible from the patio terrace. The event draws culinary experts from across the state, allowing chefs an opportunity to showcase their artistry through demonstrations, tastings and interaction.

After a round of Roman style duck breast and a sampling of lemon mousse bar and coconut lime cake (prepared by the restaurant's ambitious pastry chef, Jennifer Costa) I was treated to a tour of the property. Besides overlooking the golf course and ocean, the restaurant terrace also boasts a view of the hotel pool—a bright spot of blue, surrounded by green and white striped cabanas (no reservations required). A unique feature, the year-round heated pool plays underwater classical music. The grounds are landscaped with entirely native plants, including the Torrey Pine, which is in keeping with the Lodge's commitment to its locality. The Lodge itself was built to mirror the world-renowned Gamble House in Pasadena, utilizing the classic, rough-hewn lines of the 1900s California craftsman style.

Inside, overstuffed couches and leather accents lend a masculine feel to the space, which segues into a hallway that leads to the hotel's fitness area and full-service spa. The hotel has 170 guest rooms, which include 8 suites that face the ocean, central courtyard and the golf course, ranging in size from 520 to 1,500 square feet. Several of the suites offer full kitchens, fireplaces, granite and marble bathrooms as well as private patios.

Because of its natural setting, the Lodge's concierge is able to set-up nature hikes on Torrey Pines State Reserve. The reserve has 2,000 acres of land, 8 miles of trails as well as stretches of beach and cliffside views. So, if golfing isn't your thing and you've soundly beautified yourself at the spa, there are plenty of other outdoor options to take advantage of.

The Lodge at Torrey Pines blends the Californian beach lifestyle with the wooded, mountain retreat feel you'd expect from the northern part of the state. Because of its outdoor activities and quiet setting, it's well-suited to families or active couples looking for a relaxed getaway. The culinary events are also great for locals looking for nearby activities or a unique dining option.
You might like :
Best San Diego Hotels
.

San Diego Map

.
.

Luxury Hotels in San Diego

.
Hotel Del Coronado
Romantic, Business, Family Friendly, Spa, Beach, Golf, Wedding, Villas, Luxe Superior, Culinary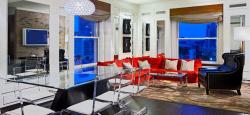 Andaz San Diego
Business, Boutique, Luxe Superior, Tourism, Nightlife, Urban