By Danika Garlotta Oct. 19th, 2010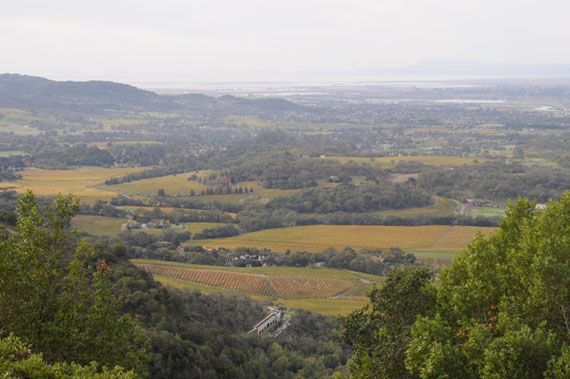 Winery Tours:
Within the vast vineyards that give
Napa Valley
its name, is an area that not only utilizes the natural elements unique to the land, but combines it with traditional wine making techniques and eccentric innovation. This area, rich in viticulture is known as Coomsbville. Coombsville has a simple plan — create good wine and promote a culture where the discerning individual can thrive.
With a slightly cooler temperature than other regions of Napa, the geographical location of Coombsville creates unique microclimates, which help produce some of the best Cabernet Sauvignon. The volcanic composition of the soil also helps to produce a distinctive taste that is reflective in the various varietals only found in the Coombsville area.
I was invited by well-known Sommelier, Jason Alexander of Meteor Vineyards to take a tour of this private area and meet some of the key players of Coombsville.
Walking on the estate grounds that make up Meteor Winery I was immediately impressed by the comforting sense I felt. It was quiet out, no other voices or tourists; it was me, a friend, and my host Sommelier Jason Alexander. I was beginning to get the sense that I was about to be introduced to an elite club, a place reserved for only those who know.

Sitting inside the tasting room (with all the walls made of glass), my view was nothing but the mountains, the vineyards, a delicious looking cheese and meat spread, and a few bottles of wine. It was here that I officially got to know my host Jason, and was able to get a good understanding of the model that Coombsville operates by.


"Established wineries like Caldwell and Palmaz set the foundation for viticulture in the area, and wineries like Meteor Vineyard and Tournesol are taking it to new heights," says Jason.

His explanation of the climates' impact on the grapes and the soil that make up the vineyards, made me realize that the wineries from Coombsville, focus on quality not quantity.

"Meteor Vineyard's site is unique among the vineyards of the area for its aspect, elevation and stony, volcanic soils."
Wines Tasted:
2007 Perseid set to be released in October 2010
$125 per bottle

Special Family Reserve
$300 per bottle and limited to only 75 cases


Pulling up to what looks like an Italian villa, we had arrived at Tournesol (meaning Sunflower, or turn to the sun in French) Vineyard. We were greeted by the winery's operations director, Douglas Warner, who took our group down to the tasting area, which was located in the estates garage. The term garage seems so minute in comparison to where I was. With a long wood table — that could easily sit 30 people lining one side — a collection of pristine vintage cars and a private cellar filled the rest of this massive room. Sitting in the middle of the long table I was able to taste the estate's prime selections.


The wineries of Coombsville are not meant for 20 minute tourist stops or large tourist buses making their way through the wineries of Napa. The set up is accommodating to those who want to spend a full day touring the vineyards, learning the viticulture, and learning directly from the winemakers and the owners of the estates.

Only available for private tastings and scheduled visits, Tournesol estate features beautiful guest accommodations across from the main house and overlooking Lake Louise.

Although exclusive in allocation, this wine can be found at a few select restaurants, including Boiuchon Bistro, Coi, Epic Roasthouse, and The French Laundry.

Wines Tasted:
Proprietors Blend
$60 per bottle

2005 Cabernet Sauvignon
$100 per bottle


Walking up the outdoor staircase leading to the main tasting rooms of Palmaz I was convinced I was entering a futuristic sanctuary for wine, seductively hidden on a mountainside. Once at the top we were instantly welcomed by members of the Palmaz family while we waited for Florencia Palmaz who would be our host while on the estate.

After being brought into Florencia's office, which also served as a private tasting room, we enjoyed an assortment of cheeses and discussed the various wines produced from Palmaz. It was through Florencia's explanation of the family business that I was able to understand the passion and innovation that goes into these small production wineries and why there is no desire to bring this wine to the masses.


What had been carried down from her parent's love of wine and her father's impact on innovation was directly reflective in the set-up of Palmaz. With the understanding that gravity is the most natural way to produce complex wine, Palmaz set up the inner workings on the side of Mount George. The wine is able to flow through a series of tunnels and domes, allowing gravity to naturally treat the wine. The result is not only a fine wine, but a reflection of true artisan behavior mixed with modern technology.



"Nearly all of the wineries are small — under 2,000 cases. The focus is on quality — reflecting a passion for perfect wine rather than a passion for growth," says Jason.

Wines Tasted:
Estate Cabernet Sauvignon
$100 per bottle

Estate Chardonnay

Muscat Canelli Florencia
$45 per bottle


Tips:

Florencia Palmaz was gracious enough to share with me a few helpful tips and reminders when it comes to fine wine.


Good wine must have ageabiliy — the ability to open it now, in five years, or 10… A great idea I learned from Florencia is to buy a case of wine from the year your child was born, and then open a bottle at every special moment whether it's a 21st birthday or a wedding.


Check if your favorite winery produces a second label. Made with the same commitments and standards, this wine is mixed with the best performing barrels and bottled under the second label name. This is a great way to drink the product of a first growth without paying the premium for the estate's label.
Sometimes coined as the mini Ferry Plaza Farmers Market, Oxbow is a unique adventure in itself. This high-end cluster of restaurants, wine bars, and purveyors of local produce allows you to get some of the best locally sustained produce, Coombsville has to offer. From baked goods, oysters, meats, cheeses and spices, this is the place to unwind from wine shopping and pick up a few flavorful ingredients to fill your kitchen cabinets.


My Favorite Spots:
The Model Bakery
Specializing in fresh baked breads and pastry products, the Bakery uses the highest quality ingredients and organic stone ground flours to create their assortment of fresh baked artisan breads and pastries.


With the smell of freshly baked bread lingering in store, and the baskets of freshly baked goods, you can't help but buy a loaf of Sourdough and a few cookies to go.

Fatted Calf
This artisanal charcuterie produces a wide range of pates, salami, prosciutti, and a large selection of fresh sausage. Their cured meats are made and aged using traditional methods, which is reflective in the taste. Walk in to grab a quick bite, or order a few small portions for your next dinner party.

Oxbow Cheese Market
This corner dedicated to cheese, was instantly my favorite stopping point at the market, showcasing creations made from local cheese makers and a few international. Beautifully displayed in whole wheels and cut to order, The Oxbow Cheese Merchant is the last place you should stop at on your tour, so that you can select a few delectable cheeses to pair with your wine.

It's not just the cool climate that makes this region produce some pretty compelling wine, it's the idea that each varietal from the various wineries have been handcrafted, well thought out, and made with the passion of the very connoisseurs whose names are behind the labels. Not only is Coombsville a place for the discerning enthusiast who appreciates quality, good wine, and rich history, it is the best place to do some serious wine shopping.

It was with Jason's expertise and immense passion for wine and the region of Coombsville that I was able to get a first-hand glimpse of the "cool" area of Napa known as Coombsville. Thank you.

If you are looking to stay a few days in the Coombsville Region, AVIA Hotel is centrally located and within walking distance of many restaurants, as well as the Oxbow Market.

To book a room at AVIA, visit the website at www.aviahotels.com.

Photo Credits: Coombsville - Dan Mills Productions
Palmaz Vineyards photos provided by Palmaz Winery



Full Disclosure: Tours of the wineries mentioned above were arranged for Danika Quinones on behalf of the Coombsville Vintners & Growers Association, but all views expressed are entirely her own.
Meteor Winery


Photo provided by Meteor Winery

Photo provided by Meteor Winery

Photo provided by Palmaz Winery

Photo provided by Palmaz Winery

Photo provided by Palmaz Winery

Photo provided by Palmaz Winery

2007 Perseid - Meteor Vineyards

Photo provided by Tournesol Winery

Oxbow Market

Oxbow Cheese Market

Avia Hotel
Danika Garlotta
Danika is an experienced marketer and luxury travel writer who left an awesome life in San Francisco, to travel around the world with her husband Chris. Together they make up the blog, No Destinations where their photos and words are meant to inspire others to get out and see the world. Their images have appeared in the likes of Travel & Leisure, Expedia and Food & Wine to name a few. When they a...(Read More)