By Danika Garlotta May. 24th, 2011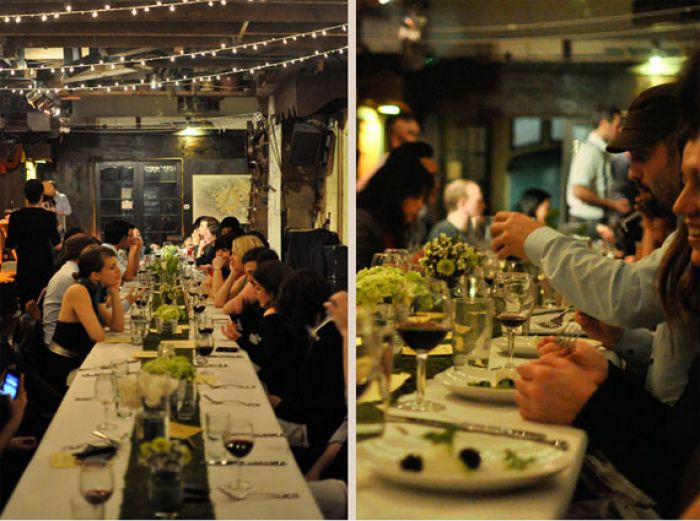 Photo Credit: Nicole Grant/The Bold Italic
The email arrives and directions are given. The secret has been unveiled and I am now in route to a clandestine dinner where promises of culinary amazement await. A place where foodies can mingle, feast on gourmet plates, and drink properly paired cocktails, all while assuring there will be no pretentious behavior - at least that's what I have been told.
The red building I am sent to is not glamorous, it isn't sparkling with fancy modern adornments, and there are no visual clues that hint to a meal. Instead there is an underground radio station inside, walls covered with stamps and records, a makeshift coat rack, and a group of guys standing by the door anxiously greeting every person. Through the doors, the space has been transformed. Long tables, beautifully and simply adorned, sit waiting with delicate menus printed at each seat. I am impressed by this event...they even have legitimate cocktails.


Stag Dining Group is not your typical restaurant or dining experience. It is the brainchild of five friends that all had a common goal: to share a great feast. The menus are decided well in advance, making sure that everything is sustainable and from local farms and purveyors. Seating is limited and, of course, the location is always kept secret; so when there is word of the next event, quickly grab a ticket.

"A feast is meant to be shared, so we have created The Stag Dining Group to invite new faces to the table. We aim to provide a sophisticated (but not stuffy) dining experience that incorporates our passion for creativity, sustainability, eclecticism and our joie de vivre," explains The Stag Dining Group.

What I loved

Every course (there were seven) was paired with a full glass of wine from Two Mile Wines.

The kitchen was an organized frenzy of culinary professionals drinking PBRs.

Before each course was served, a detailed description was given highlighting the ingredients.

Art from Kasia Severaid was displayed along the wall.

The event lasted four hours, which was the perfect amount of time to sit back, learn about great food, and enjoy the company.

An actor, a few executive chefs, a musician, and a MBA graduate are the five friends who make up Stag Dining Group.

The Vendors
Alter-Eco, Devils Gulch Ranch, Long and Bailey farms, Nicasio cheese co., all local seafood, Canaan, Fair Trade and Two Mile Wines.

Here is a look at the evenings' MENU with my notes added!


Doing what every group of friends dreams of doing, these men have managed to form one of the coolest, non-pretentious, and best degustation menus I have come across. Although the menu and venue changes with every event, the amount of detail and thought that is put into each aspect of the experience is always the same.

"A meal is more than just food on a plate. It is an all encompassing experience from the people you are with, the stories that are told and the food that is served. It is a moment in time that should be enjoyed and appreciated." Thank you Stag.

These events occur monthly so make sure to keep in touch with Stag so that you don't miss the next event. Follow the group on Facebook at facebook.com/stagdining or Twitter @stagdining.

All pictures are credited to Nicole Grant from The Bold Italic: thebolditalic.com.


Danika Garlotta
Danika is an experienced marketer and luxury travel writer who left an awesome life in San Francisco, to travel around the world with her husband Chris. Together they make up the blog, No Destinations where their photos and words are meant to inspire others to get out and see the world. Their images have appeared in the likes of Travel & Leisure, Expedia and Food & Wine to name a few. When they a...(Read More)