By Touring & Tasting Jul. 13th, 2011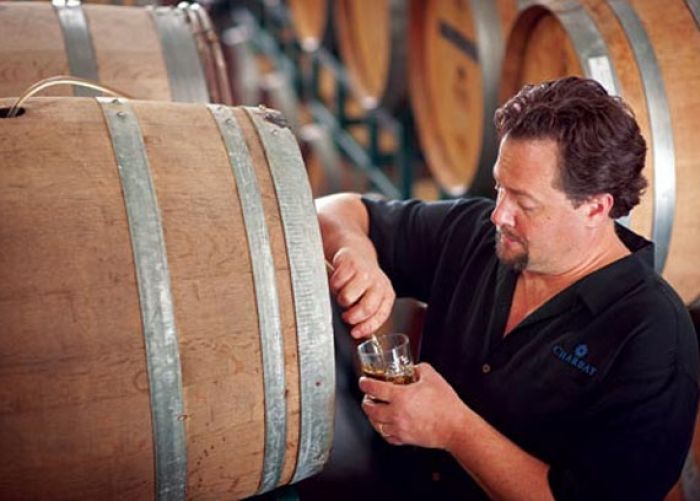 The drive up winding Spring Mountain Road above St. Helena to Charbay Winery & Distillery is the first hint to visitors that they're in for a real treat.
They arrive at the family-run winery and distillery ready to taste many intriguing offerings made by the owner, Miles Karakasevic, and his son, Marko, who are carrying on a 13-generation heritage of artisan winemaking and distilling.


Miles learned his craft in Europe and started Charbay with his wife Susan in 1983. They raised their children on Spring Mountain as they practiced their artisan traditions. Marko is credited with igniting the artisan flavored vodka movement. Since then, they've added rum, whiskey, and tequila—to shake up the spirits world. They know their craft and they keep their customers waiting for what's next.

Today, up on Spring Mountain, visitors get to sample a side of Charbay that is lesser known. Here the focus is entirely on their stylish, unique wines—no spirits are served in the tasting room, due to California state law. Beyond elegant Cabernets, there are luscious Ports made from the family's own Brandy (distilled right there on the property in the family's Alembic Pot Still), and that's only the beginning.


Guests delight in discovering imaginative releases like the Green Tea Aperitif, a sophisticated, ready-to-drink wine-based cocktail that's great over ice; and Pomegranate Dessert Wine, made from tree-ripened California pomegranates.

They can even purchase a bottle of Charbay's first brandy, the 1983 Folle Blanche Brandy No. 83, that was just released after nearly 30 years of anticipation. It really doesn't take long for guests to realize that they have happened upon a real treasure: the refreshing continuum of a family's artisan trade.

Charbay is a simple operation that exudes a warm, European feel. It's a place to settle back, enjoy the wines and aperitifs, learn about distilling, and become fast friends with the Karakasevic family. The woodsy surroundings call out for a picnic and many savvy wine tourers do just that—as they relish the many joys of Charbay.

WHAT TO BUY:

Green Tea Aperitif Floral green tea aromas, soft green tea flavors $28/750 ml

Brandy No. 83, 27 year Spice, caramel, toasted vanilla, gingerbread $185/375 ml, $350/750 ml

Distillers' Port, 12 year Rich, concentrated Cabernet flavors, light hint of chocolate, raspberries $50/375 ml


CONTACT:
Charbay Winery & Distillery
4001 Spring Mountain Rd.
St. Helena, CA 94574
707.963.9327 x 23
Tasting Room Open Daily 10 a.m.–4 p.m.
Charbay.com

SPECIAL NOTES: Owner on site, alembic pot still and distilling introduction, picnic area, cigar and port pairing, cigar smoking area.
Touring & Tasting
Established in 1995, Touring & Tasting offers an array of compelling marketing opportunities through its biannual, nationally distributed magazine wine club services weekly e-newsletter print newsletter and Website, TouringAndTasting.com. Touring & Tasting's Wine Club delivers an incomparable assortment of premium, hand-selected wines to a broad spectrum of motivated wine consumers. We offe...(Read More)