By Touring & Tasting Aug. 17th, 2011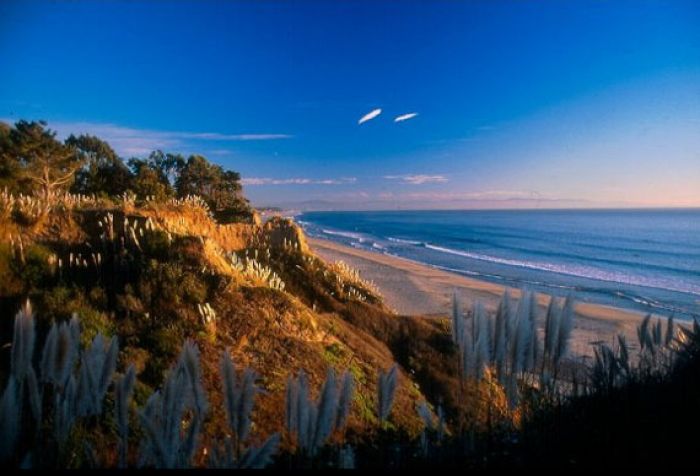 On the first evening of my six-day tour, I stood on the deck of Silver Mountain Vineyards' Santa Cruz Mountain tasting room to watch the spectacular sunset.
With a little poetic license, I could visually trace the itinerary that awaited me, from Summit Road — down to Monterey Bay — and beyond, to the Santa Lucia Highlands. My host Jerold O'Brien, a pioneer vintner, kindly fulfilled my request for cheese, fruit, superb wines, and the low-down on winemaking in the Santa Cruz Mountains.

The next morning, I headed to Santa Clara Valley, once named the "Valley of the Hearts Delight" by Native Americans. The valley enjoys a rich winemaking history. I visited Guglielmo Winery where I met third generation brothers George, Gene, and Gary, along with Winemaker Alan DeWitt, whose effervescence knows no bounds. At Jason-Stephens Winery, I spent some time tasting with Jason Goelz and winery dog Dakota. After touring in Los Gatos and Soquel, I headed to the sea and checked into Seascape Beach Resort.



This luxurious, yet laid-back suite and villa resort has it all, with easy proximity to the beach, a fine restaurant, and all resort amenities. That evening I met contributing writer Amber Turpin for dinner at Bonny Doon Winery's Cellar Door Café. We were delighted with the inspiring family-style prix fixe menu, highlighted by a tender Cardinal snapper with sunchoke, leek, and arugula, paired with a glass of 2008 Bonny Doon Vin Gris de Cigare.

The following day, I set off to discover the wines and the romance of Poetic Cellars. Winemaker Katy Lovell moved to the Santa Cruz Mountains from Livermore, where she still owns vineyard land. Her significant other Joseph L. Naegele, an attorney and professor at Santa Clara University, composes a thoughtful, love-inspired poem for the back label of each wine Katy crafts. From there, I took a quiet stroll through Land of Medicine Buddha, a non-profit retreat center offering many options for peaceful meditation. My day concluded at Soquel's Main Street Garden and Café, where I enjoyed a chanterelle risotto dish paired with a fruit-forward Pinot Noir from Windy Oaks Estate.



I headed around Monterey Bay the next morning and met Ken Peterson, Director of Communications for Monterey Bay Aquarium. This fascinating learning center is a Mecca for the area. The exhibits are so engaging, it's not unusual for visitors to lose track of time and suddenly feel hungry. Luckily, there's a Cindy Pawlcyn restaurant located right in the Aquarium itself. The gourmet kitchen provides customers both a selfservice café and a full-service restaurant. In the restaurant, window tables offer binoculars with water fowl guides attached. I enjoyed an exquisite cilantro chicken breast tostada, cooked to perfection.

Luckily, I had the wherewithal to get my hand stamped upon exiting. There are several tasting rooms nearby, including a fascinating spot overlooking the bay called A Taste of Monterey. Owner Ken Rau features more than 70 regional wineries in his wine center, offering tasting, wine accessories, and gifts. You can easily drop into a tasting room, a funhouse, a gift shop, and then head back to the aquarium, as I did.



Then I drove to Carmel-by-the-Sea and checked into La Playa Hotel, just in time for a brilliant ocean sunset. This delightful landmark Mediterranean resort is just blocks from the beach and Ocean Avenue. I dined at The Grill where I enjoyed a marvelous smoked duck breast and warm spinach salad dotted with pomegranate seeds, paired with a crisp Joullian Chardonnay.

Many first-time visitors to Carmel don't realize how close they are to wine country. After a walk on the beach the next morning, I hopped in the car, and within 35 minutes I was in sunny Carmel Valley, enjoying the wines of Talbott Vineyards, Heller Estate Organic Vineyards, and Boekenoogen Winery. The Boekenoogen family greeted me warmly with a wonderful picnic lunch prepared by Paradise Catering; two chefs who know just what a wine tourer needs!



My day in Carmel Valley concluded with a visit to Bernardus Winery where I had the honor of tasting with Winemaker Dean DeKorth. I felt like an old friend by the time I drove through Ingrid's Vineyard to Bernardus Lodge. This serene, epicurean resort provides the utmost in creature comforts. I sunk right in — spending time in the spa's meditation garden, Wickets Restaurant, and a very deep bath tub in my room.

I had to tear myself away the following morning, but my spirits were lifted when I reached Pessagno Winery on River Road. I was greeted by Winemaker Steve Pessagno and his witty son Anthony who gave me a certificate for my swirling technique. I had to resist their invitation for tri-tip because down the road at Hahn SLH Estate, Chef Brian Overhauser, who recently joined the winery team, was preparing a lunch for Director of Vineyard Operations Andy Mitchell, Winemaker Paul Clifton, and myself. Chef Brian presented four exquisite seasonal pairings and told of the winery's plans for its new culinary program.



The final pièce de résistance on this tour was a visual one. Paraiso Vineyards owner Rich Smith greeted me with his gentle sense of humor and offered to take me for a "quick" ride around the vineyard. It wasn't quick, but it was stunning — the vineyards cover 400 acres of rolling hills and canyons. Paraiso sits at the southern end of the Santa Lucia Highlands, so when I said goodbye to Rich and drove back down to River Road, I gazed back in the direction I had come.

Although I couldn't see the Santa Cruz Mountains, I thought about my time there for a moment, and all the places I had stopped in between. And I decided that California's Northern Central Coast — with its natural beauty, warm people, excellent food, and distinctive wines — is one of my favorite places to tour and taste.

EDITOR'S TOUR TOP 20
2004 Bernardus Marinus
2008 Boekenoogen Estate Chardonnay
2009 Bonny Doon Ca' del Solo Grenache Blanc
2006 Château Julien La Conviviance
2007 Cooper-Garrod Cabernet Franc
2006 Domenico Aglianico
2007 Guglielmo Cabernet Sauvignon
2008 Hahn Lucienne Pinot Noir
2007 Heller Estate Malbec
2007 Hunter Hill Estate Merlot
2007 Jason-Stephens Estate Merlot
2009 La Honda Sauvignon Blanc
2007 Manzoni Estate Syrah Paraiso Souzao Port
2009 Pessagno Riesling
2008 Pierce Ranch Cosecheiro
2007 Pietra Santa Estate Sangiovese
2007 Poetic Cellars Chardonnay, Chestnut Hill
2004 Silver Mountain Vineyards Alloy
2008 Sycamore Cellars Syrah
Touring & Tasting
Established in 1995, Touring & Tasting offers an array of compelling marketing opportunities through its biannual, nationally distributed magazine wine club services weekly e-newsletter print newsletter and Website, TouringAndTasting.com. Touring & Tasting's Wine Club delivers an incomparable assortment of premium, hand-selected wines to a broad spectrum of motivated wine consumers. We offe...(Read More)