By Touring & Tasting Jan. 17th, 2012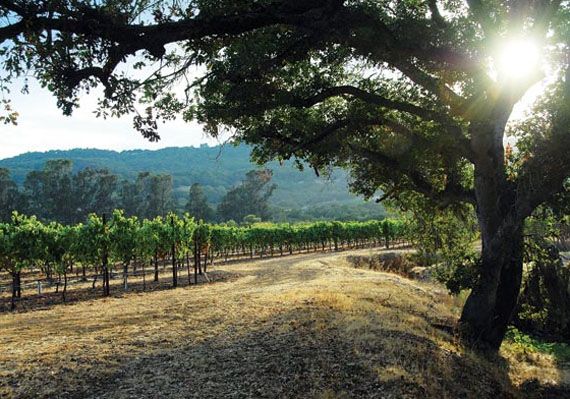 Photo Courtesy of Matanzas Creek Winery
Cradled between three mountain peeks in
Sonoma County
's small, fertile Bennett Valley, Matanzas Creek Winery crafts distinctive wines that speak to this beautiful, singular place.
Founded in 1977, Matanzas Creek has always been inspired to produce world-class wines that showcase the special qualities and diversity of Sonoma County. What's more, the winery has turned Bennett Valley into an enchanting wine-country destination.

Matanzas Creek is located just off the beaten path (a stone's throw from downtown Santa Rosa and an easy drive from the San Francisco Bay area) and wine lovers often head there for a full afternoon. They arrive with picnic baskets and blankets, intending to relax, stroll through the lavender gardens, and play bocce on the beautiful grounds overlooking Bennett Valley. The serene, natural beauty of the winery grounds encourages guests to linger for hours if they like. Self-guided tour maps are also on hand for guests who are interested in learning more about the agricultural side of winemaking. The tour covers less than a mile in length and is designed for all ages and levels of wine experience.



The tasting room is a delight unto itself. Airy and expansive, it invites guests to browse and enjoy Matanzas Creek's lavender products, which are all on display for the sampling. And, of course, guests love to sample the wines. They're guided through thoughtful tastings by a knowledgeable staff, and then they often take a glass outside on the deck to enjoy the view of the vineyards where the wines were born.

Winemaker Marcia Monahan is respectful of the land and listens carefully to its needs, quirks, and tendencies. She spends much of her time in the vineyards, studying the way the sunlight falls on the grapes, noting soil drainage, and observing wind direction. "My goal is to preserve the essence of the individual vineyard site and bring its unique characteristics to the wine," Marcia says. "When people drink a Bennett Valley wine, we want that wine to taste and smell like Bennett Valley."

Located 930 feet above Bennett Valley's floor, the winery's 110-acre terraced vineyard site, Jackson Park Ranch, grows a fresh, herbal Merlot that has helped earn Matanzas Creek Winery's impeccable reputation. Guided tours of this special vineyard site can be arranged for guests able to plan ahead by calling the winery or making arrangements through its website.



The same attention to detail that identifies Matanzas Creek as an exceptional winery has also been lovingly applied to the land itself. In 1991, the winery's founder, Sandra McIver, planted two acres of lavender plants, creating a serene, colorful, and fragrant garden on the winery's picturesque grounds. The lavender gardens have since become the winery's trademark, and visitors from around the world come to see and inhale their beauty. Late in June, when the lavender blooms and paints the winery's landscape a radiant purple, Matanzas Creek holds a special event called Days of Wine & lavender. People drive from miles to behold the beauty, play a few rounds of bocce, and taste the wonderful wines. June 30, 2012, the date for this year's event, is already entered in many calendars.

Matanzas Creek Winery is certainly about wonderful wine. But it's also about spending time in Bennett Valley and appreciating all the exquisite things it has to offer.

Winning Wines

2009 Chardonnay, Bennett Valley: "The 2009 Chardonnay Bennett Valley was barrel-fermented and aged in 20% new oak. Medium to full-bodied with notes of honeysuckle, pear, pineapple and white peach, it is a stylish, crisp white with the oak component clearly pushed to the background." 91 pts Robert Parker, Wine Advocate

2010 Sauvignon Blanc, Sonoma: County "Assertive grapefruit and green apple aromas are complicated by lemongrass and white flowers. Dry, bracing and surprisingly concentrated, offering firm citrus and orchard fruit flavors, nervy minerality and a long, racy finish. A grown-up, low-fat, sharply focused style of the variety that I find utterly captivating." 90 pts Josh Raynolds, International Wine Cellar

2006 Bennett Valley Merlot: "Ripe and voluptuous, with very rich, long-lasting berry, cherry, mocha and spice flavors, liberally oaked and wrapped into fine, sturdy tannins. Lacks a bit of complexity, but otherwise a beautiful Merlot that trades on the variety's opulently fleshy sensuality." 90 Pts Steve Heimoff, The Wine Enthusiast

High Acclaim
Wine & Spirits Seventeenth Annual Restaurant Poll: Most Popular Sauvignon Blancs

Other Treasures
Lavender fields
Bocce court

Picnic grounds
Gardens
Lavender products
Olive Oils
Estate Honey

WHAT TO BUY:

'10 Sauvignon Blanc, Sonoma County Bright pink grapefruit, white peach, passion fruit, pineapple, guava $20

'09 Chardonnay, Bennett Valley Pale honey, passion fruit, butterscotch, honeysuckle, pear $40

'06 Bennett Valley Merlot Fresh thyme, sage, clove, black currants, licorice $26

CONTACT:
Matanzas Creek Winery
6097 Bennett Valley Rd.
Santa Rosa, CA 95404
800.590.6464; 707.528.6464
info@matanzascreek.com
MatanzasCreek.com
Tasting Room Open Daily 10 a.m.–4:30 p.m.

SPECIAL NOTES: Private tours and tastings by appt, lavender gardens, wine club events, picnic grounds, bocce courts, estate honey and olive oil.
Touring & Tasting
Established in 1995, Touring & Tasting offers an array of compelling marketing opportunities through its biannual, nationally distributed magazine wine club services weekly e-newsletter print newsletter and Website, TouringAndTasting.com. Touring & Tasting's Wine Club delivers an incomparable assortment of premium, hand-selected wines to a broad spectrum of motivated wine consumers. We offe...(Read More)