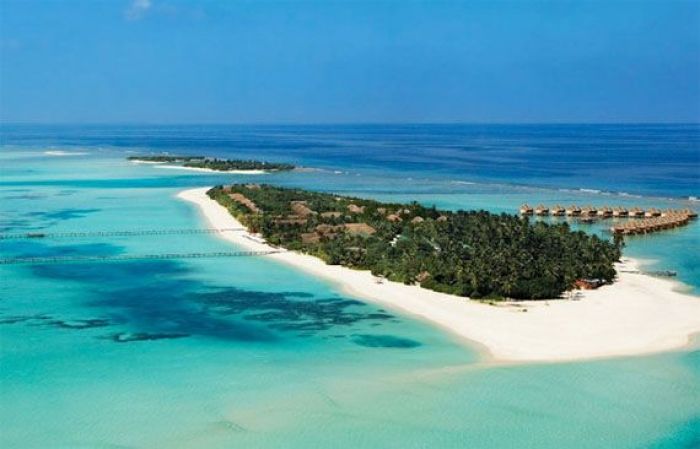 Luxury Resorts:
How does this tiny island keep so many travelers enthralled, thrilled and completely relaxed? That's the question that struck me when I arrived at Kanuhura, one of the Maldives' grandest resorts celebrating its 10th anniversary. I quickly learned Kanuhura is one dazzling spot, not only for its beauty, but also for its ability to spoil guests with countless delights.
Here's a snapshot of my favorite findings on a recent stay at Kanuhura:
Endless Play: By land or water, Kanuhura is a playground for adults and kids alike. The Water Sports Centre offers every aquatic ride one can imagine, including fun tubes, speedboat rentals, canoes, and kneeboards. Most notably, Kanuhura is a member of the internationally recognized Association of Windsurfing Schools in Germany, or VDWS, making Kanuhura quite the spot for learning to windsurf.

In addition, Kanuhura is in close proximity to 40 dive sites and can accommodate beginners with PADI 5 Gold Palm training as well as advanced divers with Nitrox diving certificates. My travel companion and I opted for a snorkeling excursion, which took us to a coral reef bed frequented by green sea turtles. We were delighted to spot 6 turtles during our trip, quite mesmerizing!
Back on land at Kanuhura, we discovered the resort provides two lighted tennis courts and twice enjoyed playing several sets. Squash is also available, as is table tennis, beach volleyball and an endless array of board games and books. We strolled through the orchid garden where a guide pointed out dozens of varieties of orchids that thrive on the island. Next year, a special species of orchid will arrive, one bred just for Kanuhura.


Also of note-tucked on the far end of Kanuhura is a fully equipped Kid's Club where kids can frolic and play pirates late into the evenings.
Dining to Die for: I'll never consider Island dining limited, after feasting at Kanuhura. Kanuhura boasts Chinese, Italian, Asian and Mediterranean dining options. We loved Thin Rah, the resort's largest restaurant which gives guests constant culinary surprises. The Asian inspired buffet one evening was just flawless-from the open-cooking demonstrations to the variety of fresh sushi, the entire display of cuisine, so artfully presented, was impressive.

Last year, Kanuhura announced a spectacular addition to its dining roster, Kandu, a special restaurant on the private "Robinson Crusoe like-island" of Jehunuhura. Accessible by a three-minute or so complimentary boat ride from the resort, Kandu is the Maldives first resident restaurant set on a private islet. Grilling is Kandu's specialty. The restaurant caters nightly to private groups and couples.
Sleeping above the ocean: The pictures of Kanuhura's water villas I viewed before arriving looked incredulous-would the water look that blue and becoming right under my bedroom? Would I soon be swaying in a hammock suspended over the water, looking beneath to see colorful fish dance and dart about? Our water villa, one of Kanuhura's 18, completely fulfilled my high hopes for a mesmerizing stay over the ocean.The exterior and interior design of our villa, from the outdoor bathroom to the patio, featured an extensive integration of wood, raffia and bamboo. The edge of our patio was even fitted with steps for plunges in the lagoon.

One evening, I soaked in the outdoor bathtub, taking peeks of the water through the cut out space designed perfectly within the enclosure. Beyond blissful, to say the least.
To learn more visit: www.kanuhura.com