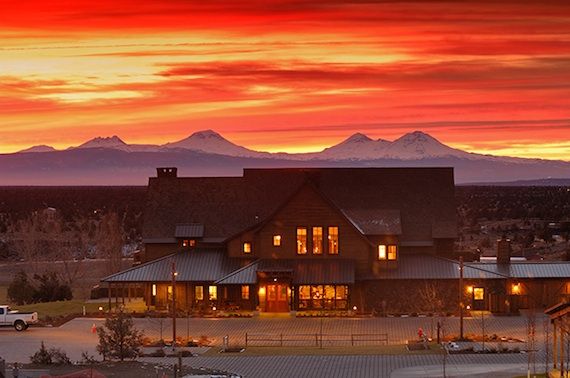 Photo Courtesy of Brasada Ranch
"I have been drawn into the orbit of a painting, have allowed myself to be pulled into its sphere by casual attraction deepening to something more compelling. I have felt the energy and life of the painting's will; I have been held there, instructed. And the overall effect… is love, by which I mean a sense of tenderness toward experience, of being held with an intimacy with things of this world."
Mark Doty, a contemporary poet, writes of his being drawn into the orbit of a painting. I have a similar sense of being drawn into a positive, memorable orbit from my recent resort experience at Brasada Ranch in Central Oregon.
Jump down to the interview with Scott Pickert, Senior Vice President, Brasada Ranch
My exceptional experience was the result of a renaissance of vision and mission provided the new owners. Brasada Ranch was first developed in 2005 by Jeld-Wen, at a time when the door-and-window manufacturer was expanding into residential resort development. They did a unique job in creating an environmentally-sustainable identity, which resulted in Brasada becoming the first U.S. resort to gain a Gold LEED certification. But last November, the Ranch was sold to the Northview Hotel Group along with the Eagle Crest Resort, near Redmond, and the Running Y Ranch, near Klamath Falls. Northview's mission is to remain true to the original vision of Jeld-Wen, while taking all three resorts to the next evolutionary level.
With Brasada, Northview is in process of expanding its identity from being a residential resort to a true destination gateway. Since last November, the Hotel group has implemented $3 million worth of changes, all of which were completed earlier this summer, making it one of the most exceptional, family-friendly stays in recent memory. Here are a few:
Spa Brasada: Opened on July 1, the new spa has four large treatment rooms, and a relaxation room with a pervasive aroma of sage and lavender. The spa menu includes 60- to 90-minute massages and facials, as well as manicures, pedicures and body wraps.
The Range Restaurant: Also, opened July 1st, when Northview decided to upgrade Brasada's signature restaurant, Adrian Carpenter came to Oregon from the Little Nell, at the foot of the ski slopes in Aspen, Colorado. The space features a bar created from hand-hewn wood, two outdoor fire pits, a Bocce ball court and oversized patios. Multiple local, sustainable farmers are being tapped to provide the resort with the region's freshest ingredients.
Equestrian Center programs have been added including riding options in indoor or outdoor arenas or on the miles of trails on the property. Lessons are available for all ages and abilities. The Ranch also has an EquiShare program, which allows members to lease a particular horse or horses.
The Hideout has expanded its services for children ages 3 and up, featuring a ping-pong table, media room, indoor climbing wall, a little kids play area and regular schedule of activities that includes arts and crafts, nature hikes, geo-caching tours, birding, family movie nights, and beginner horsemanship that includes Girl Scout and Boy Scout merit badge accreditations.
Tennis, athletic and volleyball courts have been added to the 17,000-square-foot athletic center. The center also includes two outdoor pools, five outdoor hot tubs, a year-round indoor lap pool, tot's pool, and fitness center with cardio and strength-training rooms.
Catch and Release fishing programs have been added thanks to the addition of Largemouth Bass, Bluegill and Crappie to the on-property ponds.
Once a sheep ranch, Brasada Ranch lies 4,500 feet above sea level, in Juniper forest, on BLM (Bureau Of Land Management) land, where no condos or hotels or any type of towering, light-filled structures can ever be built. And, then, there's the space. Out of the 1,800 acres owned by Northview now, only half have been developed, and yet, the Ranch is only 16 miles northeast of Bend, Oregon.
While at Brasada Ranch, I interviewed Scott Pickert, SVP of Northview Hotel Group.
JustLuxe: What do you find so compelling, in all ways, about this area?
Scott Pickert: I was drawn to this area because of its serenity, but also of its climate. I mean, on the West Side of the Cascades is what most expect from Oregon: rain, ocean fog, moss on the roof. But from here? It is high desert: a crisp desert dryness, aromatic Junipers, and a clear view of the Three Sisters, Mt. Bachelor, Mt Jefferson and sometimes even Mt. Hood, all laced with snow… and farther east, fossil beds and canyons. Here, it feels like another state, topographically and climatologically.
JL: Where do the people come from who stay here and then buy here?
SP: Many come from Oregon and Washington State— who live in Portland and Seattle, and come here for the brisk, high desert climate. Some come from Northern California, some come from Canada— They love the dryness and warmth of the high desert climate. But I am also convinced that there is a certain kind of person— whether it is a traveler or a buyer— who needs this life, combining the need for a high desert solitude plus the need for activity: during the day you ride horses, do whitewater rafting, fly-fish, or swim in our Club pools, the Lazy River and 90-foot slide, the great quiet lap pool, as well as enjoy our spa, and golf.
Unlike many other golf courses, we did not do blasting to create the course. We followed the terrain of the canyons and hills, and laid a grass carpet down to mark the swath. This also defines a kind of organic, sustainable vision to our enclave. We have activities for all ages of children and teens— from little guys who like to take a horseback ride for the first time, to teenagers to like to go on the 90-foot water slide or go fly-fishing or white water rafting. We buy our produce locally, the fruits and vegetables are from artisanal farms closely. However, within the next few years we are planning to create our own gardens, so we can grow our own vegetables and fruits.
JL :
As you know the definitions of luxury have changed over the past few years, defining luxury in a more mindful, less conspicuous way. How does Brasada Ranch define this difference?
SP: The thing is, at Brasada Ranch, how we define elegance, is in terms of ease, of convenience, and of the natural. There is no artifice here, no forced sense of luxury. The athletic center, the spa, the events complex, the dining areas are all within a short walk of one another. Our food is purchased from farms a few miles away. There is a sense of sanctuary here that you take with you when you leave, and feel long after you have gone. That's why many people come here and never want to leave— and end up buying here. Real Estate is an active component to this ranch. When visitors come here, many realize they don't want to leave. Then, they realize that essentially, they don't have to.
I had to leave, but my sense of equipoise, emerging from the unmistakable scent of Juniper and Sage coupled with the dazzling sunrises and sets, remains. Very like the experience described by Mark Doty when he was drawn into that painting, I was drawn into the Brasada Ranch, high desert experience, connected to it, remembering that I am still part of a larger whole. Of course, this feeling quickly emerges when I can see— even without my glasses! — the rural, star-spangled sky, the clear crescent moon, and the Pollack-like translucent splashings of the Milky Way.