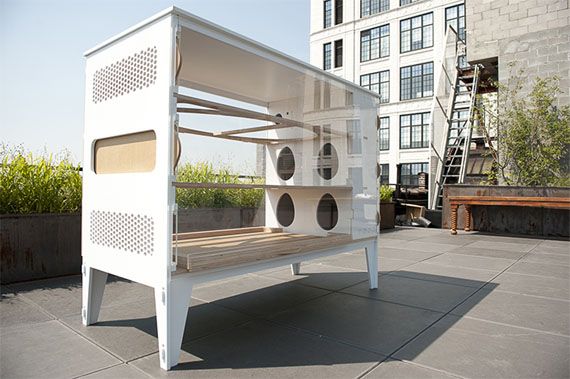 Photo Courtesy of RAAD & Deidre Woollard
Chicken coops aren't generally considered luxury items but one of the hottest trends in the home decor world is urban farming. The back-to-the-land movement has people reclaiming spaces in cities for community gardens and striving to eat locally as much as possible.
One of the most intriguing exhibits at the
Dwell on Design
show at the Los Angeles Convention Center this weekend, was one featuring live chickens scratching and pecking in their own modernist abodes.
The design-centric structures are called "chicken co-ops" and are created by a company called RAAD. RAAD stands for Ramsey Architecture And Design, a company headed by James Ramsey, a design master whose experience has included work as a satellite engineer for NASA as well as working at several architecture firms and teaching architecture at the Parsons School of Design. RAAD has done a variety of chicer-than-chic
New York residences
and designed the Alice + Olivia Malibu store.
The firm has also created a small selection of products including the three-story modernist chicken coops which are called residences. The coop is raised off the ground and the lowest level is a chicken run meant to be filled with wood shavings; it slides out for easy cleaning. There are four private nesting areas which have easy access for humans collecting eggs. Acrylic panels provide a view into the lives of the chickens. There is also a roosting area, storage, and a solar-powered fan to provide ventilation for the warmer months.
The coop is designed to be set up on a patio or terrace where space is at a premium. It is made of plywood and acrylic sheets and is shipped in a flat pack. The
chicken co-op
sells for $3,500 and the summer panel, which lets more air in, sells for $400. The set-up can be ordered online. You'll have to supply your own chickens and feed, though.
At the Dwell show, children and adults alike were clustered around the demo chickens who seemed happily oblivious to all the attention they attracted.