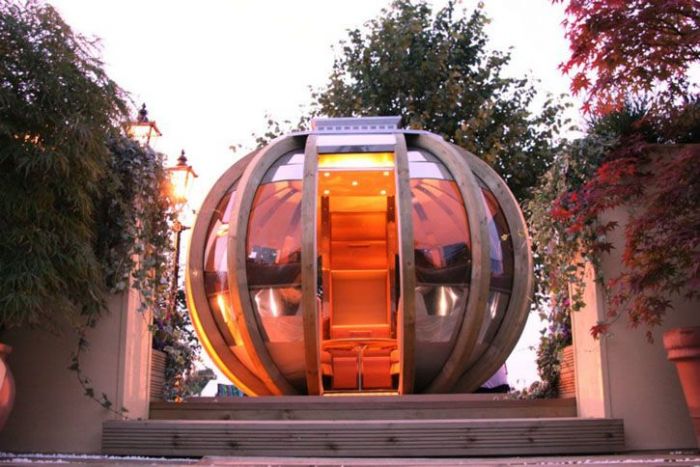 Photo Courtesy of Ornate Garden
Every spring homeowners start revamping their backyard or garden, adding a path here or a table there. This year, you can throw out your old, boring
outdoor furniture
and try something new by bringing in a rotating pod from Ornate Garden.
These futuristic spaces provide luxurious outdoor living solutions for gardens around the world. One of their most creative and opulent offering happens to be a "rotating pod," perfect for enjoying your outdoor space any time of year.
The rotating pod has a stainless steel roof to reflect heat and provide shade and respite from the hot sun, while windows give panoramic views of your environment. The newest pod is the ultra luxurious summerhouse. Built-in sofas can seat up to 10 people while a dining table makes an elegant place for a picnic.
The table can even be lowered to transform the sphere into a relaxing place for a lounger. To maximize comfort, the windows are tinted a bronze hue to eliminate glare. The pod also has a 240v power supply to offer various light settings to set the mood.
A 90-degree entrance means that the garden surroundings are practically at your fingertips, enhancing the sights and sounds of the outdoors without any discomfort. Thinking of the garden as an extension of your home, rotating pods can be customized to suit your style and taste.
After you order a Deluxe summerhouse, you will be sent fabric swatches to pick from for the walls, interiors and even the flooring. Once you see the rotating pod installed in your garden, a gazebo will never quite seem the same. Prices for these garden pods range from around $12,000 to $26,000. Visit
TheGpod.com
to learn more.