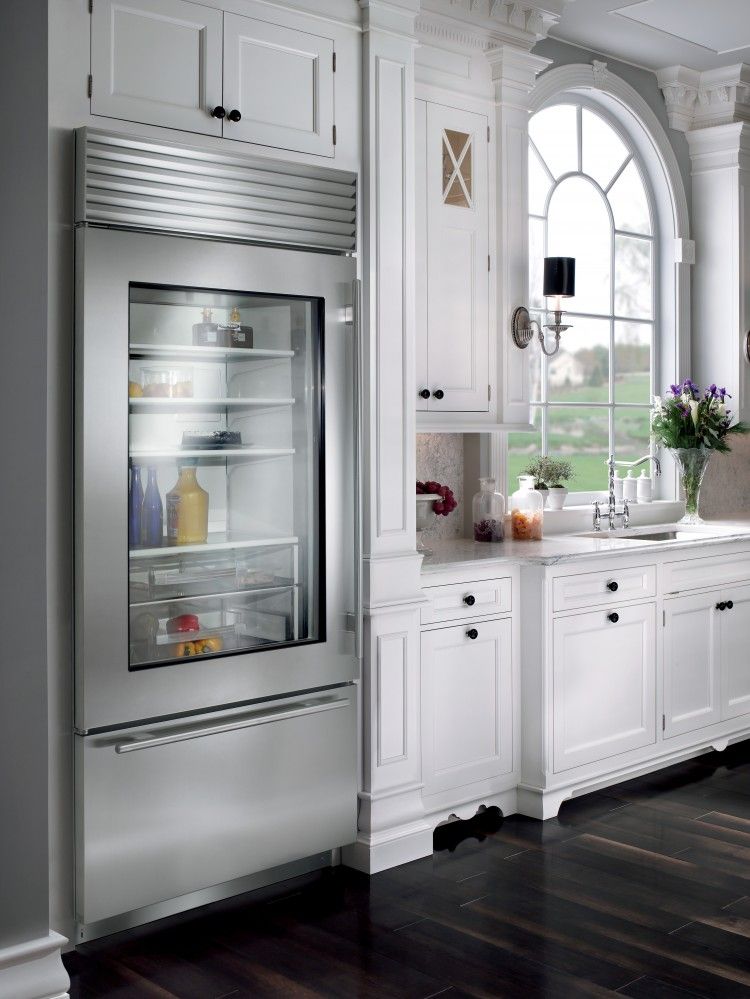 Peek in on any celebrity kitchen (maybe the next time George Clooney invites you to his home or the next time you pick up a magazine), and it's evident that the luxury appliances, more so than any other elements, are the stars of the show. 
Just like the designer labels that line the closets of A-listers – Prada, Gucci and Louis Vuitton - "designer" appliance labels dominate the who's who of Hollywood's kitchens. From the Wolf range with the signature red knobs in Kevin Jonas's New Jersey home to the Sub-Zero Refrigerator in Christina Aguilera's kitchen to the not one - but two - Bosch dishwashers celebrity chef "Barefoot Contessa" Ina Garten has in her Hampton's home, celebs love their luxury appliances. 
"Kitchens will always be the sweet spot of a home," says Courtney Cachet, a NYC-based celebrity designer and TV personality who has worked with many famous recording artists and athletes. "When big spenders spend, this is where they go crazy usually!"
The majority of kitchen experts agree that Wolf cooking appliances, which range in price from $4,200 to $16,000 (MSRP) are the new "it" appliance, mainly for the way the brand seamlessly blends functionality and style.
"With the fascination of shows such as 'Top Chef,' 'Iron Chef' and 'Chopped,' being bold and creative in the kitchen is at the forefront of most homeowners' culinary agenda," says Lindsay Hair, a NYC-based designer who has worked with a variety of high-profile clients. "The fascination that draws most in with Wolf is the belief that it has magic, the belief that it will make you a top chef or a hostess with an amazing dinner spread, and that you have it all - outside and inside the home!"
Lindsay Rhodes, a Nashville-based interior decorator who helped Lady Antebellum lead singer Charles Kelley and his wife, Cassie, choose a Wolf range for their kitchen, says the possibilities are endless with the brand. 
"The cook tops and ranges come in a variety of sizes and combinations to customize to your specific cooking needs and custom kitchen design, and of course, every meal is cooked to perfection!" says Rhodes. "I have so many clients who really love to cook and of course want a fabulous kitchen. The Wolf provides the best of both worlds."
When it comes to dishwashers, Rhodes swears by German brand - and Gwyneth Paltrow and chef Eric Ripert favorite - Miele, mainly because wine glasses can be included in any load, adding that they come out "spotless."
"It's worth the price tag to not have to hand wash wine glasses anymore!" Rhodes says.
That price tag ranges from $1,000 to around $4,000 with the highest priced model boasting an unusually fast 23-minute complete cycle.
Several other experts contest that Bosch, another German brand that's priced in the $700 to $2,000 range, is the leader in the dishwasher category due in part to the high-end model being branded the quietest dishwasher in North America.
"They are the crème de la crème of dishwashers," says Cachet, who has her own home product line debuting in January. "They are sleek, efficient and superior in craftsmanship. They are worth every penny."
Photo Courtesy of Miele
When it comes to refrigerators, practical elements like shelving are important, but just as important is the way the appliance looks in the kitchen, the experts agree. Sub-Zero is the standout brand among Hollywood's elite, and models with a see-through glass door, like the Sub-Zero Pro 48, are trending.
"I believe that my clients like showing the 'honesty' of how they eat and cook," says Hair. "It confirms that there is entertaining at home, and that socializing is less about the indulgences of going out, but the nurturing indulgence of being at home."
Rhodes agrees that Sub-Zero, which can cost anywhere from $8,000 to $15,000, is tops, adding that while the glass doors may be impractical, aesthetically they work. "I love the sparkle of the glass," she says, "and the opportunity to style your groceries."
Choosing the right appliances can mean the difference between a luxury kitchen and a flop, but the experts agree that each consumer should choose a brand based on their needs.
"I always tell my clients to sit down and really think about the way they live and what's important to them in the kitchen," says Rhodes. "Once you set your wish list, the right appliances usually present themselves."
Photo Courtesy of Bosch