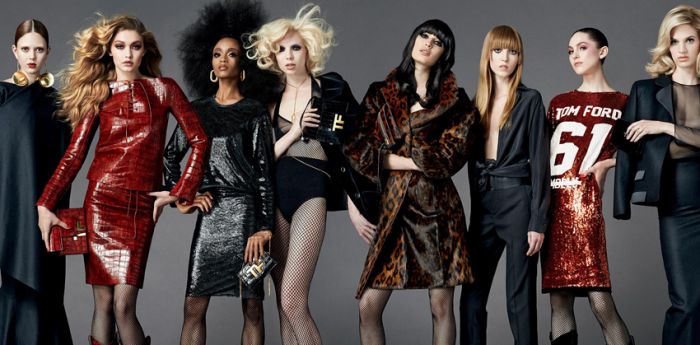 Photos Courtesy of Tom Ford
This season has seen nothing but supermodels littered across campaign pages, and Gigi Hadid is no exception. While the model has yet to become a household name, she has been featured as one of the 12 rookies in the pages of Sports Illustrated, has been the face of Guess and is even being compared to Kate Upton by Vogue magazine. Needless to say, she's been having a good career, and it's only getting better: Hadid just nabbed a spot in the new Tom Ford F/W 14 campaign. While the 19-year-old model starred in the designer's Velvet Orchid fragrance campaign last season, the new images see her featured along with other up-and-coming "it" models like Ashleigh Good, Sabrina Ioffreda, and Valentijn de Hingh, as well as celebrity kids Patrick Schwarzenegger, Ella Richards and Ian Mellencamp .
Shot in London by photographer Johnny Dufort, the campaign features both fashion and accessories, portraying the ladies lined up in provocative poses, donning fishnets and showing quite a bit of skin. The accessories shot shows Hadid sporting glasses from the Tom Ford eyewear line, with Patrick Schwarzenegger whispering sweet nothings into her ear. While the images are currently up on the site, the campaign is slated for an international print release in September, where it will be featured in issues of Harper's Bazaar, Vanity Fair, Elle and Vogue.