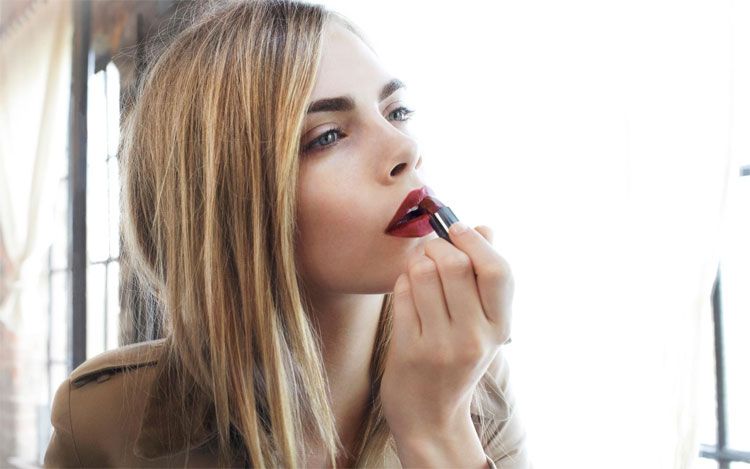 Photo Courtesy of Burberry
The wreathes are hung, carols are playing in every store, and the coffee shops are selling all of our seasonal favorites— it must be the holidays. With all of the festive fetes right around the corner, you've probably got all of your stunning outfits in mind, but have you thought about all the
luxury beauty products
that are available this season? If you're still in need of completing your ideal holiday look, check out these three killer collections that were developed specifically with this special time of year in mind.
Vintage Gold by Burberry Beauty
Burberry Beauty's contributions to the holidays will make you this season's golden girl. "Vintage Gold" includes five new complete eye shadow palettes that include an illuminating base, two blendable shades to add structure, and a liner to define and enrich your features. Also included is the limited edition "Vintage Gold" lip glow, a hydrating, creamy gloss that is meant to create plumper, fuller lips. And with the help of a new limited edition beauty charm, you'll never be on the go without a natural pink lip gloss to add a hint of color.
Photo Courtesy of Burberry
Glamour Daze by MAC
MAC's "Glamour Daze" collection is specifically for the holidays, and we couldn't be more excited about it. With eight new limited edition extra dimension eyeshadows and a range of lipsticks and glosses, you're sure to find festive look with these new products. Whether it's seductively sultry or sweet and flirty, MAC's got you covered. Polish off your look with one (or all) of the brand's new nail lacquers.
Photo Courtesy of MAC
White Night by Giorgio Armani
Armani's holiday addition consists of two new palettes for the easiest of makeup applications during stressful holiday travels. Choose from "Moonlight White" or "Moonlight Beige"— each compact includes a highlighting face powder, two luminous shadows, and a matte lipstick that will have you looking your best when you're ready to position yourself under the mistletoe.
Photo Courtesy of Armani